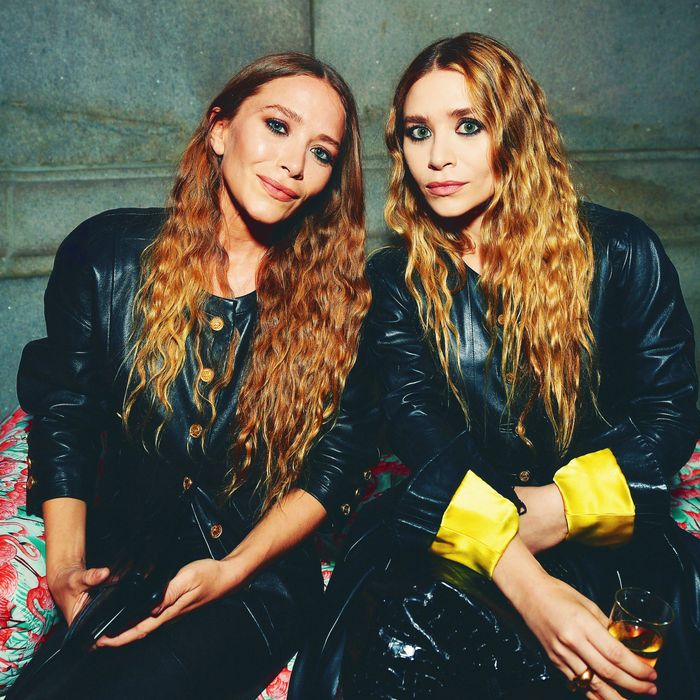 Photo: Matt Winkelmeyer/MG19/Getty Images for The Met Museum/
If you once doused yourself in Elizabeth and James Nirvana, get excited: The Olsens are making fragrances again, this time in aromatic-oil form.
Today, the twins' fashion label The Row debuted its very first scent collection: three hand-blended oils made in collaboration with Haley Alexander van Oosten, the artisan perfumer behind L'Oeil du Vert. Ashley Olsen told The Wall Street Journal that after she and her sister began wearing van Oosten's small-batch scents, "the idea of creating something together was a natural progression of our relationship."
Four years of development later, the brand is unveiling unisex, rollerball fragrance oils named R, O, and W. All three are based in sandalwood, the creamy, warm, and grounding scent perfumers often associate with a loving hug, and regular people probably mostly associate with Santal 33. "Ashley and Mary-Kate's appreciation of sandalwood coupled with its innate refinement, comfort and familiarity quickly made it the raw material of our focus," van Oosten told the publication.
But rest assured the Row's sandalwood isn't like other sandalwood. According to van Oosten, it came from a collector with a "precious stash" that "had been sealed for over 20 years," and gives off a scent that "stops time." That time-stopping scent is now bottled with different MKA-approved vibes. R is more of an "embrace" that features fresh tobacco leaves, burnt rue seeds, and rose, perfect for sisterly smoke breaks; O encourages you to "envision" with notes of blue water lily, frankincense, and orris (one of the most expensive products in perfumery), perfect to pair with the world's most luxurious fanny pack; and W invites you to "expand" with notes of amber, champa, and incense woods, perfect for a forest stroll with machete and cocktail in hand.
The 7-ml oils will only be available in limited quantities at The Row's flagships in New York, Los Angeles, and London, but you can stare at them on the brand's website. R and W both retail at $490, while O will set you back $550, which is less than a pair of cashmere pants for your kid, if that helps.