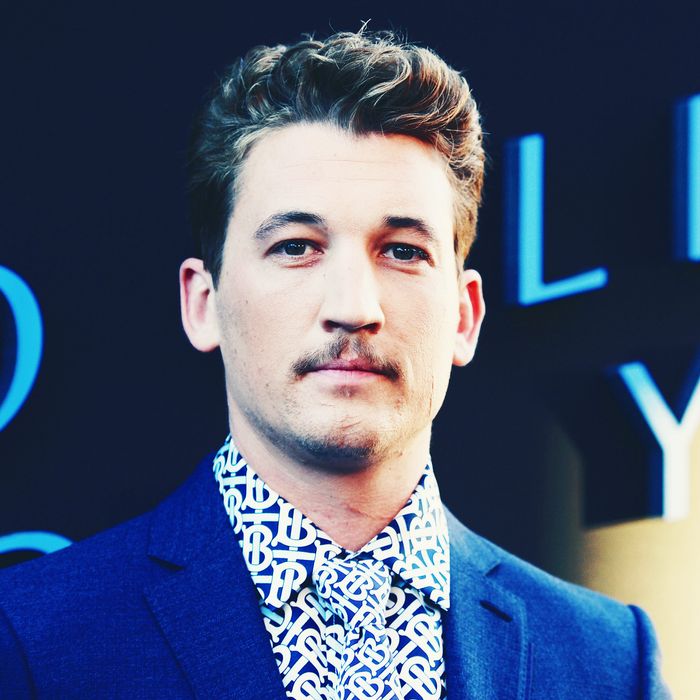 "The only thing I'm anti is hate," actor Miles Teller tweeted.
Photo: Amanda Edwards/Getty Images
Among the gleeful reaction to Taylor Swift's new music video for "I Bet You Think About Me," which was directed by Blake Lively and debuted yesterday, were some confused whispers: Is that … Miles Teller? What is alleged anti-vaxxer Miles Teller doing in this video? Well, the actor heard your (very loud) whispers and would like to clear a few things up.
"Hey guys, I don't usually feel the need to address rumors on here but I am vaccinated and have been for a while," he tweeted. "The only thing I'm anti is hate." So, there you have it! Miles Teller: pro-vaccine and anti-hate.
This isn't the first time Teller's camp has spoken out about anti-vaxx allegations, which came out a couple of months ago. In September, the Daily Mail claimed it had an inside source on the set of The Offer, a TV series featuring Teller about the making of The Godfather, who alleged the actor refused to get vaccinated against COVID. "He wouldn't even get the test," the source claimed. "Now he's brought the virus to set and the whole set had to shut down." The series had to pause production after an unnamed person on set positive for COVID in July. Teller's publicist responded to the Daily Mail's allegations saying, "Your facts are incorrect," but didn't elaborate any further.
However, an October report from The Hollywood Reporter appeared to echo the Daily Mail's claims. THR also noted that The Offer needed to shut down production — resulting in a reported $6 million loss, a number disputed by Paramount+ reps — after someone on set tested positive. Though THR didn't mention anyone by name, they wrote, "That positive person was publicly identified as a series star who was said to be unvaccinated." Adding to rumors about Teller's previous vaccination status, Green Bay Packers quarterback and friend of Teller Aaron Rodgers recently tested positive for COVID and was registered as "unvaccinated" by the NFL. Rodgers had previously said he was "immunized," which was later revealed to be a reference to a homeopathic treatment Rodgers received from a personal doctor. Rodgers also said he got medical consultation from Joe Rogan, a podcaster who took a horse dewormer after testing positive for COVID.
Anti-vaxx allegations aside, Teller doesn't have the best reputation, adding to further questions about him starring in Swift's new music video. (Or, perhaps, the casting felt too on the nose?) Regardless, it's good that Teller has confirmed his vaccination status and that he is "anti hate" … whatever that means.