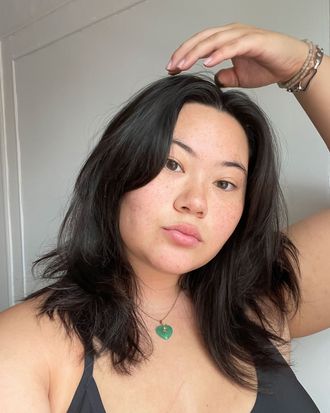 Photo: Courtesy of Minami Gessel
Want more skin care? Join the Beauty Group on Facebook.
Minami Gessel has been in campaigns for Glossier, Nike, Calvin Klein, and Outdoor Voices, but an extra-special achievement was her appearance in Rihanna's Savage X Fenty Show Vol. 3. "This is to all the fat Asian girl who never felt like they belonged, who never felt like they could be beautiful, who never thought they would be represented," the model told her followers on Instagram.
Gessel is still adjusting to wearing makeup every day for work, and though she has been lucky not to have had an allergic reaction on set, she hadn't quite realized how much work and time goes into prepping the skin for shoots. It even inspired her to invest almost $200 on a Joanna Czech face massager. "I'm willing to pay a little bit more if I know that something is going to last longer," she says. "And I've had this face roller since 2018 — I use it every single day, and the rollers haven't worn down at all."
As someone who is prone to eczema, Gessel has learned to keep a consistent skin-care routine. "When I first moved to New York — and during all of 2020 — I had a really massive breakout; I had acne-prone skin all throughout high school, but this was really new to me," she says. A dermatologist suggested she resist the urge to try out products and use medication instead. "It can be frustrating and really expensive to buy all of these products, and I promise you that they can work — but not to the full extent of a medication." Dapsone cleared her acne better than any product ever did.
Now Gessel is focused on maintenance and keeping her skin moisturized. Born and raised in L.A. but New York City–based, the model likes "heavier" products to prevent dryness — during the summer and especially during the winter. She never sacrifices her hyaluronic acid, she prefers a "rich" moisturizer, and she calls face oils "nonnegotiable."
Below, a look at her current routine, including a $7 hyaluronic acid, a "holy grail" exfoliator, and the sunscreen she uses in place of a moisturizer.
The Double Cleanse
"I started double cleansing maybe in 2018. A YouTuber made a video of a ten-step Korean skin-care routine and a ten-step western skin-care routine. I adapted my routine with techniques from both, and I noticed how clean my skin felt after double cleansing. I think it's gonna stay in my routine till I die.
"The Glossier Milky Jelly is just a classic. I was an avid reader of Into the Gloss before Emily Weiss launched Glossier, so when she announced she was going to formulate a cleanser, I was so excited; I still remember buying it for the first time. It smells like a baby — but in a good way. The name really describes the texture. It really is a milky jelly, and it's great to take off everyday makeup, not really so much heavier makeup. I've tried so many over the years, and I always go back to this one because it's not stripping. I almost feel like it's an elevated Cetaphil or CeraVe, so if you have sensitive skin, it's perfect for you."
Photo: Retailer
"Neada Deters, the founder of Lesse, reached out and was like, 'I'd love to send you products.' I'd heard about the brand before — their Instagram is so beautiful. The Refining Cleanser doesn't really smell like much of anything, but it has a slight floral fragrance. It has charcoal exfoliating beads, so after you do your first cleanse and take off your makeup, it's really nice to get a soapy little face wash in. That's what I do to make sure everything is really clean. Best of all: It doesn't strip my skin and doesn't break me out. It's great."
The Exfoliator
"Humanrace sent this exfoliator to me. Shout out to Pharrell and Dr. Elena Jones because it's a holy-grail product. It doesn't have a fragrance, which I like because I've heard having too much fragrance on your skin is not great — I try to have an equal balance between my unscented and scented products.
"But this thing is really a miracle. You push the top and you get a cool cream, which is a different type of exfoliator for me. Whenever I have a shoot, I use it in the morning and the night before, and it literally brightens your skin. It's almost better than Biologique Recherche's P50, which used to be my holy grail — it smells like shit, but it works. I don't know if I'll go back to P50, though."
The Essence
Photo: Retailer
"This essence is supposed to increase cell turnover so your skin is always fresh and nice and plump. It adds a lot of moisture. My friend Olivia actually gave this to me because she didn't want it, and I rebought it — I really love this stuff. I rub it into my hands and pat it into my face really gently, focusing on my cheeks because that's where I get really dry."
The Serums
The Face Oil
"This is more of an oil than a serum, and I've been using it instead of a traditional moisturizer recently. I do five to seven drops, warm it up, and press it into my skin. I try not to tug or pull or drag my skin down. I focus on my cheeks because that's my driest area, and then I put the excess under my chin and forehead, where I get a little bit more oily."
The Moisturizer
Photo: Retailer
"When I do use a traditional moisturizer, I always go back to this one, especially during the colder months. I'm definitely going to restock soon. Sometimes I mix it in with a couple of drops of the Lesse Ritual Serum."
The Eye Cream
"Glossier discontinued Bubblewrap, my favorite eye cream, and I had no idea until recently. I loved putting it on my lips because it was also a great lip conditioner. Hopefully, they're just reformulating it, but recently, I've been using the Cocokind Revitalizing Eye Cream instead. To be honest, I don't know how important eye cream is, but my mom has always used one so I do, too. I apply it with my ring finger and delicately tap it in."
The SPF
"This sunscreen leaves a slight white cast, which is not my favorite, but it's fragrance free, and I do feel like it protects my skin. I do a couple of pumps and bring it down to my neck too. It's a really thick cream, and because I don't use a moisturizer all of the time, I'll just use this as a kind of replacement. Honestly, I don't know if I'm going to repurchase it. I'm really looking for something that dries more clear on the skin."
The roller
"This face roller really helps me de-puff, especially when my face is feeling really inflamed after a night of drinking and going out. I also feel like, in the same way that you exercise for your body and your health, you should do the same thing for the skin on your face. I mean, your skin is the largest organ, so … "