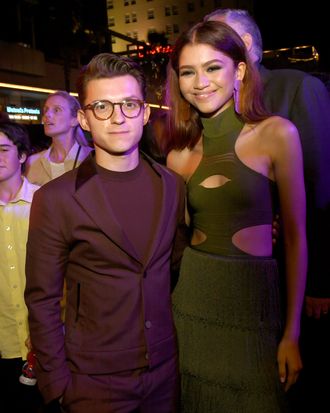 Photo: Kevin Winter/Getty Images
As a general rule of thumb, I try not to ship celebrity couples. As a fierce fan of Britney Spears and Justin Timberlake, I've been burnt before. But every time some new Zendaya and Tom Holland photo or gossip comes out, I just can't help it. These two crazy kids spark a joy inside me I didn't know still existed. The kind of joy I used to get seeing Britney and Justin walk a red carpet in matching denim. I have, as they say, no choice but to stan.
The stars of the upcoming Spider-Man: No Way Home sparked my standom once again Monday, November 29, when the two attended the 2021 Ballon d'Or ceremony in Paris. Though they walked the red carpet separately, the rumored couple posed for photos together inside.
It's unclear who took this new pic, though it definitely doesn't look like a professional pap shot. What we do know is that it's here, and it's AH-MA-ZING.
I just can't with this photo. Look at their cute smiles! Their appropriately close-but-not-too-close pose! The way he's putting his hand on her back! His glasses and her big gold hoops! Just a perfectly glam couple doing perfectly glam couple things, and also making sure to keep that PDA to a minimum so that they continue to keep their relationship on the lowest of lows.
If it was up to them, we wouldn't even know about their relationship. Holland and Zendaya's romance went public after paparazzi shots of the two kissing went viral over the summer. They still haven't officially confirmed that they're together, though Holland did acknowledge the relationship in an interview with GQ. "I've always been really adamant to keep my private life private, because I share so much of my life with the world anyways," he said. "We sort of felt robbed of our privacy."
With all due respect to their privacy, I think I speak for everyone when I say that I'll take any and all Zendaya-Tom Holland content I can get — especially if it involves some super glam looks and photos they consented to.