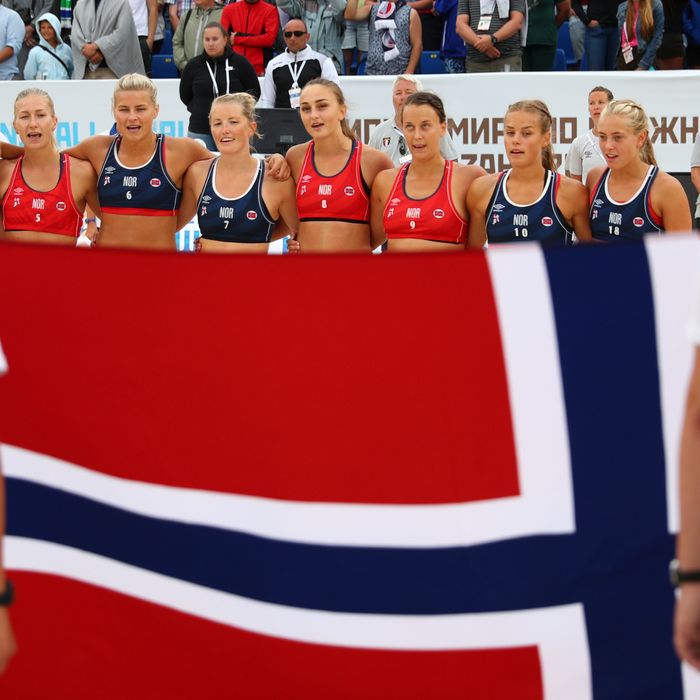 Shorts for you!
Photo: Getty Images
Victory for the Norwegian women's beach-handball team, which will no longer need to play in sexist bikinis thanks to months of global pressure on the International Handball Federation that prompted a change in the rules. The Guardian has a diagram of new women's-uniform guidelines, which allow for tank tops and spandex bottoms that extend to mid-thigh at a maximum. It is unclear when exactly the IHF made this pivot — The Guardian reports the agency "quietly" embedded the change in its handbook — but as of November 1, official policy holds "female athletes must wear short tight pants with a close fit." Congrats to all involved.
To recap: In July, the New York Times reported the European Handball Federation had fined the Norwegian women's beach team for wearing tiny little shorts rather than bikini bottoms during a championship match in Bulgaria. A reasonable question to ask here might be, Why did the European Handball Federation care, seeing as bike shorts get the job done? Another is, Did the European Handball Federation not have better things to do than police the length of women's athletic gear, particularly with the Olympics looming? A natural third: Did they impose similarly revealing mandates for male beach handballers? Let's start with the first one.
According to the Times, the International Handball Federation — unfortunately, this matter went all the way to the top — dictated women wear sports bras and bikini bottoms "with a close fit and cut on an upward angle toward the top of the leg" and sides shorter than four inches during beach competition. Pressed to explain the existence of such seemingly arbitrary guidelines, IHF spokesperson Jessica Rockstroh could not point to any specific reasoning, telling the Times, "We're looking into it internally." Still, she noted, "Globally, we know that other countries like to play in bikinis, for example, especially in South America."
Norway, by contrast, likes to play in little spandex shorts, and in fact, the country has been petitioning the IHF to let women wear them since 2006. But come July, that was not enough to help the Norwegian Handball Federation avoid a fine of €150 (or approximately $177) per player for this protest against baseless rules. The total tab came to $1,770, a fee the singer Pink (I bet you didn't expect to see Pink here) offered to pay. Explaining in a tweet that she was "VERY proud" of the team for protesting the "VERY SEXIST" uniform rules, Pink continued: "The European handball federation SHOULD BE FINED FOR SEXISM. Good on ya, ladies. I'll be happy to pay your fines for you. Keep it up."
The Norwegian Handball Federation stood behind its players and was prepared to help them fight this battle, but it nonetheless felt nice to know Pink was there should anyone have needed her. In any case, charging $1,770 for a uniform violation sounds like a racket to me — particularly when you consider the IHF allows male competitors to wear tank tops and shorts, provided the shorts hit at least four inches above the knee and are "not too baggy." For Martine Welfler, a member of Norway's beach-handball team, the discrepancy made no sense: "With so much body shaming and stuff like that these days, you should be able to wear a little bit more when you play." And as her teammate Katinka Haltvik pointed out to Norwegian broadcaster NRK, the bikini requirement may alienate some would-be players: "It shouldn't be the case that people don't want to take part because of the outfit."
Personally, I suspect the requirement for women to show a lot of leg may have had something to do with the IHF wanting to attract spectators — recall the time the Badminton World Federation made women play in skirts or dresses at the Olympics to boost ratings — though that is just a hunch I have. At the time, this was another in a long string of examples suggesting athletic agencies were clinging to archaic policy for archaic policy's sake. Ahead of the 2021 Olympics, we rehashed the International Olympic Committee's anti-protest policy, USA Track & Field's comparably outdated view on legal weed, and the International Swimming Federation's Olympic ban on swim caps designed for natural hair. In the case of the tiny shorts, The Guardian attributes the win to activist Talitha Stone, whose petition on the subject garnered upwards of 61,000 signatures, but never forget who started all this: the Norwegian women's beach-handball team. Big thanks to them — and to Pink. Credit where credit is due.
This article has been updated.