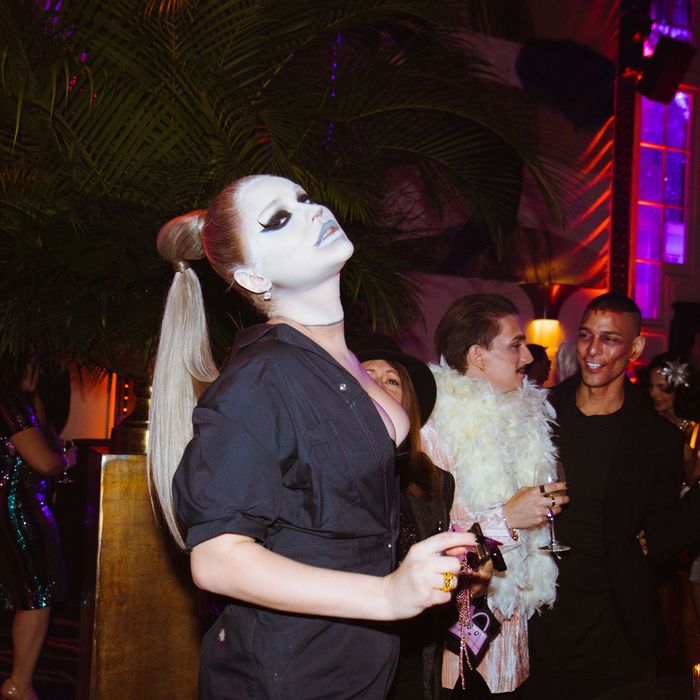 Kim Petras arrives at Hulaween as "trans Michael Myers."
Photo: Devin Kasparian
Usually my Halloween goes something like this: All year I think of costume ideas and never write any of them down. At the last minute, I'm always trying to find something not-lame to do while wrapped up in some Amazon Prime–sponsored DIY project, throwing together a shoddy outfit which people will misunderstand (like when my "sexy alien" getup in college was repeatedly mistaken for "skinny Shrek"). So this year, I decided to kick off the holiday in a more sophisticated way, at Bette Midler's "Hulaween" gala (you see, Bette is, as it turns out, from Honolulu). Currently in its 25th year, the fundraiser benefits the New York Restoration Project, an organization she founded to improve city parks. It's usually a pretty star-studded affair. My sort-of date for the evening was the German pop star Kim Petras.
Petras, who first burst on the gay-club dance floor heavy rotation in 2017 with "I Don't Want It at All," has had a particularly eventful year: performing at the VMAs, attending the Met Gala for the first time, making New York Fashion Week appearances, signing with Republic Records, and releasing a single, "Future Starts Now," from her upcoming album. "I've noticed a change in people's reaction to me. People used to be like, 'Oh my God! Dope! It's Kim Petras! Love you, bitch!'" she says. "You know, 'cause I started in gay clubs and shit. Now it's like … people scream. It really feels like the beginning."
On Friday night, I met Kim at this year's "Boogie Frights"–themed Hulaween, where she arrived dressed as "trans Michael Myers" — "Halloween came out in the '70s," she explained — in a powdered face, a high, high ponytail, and a navy-blue Dickies boiler suit unbuttoned to bare her boobs. "I usually don't do dinners and shit. I do parties," Kim, in town from L.A., told me when she arrived at the gala. And though it wasn't exactly an eventful Halloween soiree, Kim made the most of it with the unfamiliar crowd, many of whom (minus the gays) didn't seem to notice the pop star who came to their party (which had nothing to do with her costume).
6:43 p.m. | "Ooohhhh, you're VIP tonight?" says my Uber driver when we pull up to the red-carpeted Beaux Arts entrance of Casa Cipriani on the East River, and a gentleman in a top hat opens the door of his Toyota Camry Hybrid. At the top of the stairs, I'm greeted by a troop of waiters in white jackets, holding silver trays of Champagne and vodka martinis. I grab a Bellini and carry it to a cocktail table decorated with disco balls. The reception area is lined with stately glass double doors leading onto a long balcony that looks west into the towers of Fidi. When a freezing gust of rainy wind hits the building, the doors blow open, and the candles around the room are extinguished as if on cue.
6:50 p.m. | I'm reminded that Bette won't actually be here tonight because she's on set filming Hocus Pocus 2. I suppose this is exciting for us Sanderson sisters stans, but I can't help thinking that attendees who ponied up for charity and got dressed up to meet and greet Bathhouse Betty (and neglected to check their email, which notified them) might be disappointed. Just then, several dancers enter the room in white platform boots, shimmering silver onesies, and massive disco-ball helmets I'm surprised they can see out of.
7:00 p.m. | I head to the restroom to take a selfie — places like this tend to have flatteringly lit mirrors — and watch a white-haired man in a glittery blue coat and a peace-sign necklace get down on the floor to rifle through his cash-packed wallet for a little pill, which he pops into his mouth. I think, Maybe he's someone I should get to know.
7:05 p.m. | Back at the bar, the reception area is filling quickly with carefully constructed, very on-theme costumes. There are Warhols and Bowies, bell-bottoms and porn 'staches, lotsa Lizas, and many, many disco-era Afros on men and women who could never grow them naturally. There's also a few dress-up outliers who somehow didn't catch the theme: vampires, cheerleaders, and Jakes (from State Farm). Without a doubt, the most popular outfit in the room tonight (if you're a man over 50, including Michael Kors) is Halston, made legible with sunglasses, skinny scarves, and dangling unlit cigarettes. I ask one of many Halstons (net worth: $240 million, according to Google), there with a Liza — a "tall Liza," she corrects me — if he watched the Netflix series. He clinks our glasses together, ending the conversation.
7:30 p.m. | The hors d'oeuvres begin to circulate and though I pass on the raw salmon, and also the bruschetta, I happily accept a crayon-colored Jell-O shot. But frat basement or Cipriani, a Jell-O shot is still a Jell-O shot, and I notice some of the revelers around me, myself included, are having trouble scraping the vodka goo out of the plastic cups. When "Funkytown" comes on, I clock a number of drag queens and hot 30-something Instagays — notably a near-naked, six-packed couple in Rollerblades — who are also here, presumably for Bette.
7:45 p.m. | An NYRP board member in a bejeweled headpiece rushes past me, carrying wineglasses with straws to two tall genderless, faceless figures in sequined bodysuits, one orange and one blue. Her daughter explains that they're Keith Haring figures, and also the winners of last year's (online-only, because of the pandemic) costume contest; their prize was getting to attend the gala in-person this year. When her mom returns, she hastily tells me that the beauty of this party is that "you can be whoever you want to be." When she walks away, I realize that's just Halloween.
7:59 p.m. | Kim arrives, fresh off the red-carpet step-and-repeat. "Be your charming self," her publicist seems to warn me, but Kim is in full Paris Hilton spirits — calm, cool, doe-eyed, and giggly, even though she had to settle for a tequila soda, not the cocktail she wanted, because the bartenders only stir. "They don't shake drinks. But at the table I can order whatever I want," she says. Opposite the windows, a wall of double doors opens into the ballroom, and we head inside.
8:01 p.m. | Our table, No. 27, is conveniently close to the exit and decorated with dark purple calla lilies, plastic skulls, and even more disco balls. Kim tells me she's excited to be here tonight, but she's also exhausted: "I'm so antisocial and shy. I feel like going out to things, like this now, is more job than fun." When I tell her she doesn't come across that way — throwing her pony around and puffing on her vape with I-own-the-room confidence — she jokes, "Because I drink. Just coming out as an alcoholic to you is great." We summon another glass of wine.
8:15 p.m The table is currently set with an arugula salad, topped with a Parmesan crisp and overripe avocado chunks. "I love this cheese thing," Kim says, picking it off her salad and taking a big puff of her vape. This weekend, she tells me she'll be rehearsing for MTV's Europe Music Awards and making a surprise appearance at a party for New York DJ Ty Sunderland, a personal friend whom she calls the "first person in New York to play me in the gay clubs." We stop talking when actress Jane Krakowski appears (virtually) on the screen at the front of the room to greet the crowd and talk about vaccine requirements to the tune of "Stayin' Alive." Mario Cantone, famous to me as the actor who played Charlotte's gay boy Anthony on Sex and the City, hops onstage next to make a few jokes about COVID and people who left New York. He also reminds the crowd to "text to donate" to the NYRP. Giggling, Kim grabs a piece of bread, saying, "The bread is my friend."
8:59 p.m. | We're all starving, but we're stuck with the salads and a round of Jell-O shots. Bette makes a (prerecorded) appearance on the screen, and I tune out when she starts thanking Goldman Sachs. Her daughter, Sophie von Haselberg, who looks eerily like her mother, says a few words, and a drag queen performs. Neither Kim nor I really know what's going on. In the meantime, we talk about dating ("How the fuck do people have serious relationships?") and how much she loves Disneyland. "When I was a kid, I wanted to be an Imagineer and design roller coasters," she says. These days, she goes there to "get stoned as hell" on said roller coasters.
9:05 p.m. | I ask Kim to tell me about the last New York gala she went to: the Met Gala, where she was excited to meet Dan Levy ("He was everything and more than I wanted him to be") and Kit Harington (she's a Game of Thrones nerd) but was less enthused by the plant-based menu and the Justin Bieber performance. "Everything was PLANTS!!!! EVERYTHING'S PLANT-BASED!!!! AND WE LOVE JUSTIN BIEBER!!!!" she yells, in one of her many funny troll-like voices. Plus, she tells me there was a particularly painful performance of "Life Is a Cabaret." "Everybody around Anna Wintour was getting off like, ahhhhhhhhh," she says, laughing. "I still can't believe I got approved to go."
9:10 p.m. | Finally, the main course arrives: rigatoni with a gelatinous plane of cheese and sauce on top. It's not good, exactly, but it hits the spot, and when Kim and I finish our plates, her publicist finds us two more. "It's everything I wanted," Kim says, satisfied. The next course involves tiny saucers of wet, multicolored broccoli. We don't touch them.
9:24 p.m. | I ask Kim if she has any plans for later tonight, like maybe Azealia Banks's probably more fun celebrity-studded Halloween party across town. She'd rather go to bed, she says, because she's been up working all day, since 7 a.m. Plus, Kim says she once reached out to her hoping to work on a song together, but, according to Kim, Azealia responded by saying, "Actually I can't, because I hate trans people." The next day, she took it back. But it doesn't bother Kim. "I see it as an honor to get dragged by Azealia Banks. She's such a fucking queen. I'm still her biggest fan."
9:37 p.m. | Mario Cantone comes back to our table, in a white tracksuit. "That's a really good butt," Kim observes. "He's bootylicious as hell." A few minutes later, we catch each other still staring at his ass. "I'm like, assssssssss," she says.
9:52 p.m. | At last, it's showtime, and Gloria Gaynor starts singing "I Am What I Am," something of a disco-era "Born This Way." "This was my favorite song when I was six," Kim says. Then she gets up to dance, bobbing her head, swinging her ponytail, and taking a video on her Chanel-case iPhone. Dessert arrives at the table, and we all take a break from dancing to pick at tiny scoops of ice cream, covered in artificial chocolate syrup and sprinkles. When a canister of whipped cream arrives at the table, Kim sprays it into my mouth, then hers, splattering it all over my outfit. Finally, we're having fun.
10:35 p.m. | Gloria performs Donna Summer's "Last Dance," but it's not the last dance. After "I Will Survive," the show wraps up, and Kim heads for the door. An emcee announces the beginning of the gala's "infamous after-party," and Kim and I eye each other, knowing "infamous" is probably a stretch.
10:43 p.m. | The youngest attendees stick around and stampede the bar. Still, a few leftover moms hit the dance floor. "My daughter's asleep. My husband's got this. And it's good to feel young again," one in a glittering blazer tells me. Another, in a cleavage-baring dress, tells me her family is her "anchor," but she's currently intrigued by one of the bartenders. "There is a bartender. He has the most beautiful jawline and a beautiful smile. He can't be a day older than 23, and he makes a good martini. If I didn't have a husband and small child …" she trails off.
10:50 p.m. | Near the exit, I catch sight of the duo who've been hiding in the Keith Haring costumes: Unsurprisingly, they turn out to be two middle-age gay men with painted faces who tell me they're pals with Susanne Bartsch (an event chair). The chatty partner tells me he hand-sequined the costumes himself and that he made these not for Halloween but because Keith Haring is part of his "oeuvre, as an artist." Did he have a good time tonight, I ask? "People here were very gracious, but not the people I normally hang out with," he responds, adding that they won the costume contest (again). "I like being an artist who gets an audience. I don't care who likes me, as long as you love me."
11:21 p.m. | On the breezy balcony, I meet a crew of young co-workers who are taking a smoke break. Their company may have paid for their tickets tonight, but they tell me they're disappointed, not only in the Bette no-show but also the food. "This is New York's first year back. I was hoping for pow pow pow," one woman in a very hula-dancer costume says. Her Italian co-worker adds, "My mother is going to ask for a recount of everything we ate, and when I tell her we had the manicot without the ricotta … What are we: Trying to fuck without fuck?"
11:50 p.m. | Now that everyone's trashed on stirred martinis, the dance floor only gets more crowded, and people start falling down and hooking up. "Wait, who's that beefcake over there?" a man in a floral romper asks, suddenly distracted from telling me about his husband.
12:15 a.m. | Then, abruptly, the party ends. In a matter of minutes, the DJ packs up, the lights come on, the bar goes dry, and everyone is sent back down the Cipriani stairs to figure out their next move for the night. "What's in Fidi? Honestly, it's a tragic area after 8 p.m. I don't want to stay down here," I overhear one guest say. One of her friends is just my type, all the more so when I spot what appears to be a huge bulge in his gold lamé pants. Upon closer inspection, however, I discover it's … a can of whipped cream. Had she still been here, Kim might have found it funny.