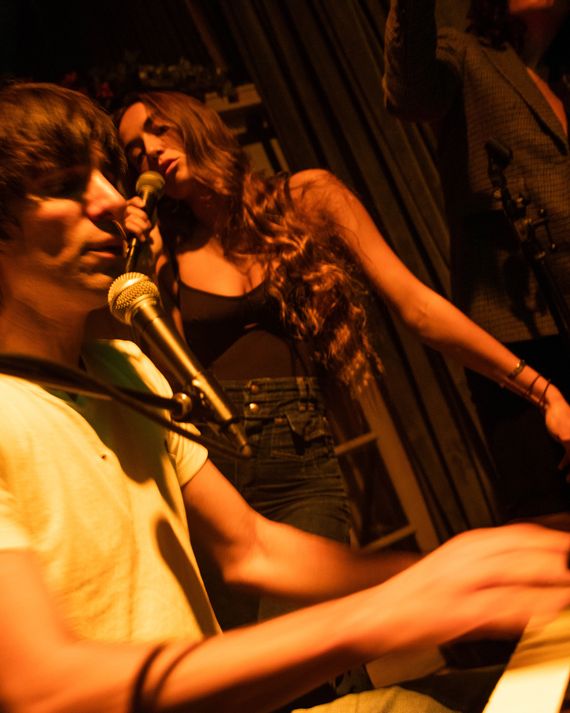 Sebastián and Gray sing their new song "Save Your Life."
Photo: Vincenzo Dimino
This week, I spent some time with people I admit I've long admired (from a distance, on social media) for being enviably cool and seemingly totally cool about being cool. Is that a not very cool thing for me to admit? Nonetheless, on Thursday night I went to the speakeasy-ish cocktail lounge Socialista for a party hosted by Sebastián Faena and Gray Sorrenti. Sebastián — or "Seb," as everyone calls him — is an Argentinian filmmaker and photographer who's shot everyone from Rihanna and Gaga to Gigi and Cindy Crawford. His uncle owns the Faena hotel in Miami. And Gray is the 20-year-old daughter of the Italian American fashion photographer Mario Sorrenti. (You might recognize the photos he shot of his then-girlfriend Kate Moss for Calvin Klein; his brother, Davide Sorrenti, was also a well-known photographer.) Gray is in the family business too, having already photographed celebrities like Rihanna and J.Lo and campaigns for luxury brands including Loewe and Saint Laurent. Oh, and her boyfriend is pink-haired everyone-wants-to-date-him Gossip Girl actor Evan Mock — making them a New York Gen-Z "It" couple.
Seb and Gray and Evan are pals, and this party was in honor of Seb's new project, an EP called Save Your Life, which was inspired by his mother's death last year. Gray collaborated with him on it when the three of them were all quarantining at Seb's Connecticut home, directing a music video and singing on one of the songs.
Last Thursday was an evening of Gossip Girl celeb sightings, disconcertingly gorgeous people, and free-flowing French 75s. By the end of the night, I was scurrying home, feeling maybe a little blah in comparison to this crew of young New Yorkers with multi-hyphenate professional titles and really fabulous skin.
8:02 p.m. | Before the party, I'm to meet Gray and Seb for dinner at Cipriani, which is downstairs from Socialista. The sidewalk out front is teeming with slick-haired American Psycho types and their younger, designer-clad dates; when one of the latter, a trim girl with high cheekbones and loose curls, walks up and lights a Newport, I mistake her for Gray. The real Gray arrives while I'm still recovering from the embarrassment, looking louche-chic in blue jeans and a black tank top. Seb is similarly casually hot, in jeans and a white V-neck tee, with a shaggy, indie-rocker haircut. I was told the boyfriend, Evan, would be joining us, but Gray acts as if that was never the plan: "He's not allowed to come," she says playfully. Obviously, I'm disappointed.
8:10 p.m. | At the table, I chat with Gray about our Halloweekends, and she tells me her friends were responsible for the "raid" on China Chalet, the infamous dim sum restaurant by day and late-night party spot that closed during the pandemic. Apparently they were able to dance for a couple of hours before the police shut it down. "I miss it," she says of the place — which I never got to frequent — reminding me that at the edge of 21, she's a true hot child in the city. "Me and Seb? We like to live life," she says when the bread arrives and they don't touch it.
8:25 p.m. | The restaurant is loud, packed with suited men speaking boisterously over each other, so Seb suggests we carry our bellinis and martinis upstairs to the not-yet-open Socialista, a high-ceilinged, "Cuban-inspired" lounge lit by big globe-y chandeliers. Seb is anxious, darting around the room removing a "reserved" placard from the table, softening the lighting, and requesting the thermostat be turned up to 74 degrees. Dinner arrives, and I ask how they met. They joke about meeting in college before Seb eventually, somewhat mysteriously, admits that they connected "through someone I used to know." This someone apparently had a "Gray Sorrenti" tattoo, which piqued Seb's curiosity about what made this Gray person "so special." Talking with the duo, it becomes clear that despite their age difference, Gray occupies some kind of maternal role for Seb. When Seb considers another martini, Gray warns him to "slow down!" before rolling her eyes and telling me, "I'm the grown-up here, the one who has to monitor things." He, in turn, is a total mama's boy. "Gray's not normal. She's like an antique in a way. I don't think of Gray as other. I think of her as me," he says, adding he was jealous of Evan when they first met. "I didn't like him at first." Gray agrees with a giggle: "Neither did I."
8:40 p.m. | Picking at a shiny mound of tuna tartare, Seb and Gray talk about their various skill sets in music and photography and film. They both insist that they don't know much about fashion, even though she walked for Alexander McQueen as a teenager and he keeps referring to Carine Roitfeld by her first name. "I feel like fashion photography is prostitution. Because you're selling shoes and bags," Seb dares to venture. "I like the art of fashion," Gray responds, explaining that she's more interested in "film and photo books." They refer to themselves as "nerds" and "geeks," but I doubt anyone has ever thought that about either of them. He's a flirty romantic, talking about past sexcapades with boys and worldly travels for work and even more about his love for Gray. She's the more subdued listener, but she's obviously a force to be reckoned with. "When I was 9, I couldn't wait to be 10," she says, which explains her well. "We call ourselves the perfects," Seb says, a half-joke. "Because I've never met someone as … perfect." And honestly, I don't even mind the self-flattery. I feel good about myself when I tell a joke that makes them laugh.
9:10 p.m. | As guests start to arrive, Seb and Gray rehearse their song at the piano he had carried into Socialista earlier today. When he looks up from the keys, into her eyes, he messes it up.
9:30 p.m. | Quickly, the room starts to fill with "friends and family," mainly sweet-smelling, fashionable young people (a.k.a. models) but also early arrivees like the global creative director of MAC and Sophia Lamar (who would like to have a word with me). It is, I realize, the most self-conscious I've felt in a room this year. Seb, self-conscious himself about talking too much at dinner, zooms across the room to apologize: "I felt like Shirley Temple," he says, explaining that he's really just very excited about a new chapter in his life, one in which he feels more satisfied. To explain it all, he leaves me with his iPhone, where's written a series of hastily typed paragraphs in his Notes app explaining his career, the silver lining he's discovered, and how he didn't necessarily fuck his way to the top (though he has fucked a lot along the way). "I loved being a hustler… I wanted to be Jean Genet, Rimbaud, Livanov, Candy Darling, all of them. I wanted to crawl in the swamp that NY was to me," I read between sips of my martini. "To use my body as a tool to get what I want: I still love the fantasy of it." At the end, he quotes Sylvia Plath: "The truth loves me." There was something about it I found touching.
9:35 p.m. | In a sea of young and cool, I ask someone who's neither what he thinks of the scene. "These are the hottest young people in New York," the man says, pointing out the models Blue Lindeberg and Jane Brooks. He continues, "It's very telling that we're upstairs from Cipriani right now. The last time I was here was for a billionaire's birthday party. J.Lo was the star guest."
10:13 p.m. | Overwhelmed and taking a brief breather with my cocktail in the restroom, I realize Seb and Gray are in the stall next to me. We all emerge at the same time, and Seb rushes back to the party because he's lost Gray's camera. "I'm excited for him to shine. It's not my song. It's his song, you know? He's wanted to do this is whole life," Gray tells me when I ask how she's feeling about the performance. As for herself, she's currently recovering from being sick and is a little worried about her voice, which is still girly if more raspy than usual. "Gray?!" someone yells from outside the restroom. "Gray? Jesus Christ, I heard your voice. You sounded like Mrs. Doubtfire." It's Evan, who is even more of a flawless, cocky babe in person than you'd imagine him to be. Tonight he's wearing sunglasses, red fingernails, diamonds, pearls, and, maybe as a nod to his native Hawaii, a metallic shark's-tooth necklace.
10:19 p.m. | It's showtime, so Seb and Gray get up in the front of the room to give a speech, which mostly reaffirms what I've been observing all night: They really, really (platonically) love each other. "Gray's a part of me in a way. I don't think I could've done this without her, but maybe I would've you know?" Seb says, calling himself a late bloomer and saying this newly awakened passion is arriving late in his life, in "God's time." "How late?" the boys around Evan heckle from the back of the room. On screen, we watch Gray's music video, featuring footage both of herself and of Seb's mother at her age, then another for a song called "Artificial Irresistible," featuring a "major male model" (per the partygoer next to me) who looks a bit like Seb singing the song into his own reflection in a mirror. When the duo next takes their place at the piano to sing, Evan, standing on top of a nearby banquette, literally swings from the ceiling and angelically mouths the lyrics. After the performance is over, he rejoins his bro posse, pushing past other partygoers and making weird cricket noises. They remind me of high-school boys in their senior year.
10:50 p.m. | Outside on West Broadway, I find Gray enjoying a post-show smoke. She's been sick, so the cigarette probably isn't a great idea, and when I tell her I'm also smoking, despite a recent lung infection, she teases, "You're so fucked up! Pain is gain, baby!" We talk with her friend, a tall, dark, and handsome DJ-stylist in a ripped Rick Owens sweater, who says, "I'm not a huge fan of the Socialista." Gray encourages him to come back upstairs: "It's a shitshow, but I think it'll be fun with us there!" It's also really hot inside, despite the now-chilly weather, which reminds Gray of the drafty, under-heated apartment where she lives with Evan (and sometimes Seb). Right now, she says she's planning to move to Brooklyn, somewhere with a garden where she can live alone for once. "I need my own germs and my own space," she says. "I got all the boys, all of Tompkins Square Park in my apartment." If only, I think to myself.
11 p.m. | Back inside, I plop down on a couch with a boy in a colorful sweater who turns out to be Stevie Wonder's son Kailand Morris, who just moved to New York. "Evan's my boy. Gray's dope. All the homies are dope. I just wanted to come and support," he tells me. So far he's loving the city, what he calls a "culturally advanced area," presumably more so than his native Calabasas. I ask what he does, but as with others in the room, that's not necessarily an easy question to answer. He plays the drums. He models (recently in ads for Gap). He designs. All of this to say: He identifies as an "artist," but that's maybe too cliché to say, so he prefers "polymath," you know, "like da Vinci or Kanye." Also like many others in the room, he's mature beyond his years (20) — which is most apparent when he orders us all another round of drinks. "Have you had a French 75 before?" he asks.
11:10 p.m. | "What's going on, my brooooooo?!" Kailand yells when Gossip Girl actor Eli Brown joins our booth for a round of "75s! 75s! Cheers! Cheers! Cheers to the years! 75s!" The two of them tell me about their recent trip to Europe, where they partied in Amsterdam, Barcelona, London, and Paris. "It was fucked up. We did everything and nothing," Eli says. He's also relatively new in New York, having moved here to "to take a job" (modesty!). Unfortunately, his employers recommended he move to Williamsburg, and he's no fan of all that "fucking gentrification: Whole Foods, Blue Bottle, Chipotle, Sweetgreen, the works." Which is not what he signed up for. "I live in Brooklyn and I feel like I'm half-assing living in New York," he says. Evan walks over and puts him in a neckhold. They go to snap a photograph, but not without putting their sunglasses on first.
11:21 p.m. | Here's something else I've learned over the months about partying in New York: The fancier the venue, the quicker people are to assume they can smoke inside. That's certainly the case tonight as the crowd starts lighting up all across the room. "I thought for this event they might let it slide," a waitress says in passing as she pleads with partygoers, none of whom are paying attention, to please extinguish their cigs. Eli tells me he too was just berated for smoking, so he put it out on the corner of his drink. Then the waiter tried to take his drink, but he wasn't done with it yet.
11:25 p.m. | The "It" couple is kissing. It's hard to look away.
11:29 p.m. | Someone introduces me to "a total legend," an older, dark-haired woman in a leopard-print coat who is Gray's grandmother. She immediately shows me a family picture on her phone. "We are definitely the same personality: very outgoing, party person, all different types of friends, full of love and life," she says, talking about Gray. "She's like me: She loves to dance, she loves good food, she loves boys and men" (tonight, of course, it's boys). I ask if she's enjoying the party, but little do I know she's no stranger to this club or the club scene. "I used to come here when there were Russian mobsters with their hookers," she says. "Back in the day, I hung out with Warhol. I hung out at Max's Kansas City. I was a semi-groupie … I had a great run."
12:18 a.m. | It seems like Gray and crew are about ready to take their party elsewhere — the boys are boisterous, radiating as much energy as a huddle of football players — so I decide to head out myself, quite honestly intimidated and overwhelmed after spending a night around a group of people who are both younger and hotter than me. But first I have one last smoke with Gray, who waves the manager away when he tries to stop us. "I have the most fun with him — Evan," she says, looking over at her boy with his boys, batting her eyelashes.