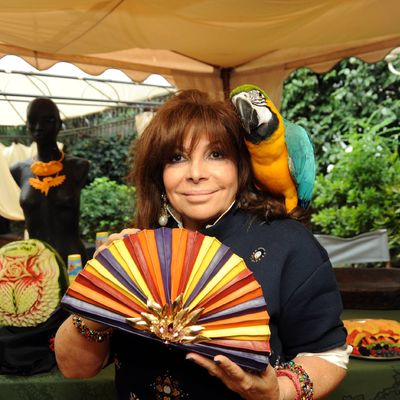 Bo and his mama.
Photo: Maule/Fotogramma/Ropi via ZUMA Press
If you joined the rest of the world in watching House of Gucci this weekend, you're definitely aware of Patrizia Reggiani's penchant for a bit of theater. I mean, on the day her ex-husband was shot — by the hit man she hired — there was a single word entry in her diary: "Paradeisos."
That's Greek for "paradise," and what I mean to say is that this woman has an extraordinary sense of drama. But while the film details the events that led to Maurizio Gucci's murder and the Italian socialite's 29-year prison sentence, what it did not include is what Reggiani did after she was released from prison. Naturally, I was curious about this. What does a woman like this do for a living after all those histrionics?
Seems like Reggiani wondered the same thing. When she came up for parole in 2011, with the condition that she find work, she decided she'd rather stay in prison: "I've never worked in my life and I'm certainly not going to start now" she told the Milan court.
But by 2014, after serving 17 years of her sentence, she seemed to have a change of heart. She agreed to start working for the Milanese jewelry firm Bozart, a brand known for its opulent and gaudy costume jewelry, and released a handbag and jewelry line months after leaving prison.
The collection, inspired by her pet macaw "Bo," is pretty much in line with the Bozart aesthetic (in that it is a lot). But beyond that, it seems to me exactly the kind of thing someone with Reggiani's particular background might create:
The company, which fared much better back when big, glitzy earrings and rhinestone dog collars were still in vogue, seems to have hired the so-called "Black Widow" as a way to drum up PR interest. It didn't really work. Bozart declined to comment for this story, but its co-owner, Alessandra Brunero, has said that being Reggiani's de facto minder — tasked with ensuring the socialite stick to her parole and rebuild her life — was no cakewalk. ("Oh, mamma mia, it's not easy," she exclaimed to the Guardian in 2016.)
In the same story, Brunero explained that Reggiani spent much of her work day advising on design and reading fashion magazines, while the store's other co-owner, Maurizio Manca, added that his employee's macaw-inspired line was a great success. It didn't receive any press coverage, though, which Manca claimed was because "someone at Gucci" had apparently told journalists not to publish. (A rude Italian fashion editor had a different take: "The fashion corps probably just didn't like the parrot designs.")
And speaking of parrots, whatever happened to Bo? The good news is that the avian muse is still spotted riding on his owner's shoulder as she wanders around Milan, where she now lives as a free woman, possibly on the millions of dollars from her ex-husband's estate she was awarded in court.
It's unclear if she's still consulting for Bozart, and although I've scoured eBay Italia and other unfamiliar pockets of the internet, I can't find a single piece from the collection. I suppose it means all we have left of this little piece of Gucci history are a few photos, which I now offer to those of you obsessed with every facet of this thrilling, murderous woman's life: