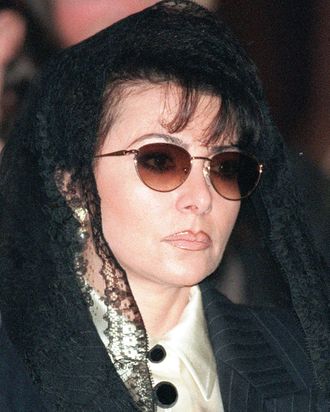 Patrizia Reggiani, the former wife of Maurizio Gucci.
Photo: Luca Bruno/AP/Shutterstock
It's hard not to listen when Patrizia Reggiani talks. The ex-wife of Maurizio Gucci — the man who was once the head of the Gucci fashion house — is cold, clever, and was also charged with arranging the assassination of her ex-husband. While they were still together, Maurizio had a yearslong affair with a woman named Sheree McLaughlin, which, in part, prompted to him leave Reggiani. Allegedly, Maurizio packed his bags, told Reggiani he was going on a business trip, and never returned. On the day of his murder, Reggiani wrote a single word in her later-confiscated diary: paradeisos. Greek for paradise.
Reggiani's eccentricities are not limited to her ideas of murder and marriage. While in Milan's San Vittore prison, her legal team convinced authorities to allow Reggiani's pet ferret to live with her. The ferret, named Bambi, died after another inmate sat on him. Of course, Reggiani doesn't like to admit that she was in prison at all and refers to her incarceration as "my stay at Vittore Residence." With her twisted proverbs and cruel confidence, it's easy to see why Lady Gaga stayed in character as Patrizia for nine months while filming House of Gucci.
In the Ridley Scott–directed film following Reggiani's plot to kill Maurizio, Lady Gaga's portrayal of "Lady Gucci" is as captivating as Reggiani herself, something that Gaga has spoken about. "I wish not to glorify somebody that would commit murder," Lady Gaga previously told British Vogue. "But I do wish to pay respect to women throughout history who became experts at survival and to the unfortunate consequences of hurt. I hope that women will watch this and remind themselves to think twice about the fact that hurt people hurt people. And it's dangerous. What happens to somebody when they're pushed over the edge?"
With that in mind, here are a few of the most buck-wild things Patrizia Reggiani has said about wealth, her marriage to Maurizio, and life as a Gucci. Buon appetito.
On emotions
Perhaps one of Reggiani's best-known adages: "It's better to cry in a Rolls-Royce than be happy on a bicycle."
On hiring a hit man instead of shooting Maurizio herself
Per the Guardian, when an Italian reporter asked why Reggiani hired an assassin, she said, "My eyesight is not so good. I didn't want to miss."
On whether she hated Maurizio
"There was no hatred," she told an Italian newspaper, per the London Times. "I didn't hate Maurizio, I never hated him. It was my irritation — he irritated me."
On having a job
In 2011, when Reggiani was still in prison, she turned down an offer for parole as it would have required her to get a job. "I've never worked in my life, and I don't intend to start now," she reportedly told her lawyer. She accepted a later offer and was released on parole in 2016 when she began working for the Milan-based jewelry company Bozart.
On her current wardrobe
During a 2016 interview with the Guardian, the interviewer complimented Reggiani's outfit, saying, "That's a lovely dress." Reggiani responded, "It's Zara. I don't earn enough at this place to buy proper clothes." Then she gave "a disgruntled look" at her Bozart employers.
On technology
"I don't like computers. They are quite evil," she told the Guardian. Per the publication, her employers actually removed her computer from their internal network after Reggiani permanently deleted the entirety of Bozart's photo archive.
On property
She once said, per the book House of Gucci is based on, "Few women can truly capture the heart of a man. Even fewer manage to own it."
On the limits of wealth
In her diary, which was later collected as evidence, Reggiani allegedly wrote, "There is no crime that money cannot buy."