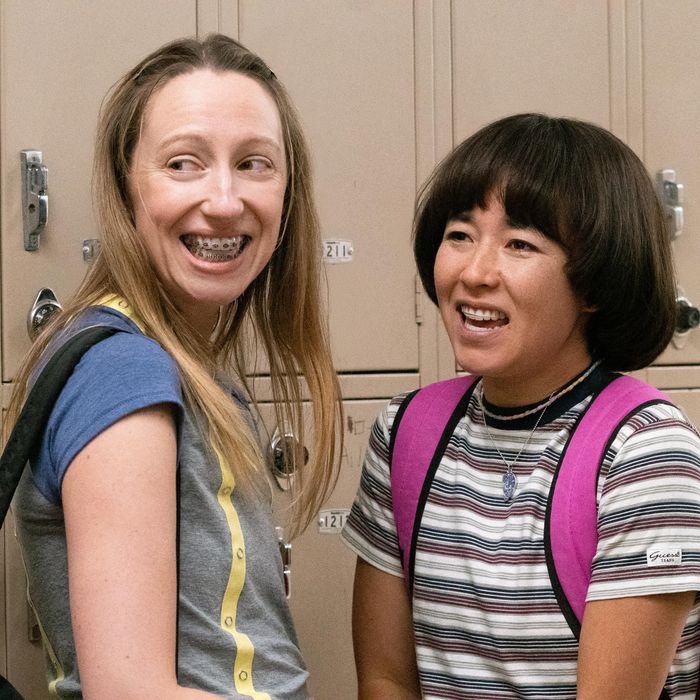 Anna and Maya are back, baby!
Photo: Hulu
Hike up your thongs and prepare your AIM away messages: PEN15 is coming back on December 3. Our favorite BFFs, Maya and Anna, return in all their awkward glory with seven new episodes that continue to tackle the mess that is middle school. They run away! They maybe get their first kiss! Maya wears weird, little glasses! Of course, no one explains the trials and triumphs of adolescence better than these two teens played by fully grown adults Anna Konkle and Maya Erskine. So, without further ado, here is the trailer:
When we last left Maya and Anna, they had just wrapped opening night of their middle-school theater opus, "The Days Are Short." (Erskine's ability to play a kid pretending to be an adult is unmatched.) Maya had an extremely short-lived relationship with co-star Gabe, who has started reckoning with his own sexuality. Anna continued her flirtation with fellow theater techie Steve, a sweet development quickly dampened when she finds out she'll have to decide which of her recently separated parents she wants to live with.
Last year's PEN15 episodes gave us pool parties, witchcraft, middle-school wrestling meets, new friends who lie, and old friends trying to balance being cool with being good. We also got a special animated episode where Anna and Maya take a trip to Florida with Anna's dad, Curtis.
If this new trailer is any indication, PEN15 will continue to make unimpeachable choices, showing how the girls grapple with big issues (divorce, relationships) and even bigger issues (dogs eating hamsters). The new episodes of PEN15 will be available to stream December 3 on Hulu. TTYL!