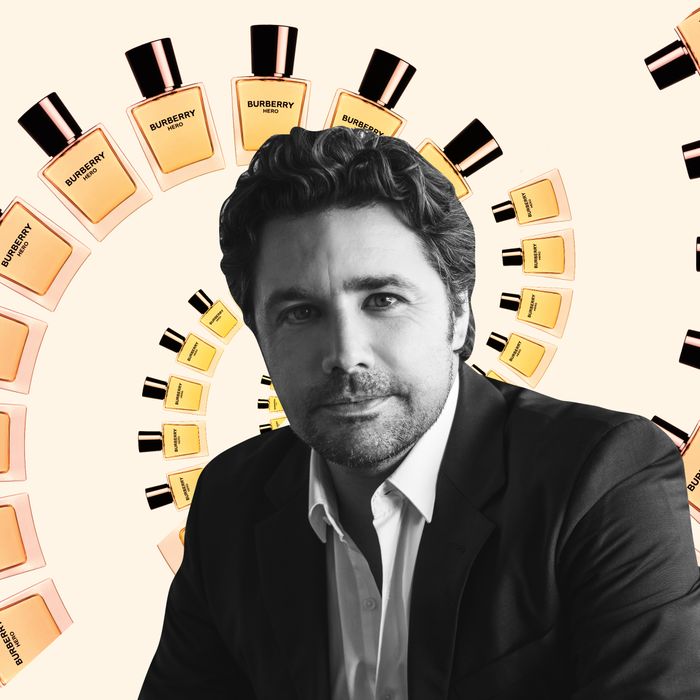 Aurélien Guichard.
Photo-Illustration: by The Cut; Photo: Martin Lagardère
Perfumer Aurélien Guichard is behind Burberry Hero, a fragrance so majestic it inspired Adam Driver to transform into a hot centaur — in an advertisement, of course. A refreshing, foresty scent that smells like cedar trees from around the world, Guichard's creation is the first men's fragrance to launch under Burberry chief creative officer Riccardo Tisci. The Cut talked to Guichard, an eighth-generation perfumer, about the Frenchest aromas, cedarwood furniture-makers, and what was on Tisci's original mood board for Hero.
My first scent memory is: I have two. The first is the scent of roses. When I was a little kid, we used to pick roses from the fields at our home in Grasse. Then we'd pack the car with a ton of bags of roses and drive the bags to the perfume factory. That memory is always in my mind — a car full of roses, which is an amazing smell. The second would be the smell of my mother's hand. She is a sculptress, and when I was a little kid, I could smell the mix of marble and cigarettes on her hands.
Happiness smells like: I now have a farm in the south of France where we have organic roses that I use for perfumery. Happiness, for me, smells like the moment I pass the threshold. I walk into this atelier, and there's a mix of smells — of all the different oils and absolutes. The mixture of all these smells is indescribable, but to me, it's happiness.
Friendship smells like: A generous meal of French food, plenty of Provençal dishes made with vegetables, served on a large table on a summer evening.
The worst smell is: A non-smell. Something that smells like nothing. I would also say the smell of an ingredient I love that is too old, damaged, or has gone bad. That's such a waste.
Vacation smells like: Being in a car, window open, on the shore. The open window is important. It feels like freedom when you can smell where you are, and you get this huge smell you just can't capture in a bottle.
My home smells like: It smells like the perfumes I work on; there's a lot going on. I'm always telling my wife to stop burning candles because I can't smell my perfumes.
The first thing I smell in the morning is: Paris. I live in central Paris, and I have a motorcycle, so I drive to my office very early in the morning. I cross Paris by the Seine, and I can smell Paris in the morning. It smells almost like a French song called "Paris S'Éveille," which is about the smell of Paris waking up.
The last thing I smell before I go to bed: Minty toothpaste. That's probably what I should have said for the previous question as well. I smell that before I leave in the morning.
A scent or smell I love that others usually don't: It's very French but cigarettes and coffee. Only in the evening.
On Burberry Hero's mood board: It all started with a mood board Riccardo Tisci built: It was about a man going forward, running into nature, around the elements, facing light, being courageous and brave. It was a guy who was very physical, but I didn't know it was going to be Adam Driver. Before starting a formula, I went to different Burberry stores. I tried to observe Burberry's history. I looked at people who buy Burberry today — who they are, how they live. That was my starting point, and that's what Riccardo selected.
On the fragrance's notes: I really wanted to preserve this unique combination of cedar: cedar from Virginia, which is vibrant, very woody, very close to the smell of the trunk; cedar from the Atlas Mountains, which is more amber-y, more soft, really about this feeling of protection; and cedar from the Himalayas, which is more animal-like, almost ponylike, and gives a lot of depth and character to our cedar note. Then we brought a British touch to it by using some juniper and a Mediterranean touch by using a beautiful bergamot that brings light and brightness to the fragrance.
On making the perfume: I absolutely knew I wanted to work with cedarwood oil from Atlas because it's an upcycled material made from waste. It's actually made by people who make furniture with cedarwood; there are a lot of leftovers, and they distill the oil. The quality is amazing, and you don't have to cut trees to obtain it.