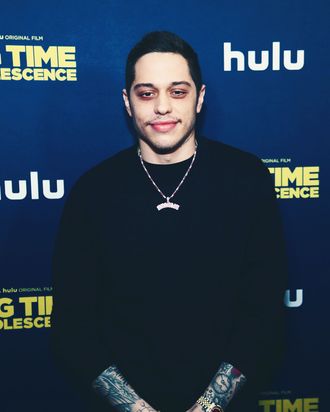 What have we done, Peter.
Photo: Dimitrios Kambouris/Getty Images
Every time Pete Davidson is linked with another professionally hot woman, the world likes to pretend it doesn't understand why. WhAt'S tHe ApPeAl? Why the fascination with this tall man from Staten Island? Is he really that funny? Is his energy really that, uh, big? To which I say, knock it off! Watch this man talk about how much he loves Robert Pattinson in Good Time and tell me you wouldn't want to hold his hand on a roller coaster. Pete Davidson is hot, and we all know it.
Now, I know you read the title of this post. You are here to talk about the Pete Davidson dildo that seemingly everyone received a press release about yesterday. I guess that since the internet is over the Cousin Greg vibrator, adult-entertainment company CamSoda decided to unleash its latest creation: a big ol' dildo inspired by Pete Davidson and his many tattoos. I fear CamSoda is going to sex toy a little too close to the sun.
Though we are not brave enough to publish a photo of the faux phallus, Paper Magazine is. (Paper Magazine, you'll recall, is also responsible for this pantsless Ken doll photo of Davidson.) If you are not brave enough to look at the photo, I will describe it for you: It's a longer-than-average, presumably silicone dildo. It's flesh-colored. And it's got a bunch of tattoos on it. The tattoos don't appear to be replicas of actual tattoos Davidson has on his publicly visible body. Make of that what you will.
So, how do you feel about the Pete Davidson dildo? Are you mad? Confused? Over it? Are you sure you just aren't horny? Well, however you feel, only we are to blame. What did you expect after he became the world-appointed epitome of big dick energy?
Regardless, you can add it to your collection of Pete Davidson paraphernalia, which I'm assuming also includes this Pete Davidson vibrator from Etsy. It's emblazoned with a photo of Davidson's face, which is admittedly somehow more unsettling than a flesh-colored dildo covered in tattoos. Also, the timing of the dildo seems … intentional. He's recently been linked to Kim Kardashian West just a few weeks after she hosted Saturday Night Live, where Davidson is a cast member. Apropos of nothing, Kieran Culkin is hosting SNL this weekend.
So.