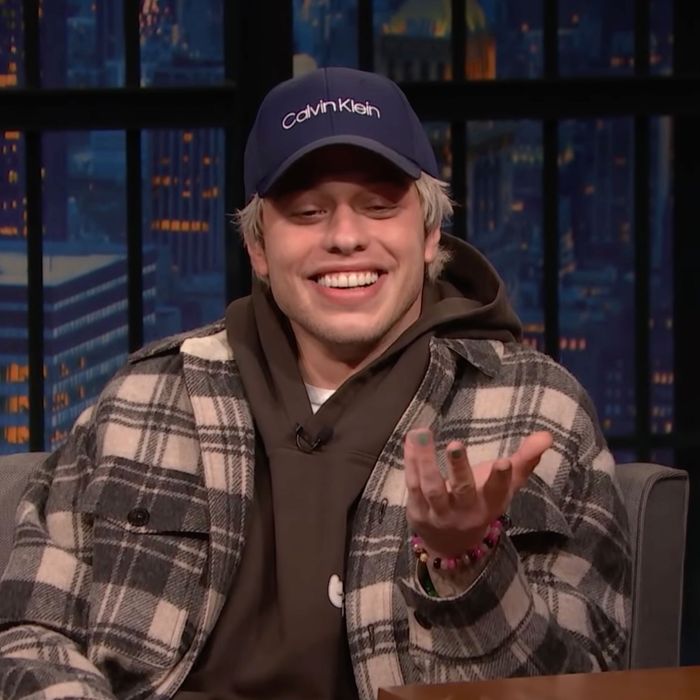 Will we ever know the truth, Pete?
Photo: Late Night with Seth Meyers
If you have been anywhere near the internet in the past couple weeks, you have likely heard rumblings of Pete Davidson and Kim Kardashian West maybe (hopefully?) dating. They held hands on a roller coaster. They got dinner in Staten Island. These, as we all know, are classic signs of a blossoming romance. Neither Davidson nor Kardashian West has spoken publicly about these rumors, thus giving Late Night's Seth Meyers the perfect opportunity to acknowledge them during Davidson's appearance on his show on Monday.
"I want to address something. I feel like I want to confirm if it's real," Meyers said after introducing Davidson. "Yeah, you know, I've been wanting to talk about this," Davidson replied. "People are, like, whispering and, you know, making eyes at me." Do go on, Pete! He continued, "But it is true: I do have a show on Tubi coming out." There you have it, folks! Pete Davidson is in a committed relationship with Tubi!
Davidson was on Late Night to promote his forthcoming show, The Freak Brothers, which premieres November 14 on the streaming service. Unfortunately — though expectedly — he was not on the show to confirm (or deny!!!) the rumors about him dating Kardashian West. And honestly? Good for him. Make us work for it a little, Pete.
Meanwhile, an unnamed "insider" recently told Us Weekly that Kardashian West's friends encouraged her to "go for it" with Davidson. What does that mean exactly? Who knows! It doesn't seem like Davidson or Kardashian West will be publicly addressing their hand-holding or dinner dates anytime soon. So speculate accordingly, I suppose.
Anyway, congrats to Pete and Tubi on their budding relationship.