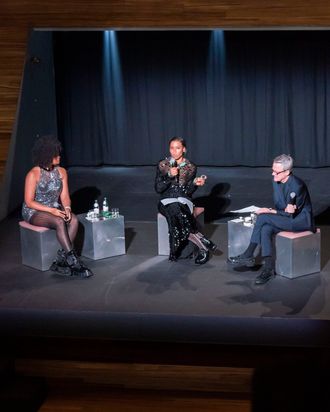 Photo: Luca Mascia 2021/Courtesy of Prada
On Tuesday, Prada hosted their first in-person talk as part of their series with Fondazione Prada, the Milan-based institution that is dedicated to culture and art. The talk, titled "Shaping a New Discourse," was the first of their new iteration of Prada Possible Conversations, which had previously hosted people like Amanda Gorman and Yara Shahidi.
The conversation, which took place at Prada's storefront on Broadway, was led by Jodie Patterson, who is a writer and the chair of the Human Rights Campaign Foundation. The key speakers were Ken Corbett, psychologist and writer, and Raquel Willis, award-winning writer and activist. In an engaging night, the panel talked about race, gender, and identity.
"We're here to talk about language," Patterson said. "Language is changing at a rapid pace, and there are new words that are coming up. Race, age, socioeconomic status, region, politics, and trauma are shaping language."
Discussing gender and race, the panelists began to share moments where they have been challenged into using new language and what that means. Corbett mentioned that language is not only about changing the present but allows us to reimagine the future.
It wasn't until the very end, during the open Q&A, that they began to talk about fashion. One audience member asked what fashion means for the women onstage, and both Willis and Patterson mentioned how they've used it as a means to express themselves and to express their inner emotions.
"As a Black trans woman, when I was younger, clothing felt oppressive. I had to wear it as a covering to dilute my queerness and my fem," Willis said. "Now, there's more play with gender in fashion."