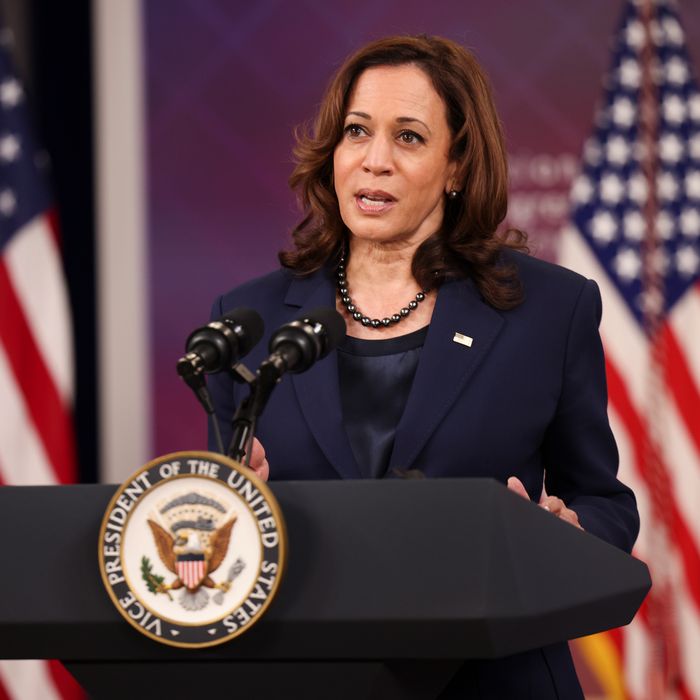 Kamala Harris, the country's first woman to (temporarily) become president.
Photo: Kevin Dietsch/Getty Images
I suppose it's fitting that this is the way America got its first woman president — not with an election, but with an ass exam. Today, Joe Biden had a routine colonoscopy at Walter Reed National Military Medical Center and needed to undergo anesthesia. So while he was sleeping with a tube up his butt, the power of the presidency was temporarily transferred to Vice-President Kamala Harris. Countries like New Zealand, Germany, Finland, Costa Rica, Thailand, and Denmark have all had female leaders at least once for quite some time now. But hell, yeah, madam (acting) president.
Imagine, years from now, when history books and Wikipedia pages are updated to include our country's very first female president. I'm sure it will read something like, On November 19, 2021, the United States of America had its first woman president for, like, an hour. However, her time as president ended almost as soon as it began. Per a tweet from White House press secretary Jen Psaki, Biden resumed his duties as president at 11:35 a.m.
With the temporary transfer of power, Harris also became the first Black woman president and the first Asian president. However, this was not the first time a vice-president has stepped into position as acting president. It's not even the first time this transfer of power has happened because of a colonoscopy. It is, however, the first time this transfer of power has led to "Madam President" trending on Twitter alongside the word "colonoscopy."
Regardless, hail to the (temporary) chief.