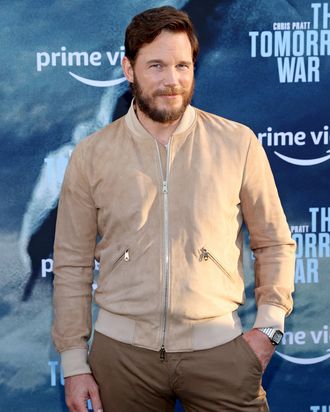 Photo: Matt Winkelmeyer/Getty Images
In the latest Hollywood Defense of Chris Pratt, a producer is explaining Pratt's Super Mario Bros. casting, responding to the extremely loud (and amusing) backlash to him voicing Mario in an upcoming animated film.
"As an Italian American myself, I understand," Super Mario Bros. producer and Illumination CEO Chris Meledandri told Too Fab of the strong reaction to Pratt's casting. "Charlie Day, who's playing Luigi, actually comes from Italian heritage. Yeah, so, that's our nod." Weird flex, but okay.
Meledandri seems to be responding specifically to those who questioned the decision to cast a non-Italian American in the role. After all, Mario is known as much for his exaggerated accent as he is for his red cap and blue overalls. One now infamous tweet even called the casting "Italiaphobia." It was also a joke that many took way too seriously. (This man does not need you to defend him against harmless Twitter jokes!)
Beyond just his defense of Pratt, Meledandri also promised that the actor wouldn't be doing the thick Italian accent Mario is known for, though he wouldn't say what voice Pratt would be doing, exactly. "All I can tell you is the voice that he's doing for us and Mario is phenomenal," he said.
So now, Chris Pratt — who is, notably, not a voice actor — is doing a "voice" as Mario. Maybe we only have ourselves to blame.