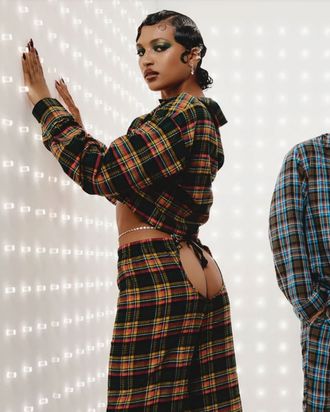 You're welcome
Photo: Savage x Fenty
Here at the Cut, people are always saying that Rihanna is the pope, and no disrespect to my colleagues, but maybe she is actually Santa. Consider: Rihanna loves giving public gifts — beautiful abs to ogle, a skin-care line by way of a pool party, a little kiss in a big hat — even if it means breaking and entering. And with the holiday period upon us, Rihanna naturally has something festive and beguiling up her sleeve. It's both seasonably cozy and a little risqué, practical and really, really not. Would you like to know what Rihanna got you as a present this year?
Of course you would — they're assless plaid pajamas. How did she know? (Santa always knows.)
The pajamas in question — the Tied Up Tartan Open-Back PJ Pant — are part of a recent Savage x Fenty drop. They come in sizes XS through 3X and cost an extremely reasonable $14. You can have them in Pink Canterbury Plaid or Blue Aruba Canterbury Plaid, and you really you can't go wrong because your butt's going to be out either way. That is the cheeky genius of this garment; from the front, people assume you are wearing regular sleeping gear, but then you turn around and haha, where did the seat of your pants go? Why is your butt crack so liberally exposed to the elements, bare except for the drawstring dangling between your cheeks? What is happening here?
Say what you will of these pants (very drafty!), but I'm pretty sure that, on top of having a good sense of humor, Rihanna hopes you can have sex this holiday season even if it's too cold to be naked. Your Santa just wants you to be comfortable.