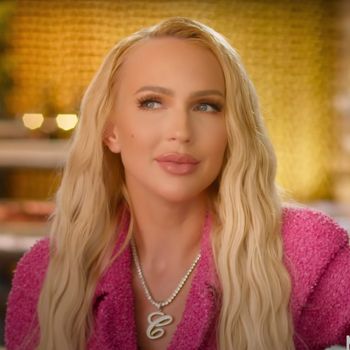 Christine Quinn cares even though "she's married with a baby."
Photo: Netflix/YouTube
Selling Sunset is (almost) back, baby! And this time … well, it's pretty much the same: very beautiful, mostly blonde women selling wildly expensive houses for identical twin brothers Brett and Jason Oppenheim. If the trailer is any indication, season four promises to bring new faces, more drama, and a very pregnant Christine Quinn.
A lot has happened since season three came out last summer: Christine had her baby (but, as mentioned, we'll still get to see a wide range of her pregnant fashion eleganza). Jason started dating Chrishell, whose divorce from This Is Us actor Justin Hartley was a heavy focus of season three. Davina left. Netflix has already announced that there will be a season five. Needless to say, the drama is ripe for the picking and we can probably expect a cliff-hanger or two.
In the season-four trailer, we meet two new members of the Oppenheim Group, Emma Hernan and Vanessa Villela. Vanessa has previously acted on a few telenovelas, which is exactly the kind of work experience I am looking for in my Selling Sunset real-estate agents. Emma, who I'm convinced is just Heather with slightly different contour, has previous drama with Christine. Again, exactly the kind of experience that makes for a star member of the Oppenheim Group. Chrishell has already said the addition of these two new castmates "stirs the pot a little bit," but that was to be expected.
Season four of Selling Sunset is available to stream on Netflix starting November 24. In the meantime, you can watch this Instagram video of Christine flip-phone acting.