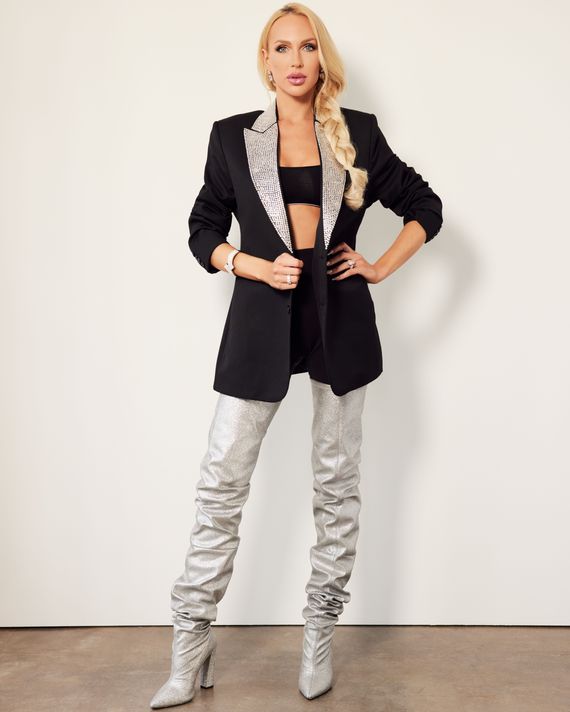 Photo: NINO MUNOZ/NETFLIX
When Netflix debuted Selling Sunset, the latest project from The Hills mastermind producer Adam DiVello and one of the streaming network's first forays into reality television, in early 2019, it did so without much fanfare. But it didn't take long for that to change. Of course it didn't: It's a group of fabulous Los Angeles glamazons trying to push real estate while also pushing each other off of their six-inch Louboutins. And one five-foot-nine blonde bombshell immediately caught the attention of viewers: Christine Quinn. With a stunning array of designer duds and an endless supply of quippy one-liners, Quinn stormed out of the gate like Real Estate Barbie destined for the genre. She instantly provided the sort of GIF-ability one craves from reality stars and stepped into the role of resident villain without any hesitation, a part she has embraced throughout the Emmy-nominated program's run.
But as Quinn, 33, says ahead of Selling Sunset's fourth-season release, she just does what she has to for the sake of good television. "We were on episode eight, and we had absolutely no drama whatsoever, and the producers were worried because we needed a season finale," she explains about changing the direction of the show during production of the first season. What could have been a dull inside look at Southern California real estate quickly transformed into a compelling, drama-filled soap thanks to her shade-filled confessionals, no-nonsense confrontations and 'Botox and burgers' parties. "I said, 'You know what? I got this, because if we don't get another season thanks to you boring bitches, you will never hear the end of it.' So I fell on my sword and I did what I had to do." Whether it's calling Chrishell Stause "fake" or telling Heather Rae Young that they aren't friends, Quinn has become famous for antagonizing the other women at high-end real-estate brokerage the Oppenheim Group to "stand out," which she believes is the most important aspect of being on a TV show. "People might be like, Oh my gosh, she's such a bitch, but those are the things that make you memorable."
Within just a few minutes of Zooming with her, it becomes glaringly obvious that Quinn is the same person onscreen as she is off. (Did I mention Quinn is logging on from a private resort in Bora Bora, sprawled beachside in a Gucci gold-chain necklace, her long blonde hair flowing in the breeze as she is handed coconut-housed beverages from the staff? Yep.) When asked if she puts on a persona for the camera, she clarifies that she actually "tones it down" for the show. "My sense of humor has always been like that — I say it how it is. I call people out on bullshit, and I handle things really well," she says. Truthfully, though, she is actually a homebody who doesn't wear makeup when she's not on camera.
There's no denying Quinn is the most talked-about aspect of the show, with her over-the-top parties, bold ensembles and unflinching honesty. She's garnered praise from celebrity fans like Mindy Kaling for, as she says, "just being myself in a world of people that are afraid to be who they really are." Quinn's current Zoom background is, today, on-brand for the reality star, but it's a far cry from the Dallas suburb where she was raised. Long before she was riding around West Hollywood in a bright yellow Lamborghini, she was pulling shifts at Sonic, Taco Bell, and Walmart. "I had a bunch of really, really run-of-the-mill jobs," she says. "I've lived so many lives, and people would ride their horses to the grocery store in the town that I was from."
Unsurprisingly, Quinn left it all behind for the bright lights of Hollywood to pursue an acting career. She eventually grew tired of the "dumb blonde" roles she was nabbing in projects like Shark Night 3D, Hot Tub Time Machine 2, and an episode of Drop Dead Diva, so she turned to real estate and scored the on-camera role of a lifetime: herself. "I wanted so badly just to be able to be myself and be on television," she winks. "I'm not going to be a 37-year-old washed-up soap-opera actress on Days of Our Lives, having a few cameos here and there. That's not me." As someone who always loved performing and making people laugh (even when it's at the expense of her co-stars), reality television felt like a natural transition. Quinn never misses an opportunity to throw shade at her co-stars, both in the show's oversaturated confessional shots and in this very chat, but she admits it's all part of the job — one where your performance is determined by how you stir the pot and not how you make friends. "I don't take myself seriously at all, and I just have fun with it," she points out, putting on a large pair of headphones to drown out the resort's booming Rihanna tunes. "This isn't a show about real estate or selling homes; this is about the girls, the drama, the fashion, the one-liners. That's really what I look forward to when I go to work every day."
Selling Sunset's latest set of episodes are focused on the growing divide between Quinn and her co-workers, many of whom feel she has burned bridges beyond repair and are eager to see her exit. But as their nemesis retorts, her fellow aspirational agents take the TV show — and life — too seriously. "I always thought I was really lighthearted, and even when I'm being critical, I always thought it was coming from a good place," she says, pulling her hair back and putting her massive 20-carat engagement ring in plain view. "I thought people could handle criticism because I know that I can myself, and you'll see in this season everyone's talking mad shit about me, and I'm just like, Why you so obsessed with me?, Mariah Carey style. There are some people that still don't understand the format and the assignment." Considering the barometer for success in reality television is based around how much drama you can deliver, Quinn seems refreshingly self-aware. This is someone who knows what fans of the show want and always has them in mind when speaking. She clearly believes her future on Selling Sunset will be determined by her ability to ruffle feathers rather than her chemistry with the cast.
Quinn took a step back from filming this season to give birth to her now-6-month-old son, Christian, and in her place, fans will meet new cast member Emma Hernan, who happens to be the ex-fiancée of Quinn's ex-fiancé, the details of which are debated throughout all ten episodes. While the casting news would send most into a rage, Quinn took it in stride, knowing it was the best move for the show. "I played ball, I was willing to play the game," she confesses. "They're trying for a storyline, and bless their hearts. Do you think I want to sit there and talk about a relationship from ten years ago? No, but I want to give people what they want." Despite being on the outs with the show's central friend group, she believes they all have a great professional relationship and feels secure with her friendships outside of the series. "When people say, 'Why are you not hanging out with the group?' Because I don't drink the Kool-Aid," she smirks. "I have real friends. I don't need to prove that I'm hanging out with these people. I just want to go home and see my baby after we're done filming."
Now a married mother of one nearing her mid-30s, Quinn has moved on from needing to defend herself to her castmates. "I'm a Libra, so I'm really good at communication, and whenever there's a problem, it's very easy for me to evaluate a situation," she says as she adjusts her blue-and-white, stone-column-printed tube top. "I really should have been a lawyer, but when you're dealing with people with low IQ levels, you just have to call it quits and tap out. I really don't owe anyone an explanation. I really don't owe anyone anything." The continuous unprompted jabs at her co-stars feel like part of Quinn's act, but you can't help but laugh at her unfiltered attitude. With the show's other agents focused on making deals and building relationships, there's an almost endearing quality to Quinn's nonstop efforts to provide entertainment at anyone's expense. It reminds me of when the most popular girl in school would let you, the awkward zhlubby gay guy, read the Burn Book to learn her real thoughts about the rest of the A-Squad. She gives you permission to spread what you've learned, and while you know you shouldn't, you can't resist the invitation to do her bidding.
The newest episodes point toward Quinn's potential exit from the Oppenheim Group — and perhaps the show — but she promises that she appears in every episode of the already-shot fifth season and plans on staying put as long as they'll have her. "The only reason I show up to work is for my fans, to inspire people and have someone go, Wow, I see myself in that person. I love how she has the ability to talk back to people and not give a shit," she admits. "That's really what's important to me. It's not because I like working with these bitches."
With a book on the way (appropriately titled How to Be a Boss B*tch), Quinn is ready for fans to discover more about her outside of Selling Sunset. While the fourth season sees her sharing rare moments of vulnerability when discussing her difficult childbirth, she's still hesitant to break her hard exterior for the cameras. "There were so many days where I didn't want to show up to set — it's too hard," she says as the sun hits her face. "When you're working on a reality show, you have to deal with things three times: You do it in a scene, you talk about it in an interview and then the fans watch it back and you have to deal with the heat that comes with that." Which is why Quinn is excited to open up about her past on her own terms, without worrying about how producers could "Edward Scissorhands" her life and experiences. "There's a perception that I've always been this way, but confidence was something that I learned," she says. "I was not dealt the best cards growing up and I had to mature really fast. I left my parents house when I was 17, I was in jail on my 17th birthday for marijuana possession … it's easy for me to be strong in business and be strong for people, but that's really through the experiences that I went through, which got me here today, and I wouldn't change it for anything."
The consummate hustler hopes to one day have a television show of her own, whether it's more reality, a hosting gig, or a veer into scripted comedy. We brainstorm potential show ideas for her, including a "RuPaul's Drag Race meets The Apprentice" concept that sees her searching for a personal assistant or, perhaps, the next Christine Quinn. I bring up a 2013 YouTube clip of her and her then-roommate performing a song — quite well — which she says was an audition for the Connie Britton–fronted series Nashville. "I'm a really, really fantastic singer, and that's something that no one really knows about me," she says matter-of-factly. "If it were up to me, I would be like Lady Gaga and just do it all!"