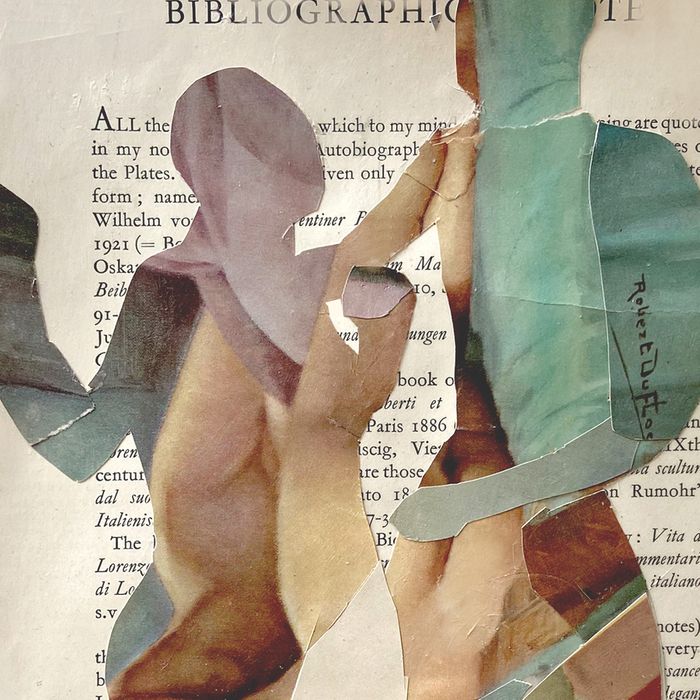 Photo-Illustration: James Gallagher
This week, a woman plans romantic trips with her boyfriend while worrying he's excluding her from his family life: 52, in a relationship, New York. 
DAY ONE 
9:05 a.m. The oat-milk latte from the bougie espresso shop downstairs has kicked in. I usually don't like spending that kind of money on a cup of coffee, but I'm feeling inspired by life lately. Why? Because I'm having the best sex I've ever had. And I'm 52!
11:11 a.m. I get dressed to go on a long walk. I live in the West Village and like to walk to at least the Flatiron and then back down to Tribeca and back. I have been in love with the city for as long as I can remember. It's the one love that's always lasted for me.
2 p.m. Walk is done. I shower and send a naked pic to T, my new boyfriend. He's divorced, successful, and very sexy. I never got married, and part of me thinks everything was meant to lead up to meeting him. He writes back, "You are so fucking sexy."
5 p.m. T has dinner with his kids tonight — they're in their 20s and working in the city. We've been dating for six months and I've only met them a handful of times, mostly in passing. It's our one sore spot. I feel like he's keeping me from meeting them and it hurts my feelings. He says that it's delicate because they are much closer to their mom, and he's in a period of rebuilding his relationship with them and bringing a new girlfriend around might interfere with that. It sounds weak to me, frankly … but I try to respect it. I never had kids and it's a big regret, so the chance to be a step mother or someday a step-grandmother is a gorgeous concept. But again, I try to play it cool regarding the subject.
9 p.m. I watch an episode of Dopesick. It's very disturbing and great TV, in my opinion. I used to be a TV producer. I made a lot of money on a couple shows and now I consider myself retired. As I fall asleep, I think about sex with T. Then I pop a sleep gummy and sleep like a baby.
DAY TWO 
10 a.m. I recently invested in several new sex toys. I play with some by myself, but first I send T a picture of them laid out on my bed. He's coming over tonight, so he texts back to not touch a thing. I hold off on masturbating. I like that kind of light domination.
3 p.m. A facial and a blowout. The perks of being in your 50s and having created a nice life for yourself. I have no complaints about my age other than my regrets about not having a baby. I should have done it on my own. I was busy working and fucking and fucking around. I had a lot of fun and time flew and before I knew it, half my life was over.
5 p.m. I start cooking for T. I'm a good cook, another perk of not having kids. I was able to cultivate hobbies like cooking and fine wine. I'm making lamb chops with other Mediterranean sides tonight. T will bring the wine — he's a total wine snob.
7 p.m. He's here. He's gorgeous. We're making out and I want to fuck immediately. He's coming from work (he's in finance) and needs to relax a little first. We have wine and I put dinner out. I'm very horny, but I can wait.
9:30 p.m. We're having great sex in my bed. We use some of my sex toys on me — he is not into any toys on his balls or ass, which is fine with me.
10 p.m. We both come, almost at the same time. T falls asleep and I go to the living room to watch one more episode of Dopesick.
DAY THREE 
9:15 a.m. I don't want to go to spin class, but I do. My best friend, D, and I never miss this Wednesday class. D is married but has always had affairs. I have no idea how she's pulled this off but either her husband doesn't know or doesn't care. I don't think he cheats on her, but who really knows? We all have secrets.
11 a.m. D's latest extramarital affair is with a couple. I'm obsessed with the logistics of it all. Their sex involves a lot of smoking weed and giving head. Neither are my favorite things, but to each their own.
3 p.m. My friend X invited me over for wine and cheese. X is in the wine business. I love her, but she's kind of negative. She likes to hammer in the fact that T won't integrate me into his life with his kids. I know it's kind of odd, but I also don't think it's a huge red flag. We only met six months ago through a matchmaker. We have no reason to rush things. We're on a different track. I'm totally not interested in a husband — if I was, I would have been married long ago. Nevertheless, X has a way of sending me off feeling a little anxious about things. There is a word for this type of friend … is it an underminer?
9 p.m. I just got off the phone with T. We talked about our days and also we planned a little trip together. We've done weekends away before but never something that involved plane tickets. We're a COVID relationship, so that was sort of off the map until now. Now we're planning to go to the Bahamas in February and then Paris in the spring. T is really excited about our trips and I take that as a very positive sign. X and her negativity can suck it.
DAY FOUR 
8:20 a.m. I have a work coffee meeting today. It's for a project that I might be interested in helping with.
10 a.m. The meeting was strange. The woman spearheading the project was very unpleasant. I think I'll pass.
12 p.m. I stop by T's office since my meeting was nearby. It's nearly empty there because of COVID hours. I'm insanely horny seeing him at work. I suggest we find a private place to fool around and the only place he can think of is the bathroom. Everywhere else has cameras.
12:15 p.m. We are fucking in the bathroom stall and it's so hot, I can't even take it. I make T pull out and come all over my black pants. I want to go home with his cum stain on me. He totally gets off jizzing on my outfit.
2 p.m. We grab a quick lunch.
3 p.m. I walk home covered in cum and smiling ear to ear.
9 p.m. More travel plans with T on the phone. I'm so excited about our future.
DAY FIVE 
10 a.m. I am scrolling through Facebook looking for some new apartment things. I see a lot of my exes on Facebook. I'm friends with most of them. Sometimes it feels odd that everyone has moved on and started families and bigger livelihoods and I'm here, basically the same person I always was, but then I think that this was always my path. I've always been pretty happy — if my life depressed me in any way, I would have changed something.
2 p.m. I download an audiobook and walk up to Central Park and back.
5 p.m. I make a monster bowl of pasta with butter and good Parm. I've earned it. I pour a glass of red wine.
7 p.m. T is with his kids tonight. I feel slightly left out so I pop a sleep gummy early and shut it down.
DAY SIX 
9:20 a.m. I am supposed to see an old flame for brunch today. Let's call him F. I know he's going to want to fuck. T and I have never really discussed our rules in terms of sleeping with other people. That conversation always felt juvenile to me. I know we're "exclusive" to each other and I know sleeping with someone else would be bad, but I could certainly justify it. I'm not sure how I'll feel after seeing this guy.
11 a.m. F looks very good. He's Italian with great hair and man, he loves sex. I can picture him undressing me as we catch up about our significant others (he also has a newish relationship). We're near the Wythe Hotel and just as predicted, he suggests we get a room.
12 p.m. I'm thinking about it, I tell him.
12:30 p.m. Another mimosa. This makes three.
2 p.m. We are making out outside the restaurant. He's an incredible kisser. I tell him we have to stop and I hail a taxi the old-fashioned way.
3 p.m. I'm smiling thinking about brunch. It felt like the old me, a little bit reckless, but also completely harmless. I don't even think I've violated anything with T. It's all good.
9 p.m. I used a vibrator and imagine what would have happened if we had checked into the hotel room. I come very hard. And … lights off.
DAY SEVEN 
10 a.m. T has officially booked the Bahamas tickets! I'm really excited.
11 a.m. I send T a text suggesting that I have his kids over for a little holiday celebration next week. I'd love to cook for them and their partners or friends, whatever. T says it's a great idea but I sense a little ambivalence, and that hurts a bit.
3 p.m. I text T about the holiday party. Did he ask them if they're around? Can I put it in my calendar? I want to start recipe planning. He gives me a vague answer — implying he isn't sure if it's a good idea and that he hasn't texted them about it yet — and now I officially want to cry. I try to focus on the Bahamas.
5 p.m. I'm supposed to meet T for dinner tonight. I've never done this before, but I abruptly cancel on him. I come up with an excuse that should send a message that it's maybe true but that I'm also pissed off.
6 p.m. T calls me. He knows I'm upset. He wants to talk. I appreciate that he wants to communicate with me, but I tell him I'd rather talk in person. I don't want to seem whiny about his kids. It's such a sensitive subject. I suggest we meet up tomorrow so I can take the night to collect my thoughts.
9 p.m. Masturbate or Dopesick? I go for the TV. I'm sick of thinking about love and sex.
10 p.m. T texts, "I'm here to talk whenever you're ready. I love you. Good night."
Want to submit a sex diary? Email sexdiaries@nymag.com and tell us a little about yourself (and read our submission terms here.)