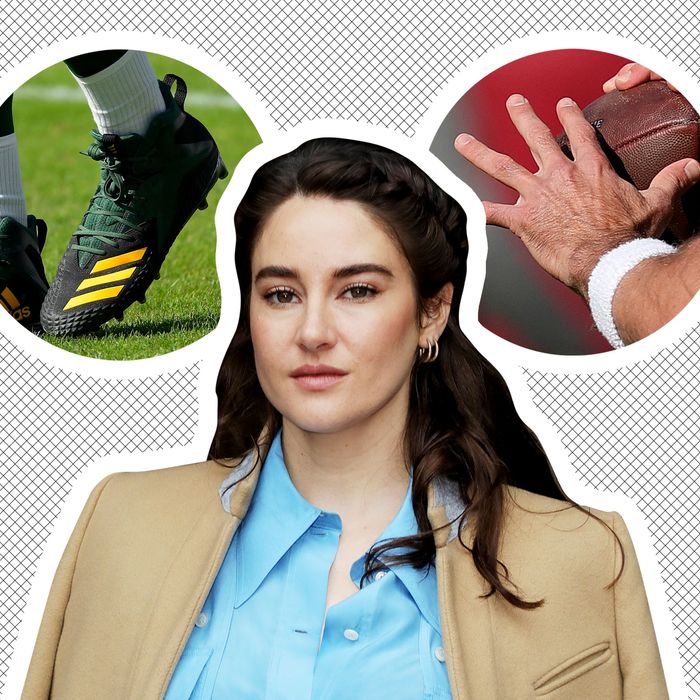 Photo-Illustration: The Cut. Photos: Getty Images; AP/Shutterstock
Shailene Woodley's fiancé, Aaron Rodgers — an NFL player I first learned about when he thanked Jodie Foster in a speech — is probably not appearing on a football field anytime soon because he has COVID-19 and, it turns out, is also unvaccinated. Rodgers has found himself mired in controversy after his diagnosis revealed that, though he told reporters he was "immunized," NFL officials (and scientists) do not consider the homeopathic treatment he received valid vaccination. A lot of fans and fellow athletes are, to put it briefly, pissed, with some even arguing he should be kicked out of the NFL for what they see as lying about having been vaccinated.
Well, Woodley has some words for those critics. On Tuesday, she set aside some time to defend her fiancé not against accusations he lied about being vaccinated but against … being misidentified by the Daily Mail. In a since-deleted post, the outlet picked up photos of a man they thought was Rodgers walking around in L.A., breaking the quarantine he is supposed to be under. Woodley took this opportunity to speak publicly for the first time since Rodgers's PR fiasco began. Instead of addressing the issue head on, she opted to absolutely demolish the Daily Mail and anyone who believes this man could be her fiancé. She also inadvertently managed to demolish … the man himself?
In an extremely thorough series of Instagram Stories, Woodley wrote, "literally ya'll need to calm the fuck down. this is straight up HILARIOUS. news outlets STILL grasping at straws to disparage aaron. finding random fucking men on the streets of la and saying it's him."
Woodley went on to explain in detail exactly why her fiancé is so clearly not this random Angeleno, namely because he has a nicer (?) car, is hairier, and has bigger feet, wink wink. She wrote, "i know aaron's body. VERY well. first off, his feet, ahem and no offense to this random dude, are a LOT bigger. ;)."
Okay, but … offense taken??? As if insulting his dick size from the jump weren't brutal enough, Woodley addressed this poor man directly, writing, "cute car dude, but aaron would never drive this." She took issue with his naked hands too, writing of Rodgers: "it's no secret he has the hairiest hands on the fucking planet. this oblivious homie, clearly, does not. (go ahead, zoom in.)" "Oblivious homie" is slightly nicer than "random dude," but still feels like a lot for a guy whose only offense is maybe resembling an NFL player.
Did Woodley say anything else, you ask? Maybe about, you know, the whole refusing a scientifically sound vaccine thing? She did not. For his part, Rodgers, after briefly flirting with going full-fledged conservative bro in response to all this, said Tuesday he takes "full responsibility" for his comments but did not indicate whether he had decided to get the vaccine. Woodley has not stated whether she is vaccinated, so … do with that what you will, if you must.
The anonymous man, meanwhile, has not made himself known, and frankly I don't blame him. I hope he finds solace in the fact that I'm thinking of him, and also that he (maybe) (vaguely) (in a mask) looks like Aaron Rodgers.