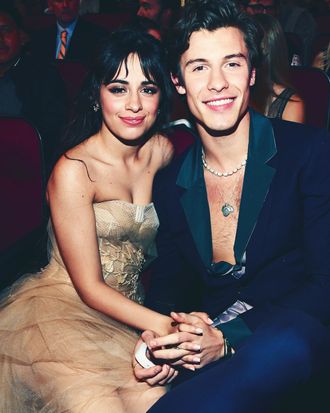 Camila Cabello and Shawn Mendes were together for a little over two years.
Photo: Kevin Mazur/AMA2019/Getty Images for dcp
If you felt a Gen-Z sort of rumble last night, that was likely the aftershock of Shawn Mendes and Camila Cabello announcing that they've broken up. In a joint statement on Instagram, the two shared that they are no longer together.
"Hey guys, we've decided to end our romantic relationship but our love for one another is stronger than ever," the statement posted to each of their Instagram stories read. "We started our relationship as best friends and will continue to be best friends. We so appreciate your support from the beginning and moving forward." A moment of silence for teens everywhere.
The singers had been together for a little over two years, having celebrated their anniversary with matching Instagram posts in July. Rumors that the two were together started after their "Señorita" collaboration in 2019. Since then, the two have given us a smorgasbord of PDA, paparazzi shots of their regular quarantine walks, and whatever this was.
What's next for these two? Maybe a pair of breakup songs, perhaps a whole album. And, per their statement, a continuation of their friendship? Speaking of which … if you, like me, have ever wondered who actually writes celebrity breakup statements, according to Refinery29, a few different people. As you might expect, for couples with the level of fame as Cabello and Mendes, a breakup announcement is typically written by the couple with some help from the PR team and publicists. So, if you've wondered why celebrity breakup announcements always sound so similar, that's why.
Regardless, our condolences to Shawn and Camilla fans everywhere. It's giving Cher no longer.