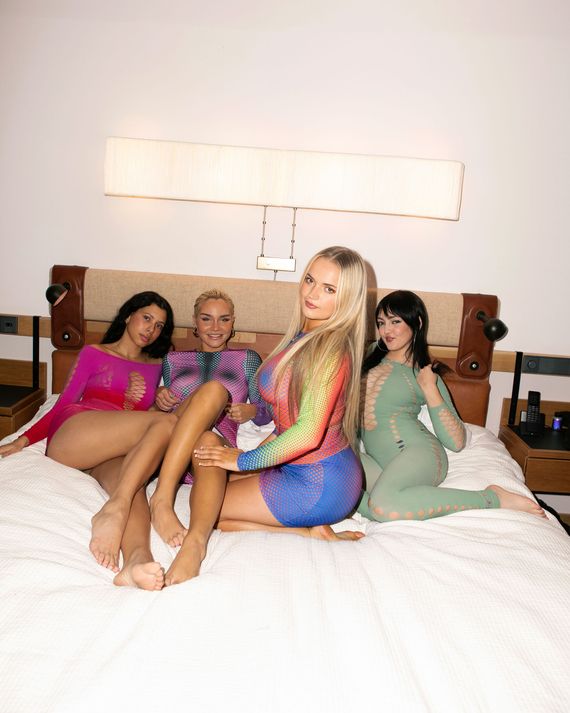 "If you're going to a party, I want you to come to the brand to buy something," says designer Sinead Gorey, who makes clothes with colorful and funky patterns, extreme cutouts, vibrant colors, and fur-adorned pieces.
Gorey is inspired by London's party culture, and the rave scene specifically. She has been a part of London's subculture since she was 20, when she enrolled in London's College of Fashion. So when she was told to create designs with personal references, it was a no-brainer that her designs would reflect her love of raves. "When I started designing, there were no brands that were affordable and resonated with me and my friends that we could just wear to parties," Gorey says.
Now, she uses her friends as her muses. They fit her very distinct vision for the brand — "fun, playful, and don't take themselves too seriously." She takes inspiration from rave culture, like the "stretch" décor at raves: a long piece of material with cutouts.
Over the years, her cutout pieces have become more wearable, and she admits that when she first started most of her designs weren't. "I was into crazy and more experimental designs," she says. "But it's been a learning process. I still love using loads of cutouts and prints because I want people to look at my clothes and say, 'Wow, I've never seen that before,' but I also want them to have something they can actually wear."
While at the London College of Fashion in 2019, Gorey wasn't trying to be like her peers. While everyone did a show on campus, she opted to do her own show and invite people she knew from the fashion and styling industry. With the right eyes at her show, she was approached by the British Fashion Council, which offered to sponsor her during London Fashion Week, where she showed her graduate collection.
She grew up Bromley, southeast of London, where she remembers dressing up in neon tutus, leg warmers, and fake pearl necklaces from Primark as a preteen, walking around the local shopping center with her friends, hoping to find boyfriends. "It was weird but iconic," she says of her first fashion memories. It wasn't until she was taking an art course that she had an epiphany that she wanted to take up designing. "I was unsure of what I wanted to do. I did fine arts, sculptures, graphic design, and performance costumes," she said. After exploring her options, she found that by studying design, she could apply all she'd learn to making garments.
Sinead admits that as her collections grow, her pieces are changing, but she wants rave culture to remain the core of all of her designs. She's already beloved by celebrities like Cardi B and Chloe Bailey, who both wore her designs this year. Cardi wore a Mongolian-fur-trimmed coat and Chloe wore a digitally printed outfit. Her digitally printed fabric has become her signature over the past ten months, Gorey says, and it's become so popular that she now designs it in new colorways for each season. It's a go-to party look, and ultimately, that's Gorey's goal.