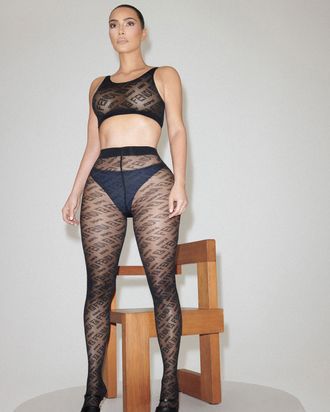 Photo: Donna Trope/FENDIxSKIMS
A few weeks ago Kim Kardashian West announced her shapewear line Skims would be collaborating with Fendi for a capsule collection that merges both brands — the innovative fit of Skims married to the luxury and quality of Fendi.
Yesterday the highly anticipated collab dropped and reportedly made $1 million in one minute. Skims launched in 2019 and as of this year, it's worth a billion dollars, but the price just significantly went up with this Fendi partnership. How could they make so much in 60 seconds? For starters, it's Kim Kardashian West. But Skims has a cult following that sells out drops weekly.
I signed on about 30 minutes after the 9 a.m. ET launch and the majority of the pieces were sold out in every single size. Some of the most expensive pieces, like Kim's favorite leather midi dress, were among the first to sell out.
The 125 piece collection still has a handful of products left including a set of logomania boy shorts for $110, Skims signature mid-thigh bodysuit for $130, and $1,100 velvet knit leggings. There's also a wait list for some products like the $175 bodysuit with Fendi and Skims logos emblazoned all around.