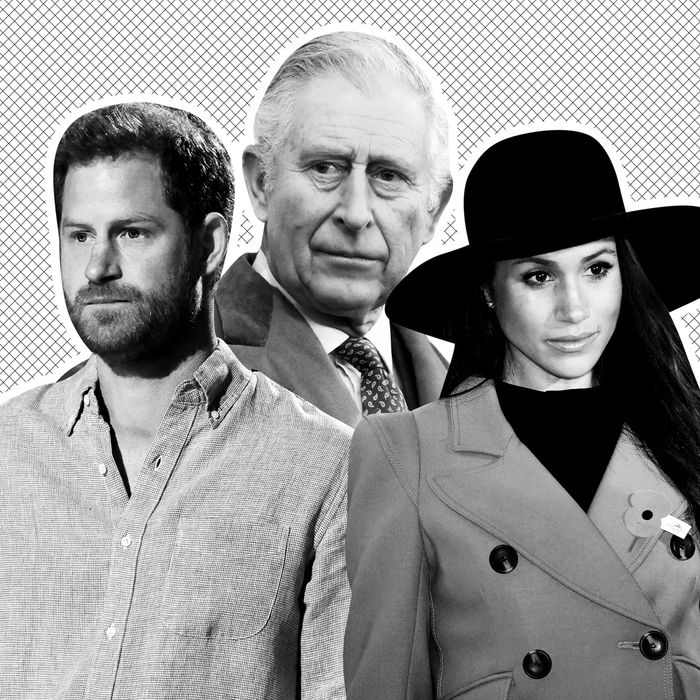 Photo-Illustration: by The Cut; Photos: Getty Images
Earlier this year, Meghan Markle revealed in one of the most explosive moments of her interview with Oprah that there had been "several conversations" between Prince Harry and an unidentified high-ranking royal about her child and "how dark his skin might be when he's born." According to a new book, that high-ranking royal might have been Harry's own father, Prince Charles.
During the Oprah interview, Markle, who is a biracial Black woman, did not reveal who made the comment, noting that "would be very damaging to them." Harry declined to discuss the incident at all, saying, "That conversation I am never going to share. But at the time, it was awkward. I was a bit shocked." He subsequently clarified that it was neither of his grandparents, Queen Elizabeth or Prince Philip.
In a preview of Brothers and Wives: Inside the Private Lives of William, Kate, Harry, and Meghan published by "Page Six," a source alleges that Charles made a comment about the child's skin tone to his wife, Camilla, on the day of Meghan and Harry's engagement in 2017. Per the source, Charles asked Camilla what their children would look like, to which Camilla apparently responded, "Well, absolutely gorgeous, I'm certain." Then Charles, lowering his voice, reportedly clarified, "I mean, what do you think their children's complexion might be?"
The book's author, journalist Christopher Andersen, who has been covering the royal family for 50 years, doesn't explicitly connect this conversation to the incidents Markle was referring to in her Oprah interview, though they sound uncannily similar. Andersen claims the comment, which he called "benign" in an interview on Monday, was then distorted by a gossipy group of palace advisers called the "Men in Grey" to make it sound … even more racist, I guess?
Andersen also wrote that when Harry confronted his father about the comment, he was told he was being "overly sensitive about the matter." The ordeal is also credited as playing a central role in a rift between Harry and his brother, William, who apparently took Charles's side and told Harry the comment was "tactless" but "not a sign of racism within the family." In the wake of the bombshell Oprah interview, William and the rest of the royal family continued to deny accusations of racism. Queen Elizabeth said the "issues raised, particularly those of race, are concerning" but would be addressed "privately." William fell in line soon after, telling a reporter that the royals "are very much not a racist family," which stands in stark contrast to Meghan and Harry's accounts of royal life.
Prince Charles, who is currently in Barbados for celebrations honoring the country's official removal from his own family's colonial rule, denied the book's accusations through a spokesperson, who told reporters, "This is fiction and not worth further comment."