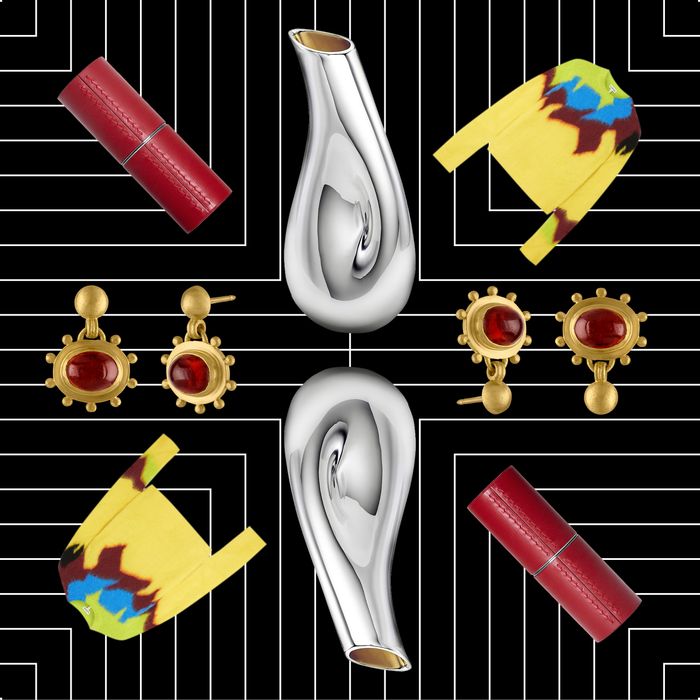 Photo-Illustration: by The Cut; Photos: Retailers
Luxury isn't a word we like to use lightly, and given the price point, buying luxury pieces isn't something to take lightly, either. Keeping that in mind, luxury isn't just about buying pricier pieces (though they can be on the pricier side), it's about craftsmanship and objects that will stand the test of time. Let's put it this way: Consider it an investment. Jessica Willis, the Cut's style director, chose some of her favorite items to buy (and gift) for this luxury gift guide. Here are some of her splurge-worthy favorites.
The Birkin of Nail Polishes
This is the closest you can get to a Birkin without dropping a few (hundred) thousand dollars. The high-shine lacquers come in a number of colors inspired by the brand's enamels, so they can mix and match the rest of their collection. And yes, it comes in an orange box.
The Signature Scent


Few things are more luxurious than having your own signature scent, even better if it's a scent no one else has. The seasonal scents from Ffern are small-batch, organic, and sustainable. Once you sign up, you join their ledger, a small group of clients that receive one made-to-order bottle of perfume every season. Rest assured, (almost) no one else will have these.
The 'It' Bag
The Curve couldn't be a more fitting name for the harness-inspired bag made of calf leather with oxblood leather lining. They can wear this thrown across their shoulder or as a crossbody, the hardest decision they'll have to make is choosing a color.
For Your Partner
Yes, this KiKi De Montparnasse bra is meant to be seen. Willis recommends wearing it under a blazer, showing just a hint of sensuality. The label, established in 2005, is known for its well-constructed and beautifully made undergarments. And this demi bra does not disappoint.
For Anyone Who Has a Skin-Care Fridge
This space-age LED mask is practically worth it for the Instagram selfies alone. With a mix of red and blue light therapy, the hands-free device can be used a few times a week for acne, anti-aging, skin firming, and more. While it's fit for anyone, we imagine you'll elicit the biggest response from a dedicated skin-care fan; we promise this has been on their list.
The Classic Carafe
Like many of the timeless pieces designed by the late great Elsa Peretti, this sublime Tiffany's carafe is almost too pretty to use. Let this sterling silver and vermeil piece adorn whatever part of their home they choose.
For the Amateur (or Pro) Chef
While anyone who knows their way around a kitchen would be more than happy with a Dutch oven from Le Creuset, we'd imagine they'd be ecstatic to be gifted this cast-iron set. The eight-piece collection is truly the ultimate gift — it's easy to clean and ready to use (read: seasoned, they'll know what that means).
For the Fan of Biologique Recherche
From the only spa stateside where you can buy the cult favorite P50 lotion comes this deep-cleansing and regenerating booster. The powder, which emulsifies into a rich foam, minimizes pores, fine lines, and reduces excess sebum. Some key ingredients here are aloe, kaolin for a matte finish, and caffeine for a skin boost. It's basically like a gentle facial in a bottle. We can't think of a more luxurious way to get radiant skin.
For the Ikebana Enthusiast


Anyone who loves an offbeat arrangement will appreciate this handcrafted vessel from Brooklyn-based sculptor Simone Bodmer-Turner. Sure, it makes a great conversation piece, but the beauty of the vessel is its versatility. Fill it with the stems of your favorite flowers or plants.
The Statement Maker
Anyone who appreciates good design and good lighting will surely love this handmade light sculpture designed by Isamu Noguchi in 1951. The modern sculpture is more than fitting for their space and will more than likely spark up a conversation.
The Blender the Pros Love
This might just convert the casual blender user into a dedicated fan. Besides the high-powered blades, touchscreen interface, and timer, the program settings are the major feature. The easy program settings can be selected to make anything from smoothies to soups — they won't leave a single item in their fridge or pantry unblended. Did we mention it's also self-cleaning? Yeah, there's a button for that.
For the Beauty Lover
La Bouche Rouge is an environmentally friendly French beauty brand. The refillable leather cases in the set feature two universal reds, Regal Red, a warm orange-toned matte, and Pop Art, a cool-toned shade. Both shades are made with hyaluronic acid, jojoba, squalane, and shea butter for a matte that doesn't dry your lips out. We recommend spending the extra $10 to customize the tubes with their initials for that bit of luxury.
The Signature Home Scent
The only thing that compares to a signature fragrance is a signature home scent. Let them skip the pine and pumpkin spice this season and indulge in this Swiss Alpine–inspired box of incense. With notes of milk, honey, and hints of citrus, they'll have them lit in every corner of their home.
The Luxe Pen
When you're a real pen lover, you know just any pen won't cut it. Gift the pen enthusiast in your life this ultrasmooth ballpoint pen for jotting down ideas and sketches in their Moleskine notebooks.
For Fans of the Teeny Tiny Bag
Loewe answers the age-old question of "How small a bag can really get?" with this mini-bag that doubles as a necklace. It's not about what can fit in this bag but what outfits this bag will fit with.
The Winter Boot They'll Actually Want to Wear
Make navigating the streets this winter a bit more chic with these water-repellent, recycled-nylon ankle boots. Keep them extra warm with down filling and a supportive layer of mesh for comfort.
For Fans of the Unconventional Bag
Because they don't need another plain black bag, Thom Browne's pebbled calfskin bag is the statement piece they deserve. The rat-shaped accessory will turn more than a few heads and fit all of their stuff.
For the Aspiring Street-Style Star
For anyone whose personal style garners compliments and the occasional tag on street-style Instagram accounts, gift them a sweater that won't end up stashed away in their closet. The fuzzy mohair-and-wool blend comes in two electric colors, both bold enough to be paired with almost anything in their wardrobe.
For the Frequent Shopper
For a bag that fits all the essentials without the bulk, consider Medea's Hanna bag. The shopping-bag-shaped tote is made of smooth leather and comes in shades from highlighter yellow to bold magenta. The maximalist in your life will want every shade.
For Your Friend Who Frequents the Met
Inspired by an ancient Greek bell vase, these handmade earrings remind us of the works in museums. The Spessartite garnet stone is hand-selected and carefully crafted in 22-karat gold for a pair of earrings they'll display like their own private collection.
For Your Favorite Host
Nothing says "invite us over again" quite like Blue Label.
Celine Miniatures Coffret
This coffret features nine fragrances by creative director Hedi Slimane based on his own experiences. Consider pairing fragrances like the androgynous vanilla musk Black Tie and the smoky Nightclubbing with your Celine wares.