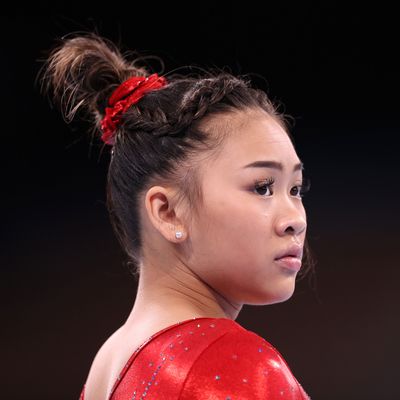 Photo: Laurence Griffiths/Getty Images
In a new profile for Popsugar, Olympic gymnastics champion Suni Lee revealed she was recently the victim of a racist attack while waiting for an Uber with her friends in L.A. She said she was standing with her friends, all women of Asian heritage, when a a car sped by them, its passengers yelling anti-Asian slurs and telling them to "go back to where they came from." As the car passed by, Lee said one passenger pepper-sprayed her arm.
Unfortunately, Lee's experience isn't an anomaly: There has been a massive spike in anti-Asian hate crimes in the U.S. over the past year and a half, spurred in large part by Trump and other conservatives' use of xenophobic and racist language when talking about COVID-19. Research has found that women are particularly vulnerable to these attacks, with 68 percent of anti-Asian incidents directed at female victims.
Lee, who is the first Hmong American to make the U.S. Olympic team, said of the attack, "I was so mad, but there was nothing I could do or control because they skirted off." She continued, "Having the reputation, it's so hard because I didn't want to do anything that could get me into trouble. I just let it happen."
She also spoke in the interview about caring for her mental health after a bout of illness caused her to run offstage during a recent performance on Dancing With the Stars. (She is also the first Hmong American contestant on the show.) After the incident, she started speaking openly about struggling with her mental health. "There's so much power in owning your feelings," she told Popsugar. "It's not weakness, it's actually taking control."