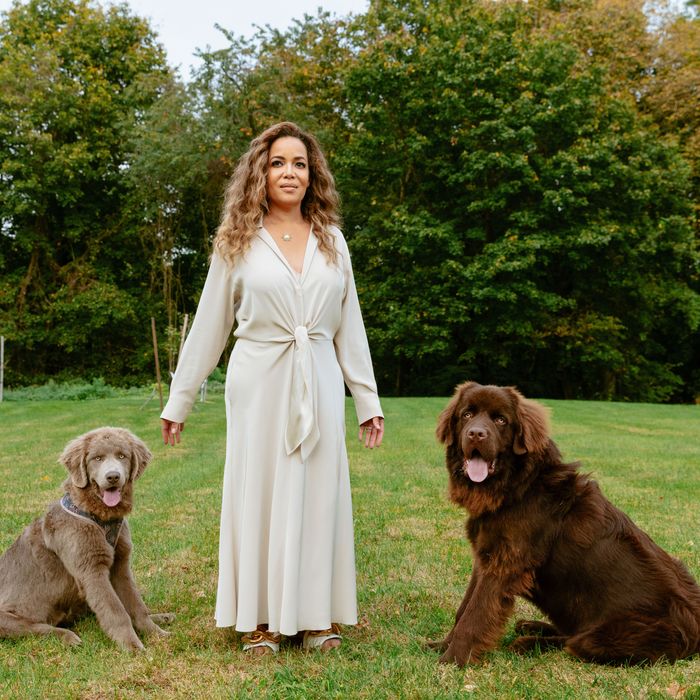 Photo: Gioncarlo Valentine
I've got dog slobber dripping down my pants. This is the result of not one but two gigantic Newfoundland puppies, Finn, seven months, and Harlow, four months, who quickly convey that tandem slobbering is their pièce de résistance. I'd be annoyed if I weren't impressed. I can hear the chickens and hens off in the distance as I spot the construction crew hard at work on the new coop being installed in the barn. Passing the dogs, I enter the sprawling 12,000 square foot residence, seated on over two acres of land in Purchase, New York, and am greeted by a cat, Luna. And then she appears, glissading down a spiral staircase in a sweat suit and slides: Asunción Cummings Hostin, or Sunny, as she's known to the millions who tune in weekdays to watch her on The View.
"I'm a mess," she says with a megawatt smile. She's got the puppies; her husband, Manny, an orthopedic surgeon; her son, Gabriel, off at college for his freshman year; her daughter, Paloma, finally back to in-person learning at her high school; and her parents, who moved in above the barn during the pandemic. And then there's her impending deadline. She's working on the sequel of her New York Times best-selling Summer on the Bluffs, her first foray at fiction that she pitched as a one-off and was convinced to expand into a trilogy. The books center around a group of women's summers spent in Martha's Vineyard; Sag Harbor; and Highland Beach, Maryland, known for being amongst only a handful of summer-vacation spots that are predominantly Black. "I'm my worst critic, and I self-flagellate. I am stuck, and I've been a terror. Please don't ever interview my husband about this process."
Like clockwork, her husband enters unannounced, seeming not at all thrown off by my presence, or his wife's publicist's, or the myriad people outside prepping for the photo shoot that will follow this interview. All in a day's work. "Are you bailing on the diet?" he asks. "Yes," she says with a whiff of mischievousness. "Oh, shit," he responds. "Sorry!" she offers.
He exits after setting down her lunch at her desk, a desk that's got a ring light, a Louis Vuitton face mask, and a copy of Leonard N. Moore's Teaching Black History to White People. She explains that they were attempting a second go of a five-day fast they'd done a few months prior in an effort to lose "COVID weight," as Hostin describes it. "We started up again yesterday and I made it through … all of yesterday."
These days, in addition to her day job at The View, Hostin is hosting, writing, and upstarting her new media company, Sunny Hostin Productions, which seeks to "highlight important social justice issues and meaningful, inclusive stories." She's already adapting Summer on the Bluffs for television with the help of Academy Award winner Octavia Spencer.
Hostin arrived home from the city not even an hour ago and is already in her sweats, curled up with a blanket and Luna at her feet. She sips tea throughout the length of our time together. Sometimes I get the impression she's satiating her thirst. Other times, it seems like a well-deployed prop. The theatricality does not go unappreciated. I compliment the pleated-satin Christopher John Rogers she wore on the show hours earlier. "I like elevated comfort," she says of her style, which often finds her in CJR, Sergio Hudson, and Joseph Altuzarra. "I like elegance, clean lines, traditional funky. Of course, I do like a little Gooch or a little LV thrown in. But I also like highlighting new designers, especially designers that aren't often represented. Because I know how hard it is to get noticed and to get financed. I was very big into vintage because I didn't have the money to buy off of Fifth Avenue. But I could afford a very old, vintage Chanel. But even that I'd have to save up my money for."
Born and raised in the South Bronx projects, Hostin's parents, William Cummings and Rosa Beza, were high-school sweethearts; they were teenagers when they had her, their only child. Activists in their own right, her father, who is African American, and her mother, who is Puerto Rican, protested segregated housing and schools that existed not just down South, but right in their own backyard of New York City. Upon graduation from Dominican Academy in the Upper East Side at 16, Hostin received her Juris Doctor from Notre Dame Law School and began her career as a law clerk before becoming a trial attorney in the U.S. Department of Justice and later a federal prosecutor specializing in child-sex crimes.
Throughout her career, she has often had to fight for things her contemporaries were handed. She's the only co-host in View history to not be formally announced, for instance. When she began her tenure in 2016, she was given a dressing room on a different floor than all the other co-hosts. "Meghan came in with a crew. She came in with a PR person, hair and makeup and with a stylist. I was like, 'Huh?' I came in and was banished to the third floor, no introduction, I didn't have anything. It was very different for me." Over time, she ingratiated herself with viewers, who turned to Hostin for her legal know-how (she's argued cases in front of the D.C. Circuit Court of Appeals) and her ability to spar with facts — something that's been tested throughout her tenure, most especially in the last 18 months.
Prior to finding her seat left of Joy Behar, Hostin was a legal reporter — well, she is a legal reporter. But "I was told that I could not be an opinion host and also be a legal journalist," she explains. "I disagree with that. I think I can walk and chew gum at the same time." She motions toward three gleaming Emmy statuettes that sit atop her fireplace as Exhibits A–C. Luna moves her heavy head off the foot of the chair she's been deep-sleeping on and trails Sunny's motion. "I was really angry about that," Hostin admits before stopping and self-correcting to say she was, instead, disappointed. "Let me use a different term, because then I'm the Angry Black Woman."
Hostin is just getting back into her routine of the job as she once knew it. "I was dreading it at first," Hostin says of returning to ABC Television Studios to resume taping The View in September. It was the first time they'd be on air, together, in 18 months. With her 90-minute commute from Purchase demanding her to be out the door by 6:30 a.m., working from home was both time-saving and convenient. Hostin's at-home studio, located in the library, had a separate entrance for her hair and makeup team; her kids were upstairs; her parents were just across the property; and the dogs were outside. Still, Hostin admits, the format was not working, equating it to Hollywood Squares, despite the rise in ratings.
Leaving her bubble was scary — someone on her team had at one time tested positive for COVID-19, not to mention her in-laws, both of whom had passed away within four days of one another due to COVID-related complications — but once she was back in the studio, she felt immediately back at the home away from home she'd said good-bye to in March 2020. "It's like seeing your dysfunctional family again," she says. "There was an energy there that was very comforting, actually, because we all are really, really close … even though people don't believe it."
Sunny is diplomatic, but if you manage to catch the twinkle in her eye on certain admissions, you'll be sure she's offering you up subtext on a gilded platter. But then you blink, and she's expressionless once more, leaving you to wonder if you caught a shard of shade being thrown or if you imagined it altogether. Or, option three, if she orchestrated it that way all along.
Anyway, there's one subject we simply must broach. "I tried to block it," Hostin says when I mention September 24. It was arguably the show's biggest day since Joy Behar told former co-host Meghan McCain she did not miss her after McCain returned from maternity leave in January of this year.
Hostin was doing what she always does in the lead-up to a show: writing and rewriting her questions for the day's guest, which that day happened to be Vice-President Kamala Harris. She was particularly concerned with the Haitian migrant crisis at the border, feeling they were not being given access to their legal right to asylum. It's an issue with particular proximity to Hostin — her father-in-law was Haitian.
Mid-show and without warning, Hostin and co-host Ana Navarro were asked to leave the stage by executive producer Brian Teta. "Since this is going to be a major news story any minute now, what happened is that Sunny and Ana both apparently tested positive for COVID," Behar told the audience minutes later, citing what was likely a breakthrough case.
"My first thought was, That's not even possible. I'm triple-vaccinated! I had received the booster a couple weeks before." Scrambling ensued. They were given masks and ushered into their dressing rooms as producers tried to figure out how to handle the possibility that the vice-president could be exposed to COVID-19. Hostin called her husband, who had 17 surgeries on his docket for that day, then her daughter's school, and then her parents. Having dealt with the loss of family through this pandemic, Hostin took the news seriously despite the confusion around how this had happened. Within a half-hour, she was told that her rapid test had come back negative. Then her PCR came in days later: negative. Another PCR test for good measure: negative. "I was of course thrilled, but also disappointed. And I was a little angry about it."
The confusion remained after Hostin and Navarro's statuses had been cleared. Why did they not have their test results before they went on air? Why didn't they go to commercial before exiting them from the stage? Shouldn't the audience have been evacuated? "I think it's being investigated," Hostin says. "I don't think anyone knows yet. At least I don't know."
And that's not the only headline ricocheting through cyberspace. I'm speaking to Hostin days after a barn-burning interview from Hostin's friend Meghan McCain. The former co-host accused the show of being a toxic work environment, describing the set as "disorganized" and "rowdy." "I believe that all the women and the staff are working under conditions where the culture is so fucked up, it feels like quicksand," she said in her new memoir, Bad Republican.
Hostin says the start of her friendship with McCain came about in August 2020 when McCain moderated a talk for Hostin's memoir at the 92nd Street Y. "I think she thinks that people did not like her or treated her a certain way because of her opinions. I certainly don't share any of her opinions … at all … about anything … but I don't feel that way about her. I can't claim to understand her because I think she's very complicated. Her experience is her experience. No one can say that she didn't experience it in that way because it's hers. I didn't see it that way. I didn't experience it the way she did. But I'm going to defer to her that she experienced it like that."
As for her thoughts on a McCain replacement? "Right now, we still do need a really conservative voice," she says. "I also believe it's really important to not have someone on the panel who spreads misinformation, who adheres to the big lies, who is an anti-vaxxer, because I think that's dangerous." Hostin describes Behar as "very progressive," Whoopi Goldberg less so ("her big issue is economic and taxes"), and herself as somewhere in between "progressive values and conservative values." "Sara [Haines] says she's an independent, but statistically there have been studies that show that independent people are just people that don't want to be stigmatized by their own choices," Hostin continues. "Is she really an independent or just somebody that won't commit? We need someone that will commit and we don't have that voice. And we need someone that's not duplicative of anyone else on the panel."
I watch to see if she'll take a sip of her tea. She doesn't. Still, her proclivity for incisiveness is never not razor-sharp; it's no wonder her friend group, which includes Jemele Hill and Alicia Garza, call themselves "the Machetes."
"My friends have been very concerned about my self-care practices and they're sending me all of these notes and books and videos," Hostin says. "I'm not very good at that. I'm trying to get better. So stay tuned. They're telling me to start meditating, but the minute I start doing it, all I can think about is Squid Game. I'm just not good at it. My self-care is my chickens."