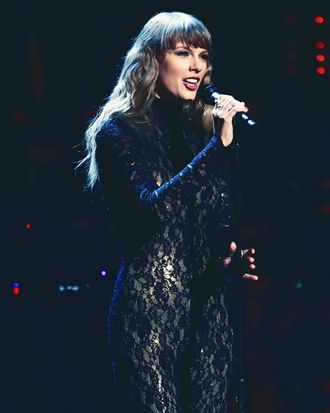 SO CASUALLY CRUEL IN THE NAME OF BEING HONEST.
Photo: Dimitrios Kambouris/Getty Images for The Rock and Roll Hall of Fame
It's Friday (Taylor's Version). For those less fluent in Swiftie, this means it's the release day of the ten-minute version of "All Too Well" off Taylor Swift's re-recorded version of her 2012 album Red. Please, try to keep up.
"All Too Well," despite not being a single of the original album, has become one of Swift's most beloved songs. Thus, an extended version of the track is a gift to fans, a blessing to our ears, and a pox upon Jake Gyllenhaal. (The song is allegedly about the actor, whom Swift dated at the end of 2010. There's a nine-year age gap between the two; this is important information for later.) Save for actually saying the words, "This song is about Jake Gyllenhaal," Swift has all but confirmed their relationship inspired "All Too Well."This new version comes with many delicious new lyrics that fans have already rabidly devoured. She references a keychain that says "FUCK THE PATRIARCHY." She talks about "weeping in a party bathroom" after someone, ahem, didn't show up to her 21st birthday. She sings, "You said if we had been closer in age maybe it would have been fine / And that made me want to die." And then, the kicker, the dessert, the pièce de résistance, the line that begins the final verse of the song:
"And I was never good at telling jokes but the punch line goes / I'll get older but your lovers stay my age."
Owie! For those wondering whether Swift is worried about the possible reaction from people who inspired songs off Red — e.g., Gyllenhaal, who, apropos of nothing, is allegedly currently dating 25-year-old model Jeanne Cadieu — here's what she told Seth Meyers: "I haven't thought about their experience, to be honest." Double owie!!!
If you really want to go all out in your celebration of "All Too Well," you can now order a latte "Taylor's Version" from Starbucks. (It's a grande caramel nonfat latte, if it sounds physically painful to look a barista in the eyes and ask for "Taylor's Version.) At the very least, it'll tide you over until tonight's premiere of the "All Too Well" short film. A blessed Red (Taylor's Version) to all.