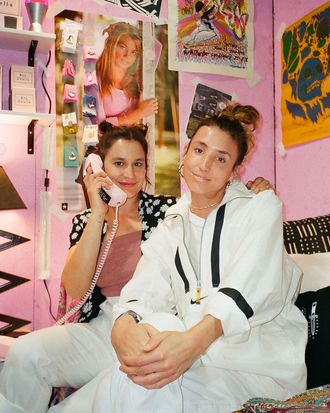 Mary Meyer and Emma Kadar-Penner.
Photo: Courtesy of Friends NYC
Friends NYC, a vintage store, opened in 2012 and was founded by Mary Meyer and Emma Kadar-Penner, shop owners and best friends.
What started as a tiny vintage shop in Bushwick with a few rolling racks and a couple of items on a table has now become a 2,200-square-foot space with hundreds of products. While Friends NYC still offers vintage clothing and a variety of accessories and jewelry, the real draw nowadays is its gift and home items with a sense of humor. Displayed in the store are candles that look like baguettes, Botox-syringe ornaments, and Mariah Carey greeting cards. The duo sources from "weird and wonderful trade shows in Paris, L.A., Las Vegas, Tennessee, Florida, and everywhere in between."
"Friends is a community, not just a store, and people respond to it in a visceral way," Kadar-Penner told the Cut.
The Cut spoke with the BFFs about vintage, mushrooms, and Telfar bags.
What's one thing in the store that's especially meaningful to you?
Emma: I will always have a soft spot for the vintage clothing we sell. While we have moved toward home décor, we still sell vintage clothing and always will. I love that vintage is sustainable, one of a kind, and also cool AF.
Mary: Friends just released a new candle, Head High, which I love. Emma and I developed the scent together, and I love to see the actualization of our ideas.
How do you thank someone for a gift?
Emma: Take the time to send a handwritten note.
Mary: A greeting card or a hug.
What would you never wear?
Emma: Real fur and six-inch heels.
Mary: Low-waisted jeans.
What's your dream vacation?
Emma: Paris. Merci.
Mary: Always a beach vacation with tacos and margaritas or wine involved, and no cell or Wi-Fi.
What's a good book on your coffee table right now?
Emma: I am currently in a Melissa Broder vortex. We read Milk Fed for our book club, and now I'm reading her collection of essays, So Sad Today. Her writing is raunchy, raw, and impossible to put down.
Mary: Six Seasons by Joshua McFadden and Martha Holmberg.
Last show you binge-watched?
Mary: White Lotus.
Emma: The HBO docuseries The Way Down. It was compelling and dark, and I couldn't look away. I am also never not binge-watching reality TV. Give me the Real Housewives, Vanderpump Rules, Below Deck, The Bachelorette, and a weekend — I will crush them.
What's your guilty pleasure?
Emma: I can't believe I'm saying this publicly, but it's Ed Sheeran.
Mary: John Grisham books.
Secret to hosting a good party?
Emma: Natural wine and cheese. You cannot go wrong with a maximal cheese plate.
Mary: Having enough wine on hand.
What is a trend that you like right now?
Emma: Mushrooms, all day every day! We stan the major mushroom moment happening in home décor and jewelry. We have a collaboration coming out with ceramicists Rompotodo in the new year. We designed a mushroom vase and can't wait to launch it. It's very cute.
Mary: Workwear, which is also something we sell at Friends. We've been carrying the Dickies line for years, and we also source it from our vintage vendors.
One you don't understand?
Emma: Unpopular opinion … Telfar bags.
Mary: Again, low-waisted jeans.
Favorite restaurant in New York?
Both: The Four Horsemen in Williamsburg.
What's the one thing you could eat every day for the rest of your life?
Emma: Cheese.
Mary: Tacos.
Shoes you wear most often?
Emma: My classic black Era Vans and these weird Nike Air Max that are clear at the front. I found them at an Opening Ceremony (RIP) sample sale, and we've been in love ever since.
Mary: Tevas.
What are five inanimate objects that bring you joy?
"I'm obsessed with vintage homewares." —Mary
"I am forever obsessed with Living Libations products and love to slather their sea buckthorn oil on my body. It smells and feels divine and is totally natural." —Emma
"Last time I was in Paris, I bought my husband this hinoki perfume and often sneak into his bathroom to use it myself. Buly was founded in the 19th century, and everything they make is perfect — an excellent source for special holiday gifts." —Emma
"It's made in Paris from recycled wool. You know it's chic." —Emma