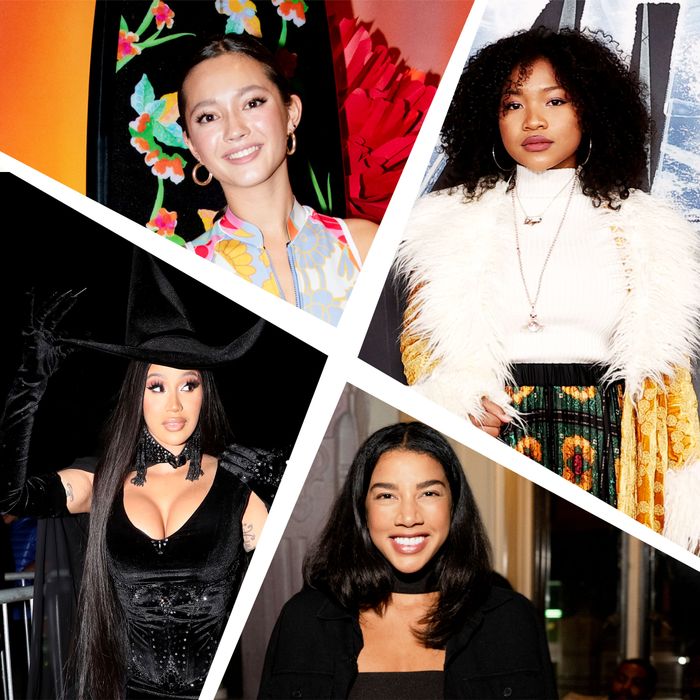 Photo-Illustration: by The Cut; Photos: Getty Images, BFA
Halloweekend meant lots of parties and lots of fun fashion. Not only were the holiday costumes great but the outfits that followed set the tone for November: dark colors, layers, and lots of boots. Ilana Glazer looked perfect in a denim-effect dress and suede knee-highs while both Lil Nas X and Cardi B killed their Halloween looks. Plus Formula 1 driver Lewis Hamilton wore an amazing blue suit. To see all the best looks, scroll below.
Best details
The lace detail of this dress is bold, and it works. Not only is it interesting as an article of clothing but Huffine looks stunning in it.
Most witchy
Of course Cardi B would be a witch (so powerful) — and a sexy one at that. Wearing a black corset, she looks amazing.
Best suit
I love a monochrome suit, and Hamilton's blue one is no exception. Plus the slight change of shade in his turtleneck adds a pop that makes it even better. Not to mention the accessories — that brooch! Those rings!
Best collar
I'm a sucker for a collared dress. I love the mix of blue and brown here.
Best bag
Bronfman chose the perfect outfit for any party: leather pants and a cute, colorful purse.
Best one-piece
I'm not sure if this is for swim or snow, but I'd wear it for either. The one-piece Chee sports here is cute for any season.
Most likely to be a wizard
Lil Nas X, what Hogwarts house are you? Probably Hufflepuff.
Best patterns
Patterns can be tricky, but Hayes mixed and matched perfectly. Using the yellow in her skirt to work alongside the yellow in her amazing jacket, her outfit is bold and expressive without being too much.
Best trench coats
It's trench-coat season! Both of these coats add to their outfits rather than cover up or detract from them. Together, these two look like they are ready to take on winter.
Best boots
Black knee-high boots. That's all I have to say.
Best duo
The pointed heels, the pink, the lace mock neck — Shoyer and Arballo look amazing for this exhibit opening.