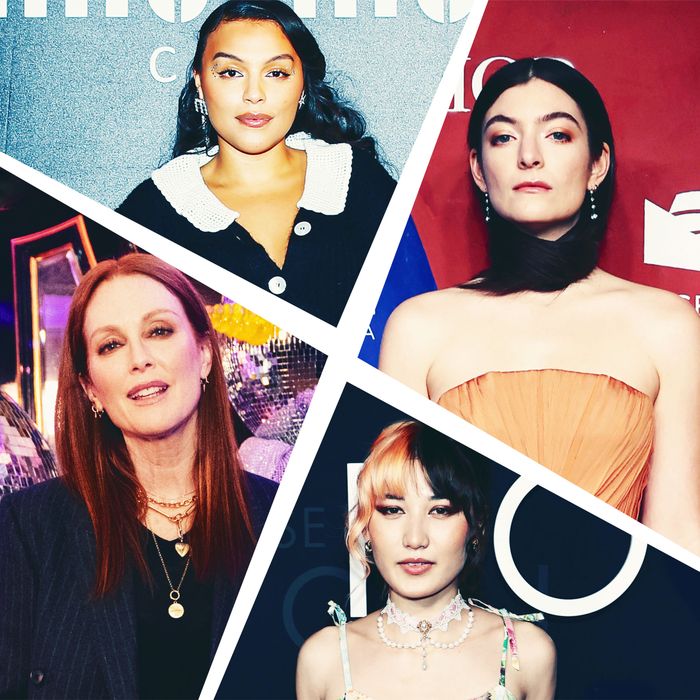 Photo-Illustration: by The Cut; Photos: Getty Images, BFA
As the weather gets colder, celebs can really start dressin'. At the top of the list: scarves. Or in Lorde's case … hair scarves? Perhaps in solidarity with Taylor Swift's missing neckwear, Lorde previewed exactly how that would look at the Guggenheim International Gala. Plus the cast members of Gossip Girl hit their season-one, part-two preview rocking lavender, fur, and sparkles, as they should have. And Amanda Seyfried stunned in a sparkly two piece. For those outfits and more, read below.
Best duo
These two look great together. I love the pink leather blazer and skirt, and the top of Carlos's dress is so fun. Plus gold jewelry is always a good accessory.
Best "scarf"
Lorde came ready to make a statement, and she did. Using her own hair, she boasted the most interesting scarf of the night. She does pull it off, though.
Best group
Nothing says cool like the new stars of Gossip Girl, and they did not disappoint at their Friendsgiving event. Lind's fur is iconic, and Mock's lavender shirt is a dream.
Coolest street style
Elsesser looks like she could take on any event or walk down any NYC street and own it. I love the combo of red pants and cropped, collared top.
Best blazer
Pulling off a classic look like the pro she is, Moore looks great in this striped blazer.
Best gloves
Lil Dre did not miss the mark. His patterned purple top and leather gloves pull this outfit together. Plus I love seeing Starface in the wild, and it matches his bag.
Most sparkly
Like all the best two-pieces, this one involves lots of sparkle. I love the little frill on the bottom and the black closed-toe heels.
Best pattern
With maybe the most interesting pattern of the week, this minidress was perfect for the premiere of a fashion movie. The layered necklaces are a great addition.
Best boots
Show me a better boot. I'll wait.
Best athleisure
Dressing up athleisure takes skill, and Shaik obviously has it. I love the blazer over the sports bra.