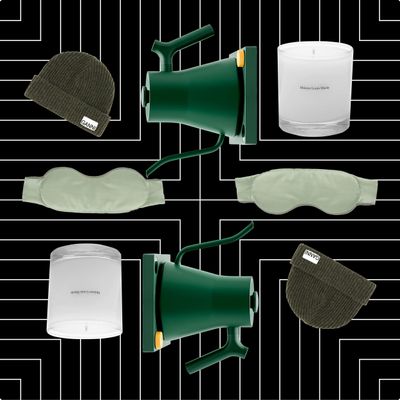 Photo-Illustration: by The Cut; Photos: Retailers
We all need a little comfort these days. Here are 14 items that feel like a warm hug.
A cozy scent
For $30, this Maison Louis Marie No.04 Bois de Balincourt candle is a crowd-pleaser. It smells like sandalwood and amber and warms up any room. It's also a great price point for a candle that lasts this long and smells this good. — Joanna Nikas, deputy style editor
Some cozy pajamas
More than one "fashion person" I've spoken to this fall — publicists, editors, stylists, etc. — has whispered to me that they're spending all their money on Tekla fabrics. They're buying bedsheets and pajamas and maybe even kitchen stuff, too, now that the Copenhagen-based brand just launched that category as well. Personally, I love the oversize fit of these flannel pajamas, and the colors (like grape) make them feel extra special. — Emilia Petrarca, senior fashion writer
A cozy bath
Maybe you aren't sure if they're a "bath" person. Why not try? These CBD bath salts come in single servings and have a great ingredient list, including Earl Grey tea and Epsom salts. — Kathleen Hou, beauty director
A cozy beverage
Great Jones makes kitchenware that you want to leave out on display. Just in time for the time of year when I make multiple cups of tea a day, this Great Fellow Kettle will be out on my countertop looking gorgeous and ready to go. — Andrew Nguyen, fashion writer
A cozy sleep aid
When it came time to replace my old, face-oil-stained sleep mask, this Good Side version was a serious upgrade. Made from 100 percent silk, it's soft on even the most sensitive skin, and with its wider-than-usual straps, it blocks out every bit of light. The sage hue will be a popular hit among those, like me, who ended up on "sage TikTok," a group of people dedicated to their love for the color — the shade's popularity is now at an all-time high. — Daise Bedolla, senior social-media editor
A cozy pillow
Whether you dream of having a pillow room in your future home or not, this squiggly cow-print faux-fur pillow from Rose Greenberg is a fun addition to your life. It works as a body pillow for cuddling through the night or as a fun accent pillow to throw onto the bed during the day. — Devine Blacksher, fashion market editor
A cozy head warmer
Give the gift of comfort this winter season with this recycled-wool knit hat from Ganni. It's chic and sustainable. Plus: The colors complete any look. — J.N.
Some cozy shoes
This shearling-lined Wandler shoe is my ideal footwear for the inevitable return-to-office journey. It's comfortable, warm, and stylish but is basically a chicer version of a house slipper. — J.N.
A cozy robe
Over the past year and change, my eyes have really been opened to the fact that it's okay to have more than one robe. There are even different robes for different times of day, different moods, different seasons, etc. Dusen Dusen's robes are clearly great for post-shower or -bath. But because they're so colorful and fun, I think they'd also be great as a mood-boosting housecoat. — E.P.
A cozy cashmere caftan
Some words in the English language are just meant to go together, and cashmere and caftan are two of them. I would pay rent to live in this look. (And would love for someone else to buy me the matching cashmere coat.) — E.P.
A cozy sweatshirt
If your closet is full of merch, but you've still got hometown spirit. I saw this sweatshirt styled with a coffee cup and an Hermès bag and have wanted it ever since for my morning errands. — E.P.
A cozy scrub
The sharp edges of these soaps have a Donald Judd–like appeal that will look elegant even in the shower. Inspired by the Korean scrub process called seshin, they deliver soft skin with help from ​​black sesame and blue clay derived from volcanic ash. — K.H.
A cozy activity
I made a grand total of one banana bread before throwing in the towel on my baking efforts during the pandemic. Post-pandemic (and post finding a new apartment), this bakeware set will be my first purchase to replace my shoddy, worn-out baking tins. It helps that the 11-piece set is perfectly coordinated and includes organizers to soothe my type-A tendencies. — D.B.
More cozy shoes
During lockdown last year, these were the only shoes I wore. They basically became an extension of my limbs. I gifted a pair to my mom for Christmas, and I haven't seen her without them since. — E.P.