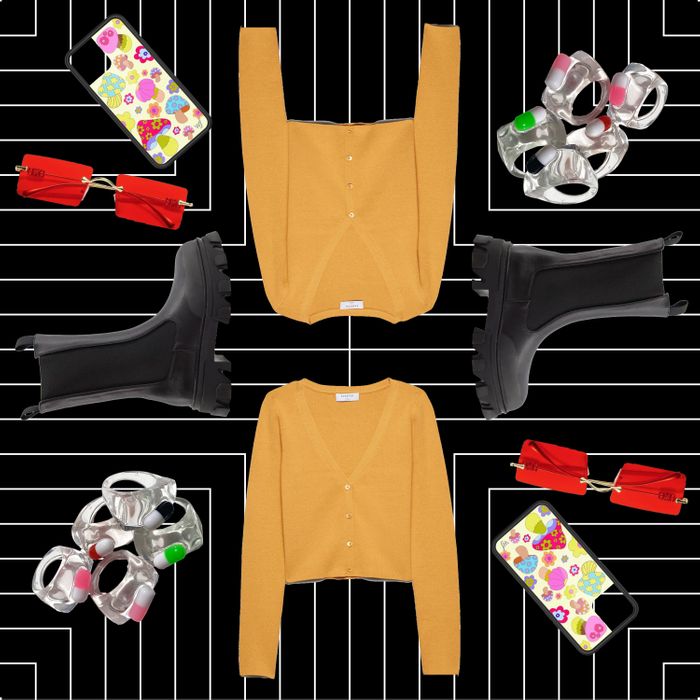 Photo-Illustration: The Cut; Photos: Retailers
While this gift-guide theme is Gen Z, you don't have to belong to that group to wear or own these products. As a millennial who has been mistaken for a Gen-Zer more than a few times due to my aesthetic and forever baby face, I've grown to embrace the mind-set of the youth that have come after me.
They are cool, independent, and confident, and the way they dress and present themselves is fearless and with personality, even if it's not originally theirs. From the TikTok trends like stocking tops to wearing oversize sweater-vests that look like they're from the '90s, this gift guide is for the person in your life who has a young soul and daring taste or someone who is actually in their early 20s. Not what you're looking for? We've also got cozy gifts, our own Cut editor shopping list, and stocking stuffers that span the generational divide.
A gift for the one who loves shade
For the love of shade, these sunglasses are best worn indoors while making TikTok videos or taking photos for Instagram. And the coffee-brown lens color screams the '90s.
A gift for the friend who is always asking for bobby pins
These alligator-teeth-like clips are the perfect squiggly accessory for all hair types and styles. The extra-grippy grip will keep those flyaways in place while looking like a piece of art in your hair.
A gift that's barely there
Let's be honest: The only person to ever gift me underwear has been my mother, but that doesn't mean undies aren't a good gift. They are the best, especially if it's a G-string. Parade's Silky Mesh thong will take you from day to night in comfort.
A gift for the reader
My Year of Rest and Relaxation, by Ottessa Moshfegh, is a page-turner. The novel tells the story of a 26-year-old woman living in New York City going through it emotionally, mentally, and physically, so she decides to rest for a year.
A gift for the DIY friend
Yes, turning tights into a top is back, according to this TikTok trend.
A gift for the crop-top lover
This is one of my favorite tops to wear chilling at home and dancing the night away at a party. It can be worn casually under a cardigan or with a blazer on date night.
A gift for someone interested in astrology
Lisa Stardust's astrology deck makes reading cards easy. Stardust has been practicing and teaching for over a decade. In this deck, the user can learn to interpret the stars and do their own readings.
A gift for the person in your life without a phone case
This is the mushroom poster you take with you everywhere. It's funky, fresh, and limited edition, which is like the definition of Gen Z.
A gift for the Y2K obsessed
As I write this with a butterfly ring on my pinkie finger, having a butterfly anything is key to the Gen-Z mind-set. Butterflies represent transformation and a spiritual rebirth, so this would be a great gift for that Y2K-obsessed person in your life evolving into a better version of themselves.
A gift for the one who meal-preps
Is it a lunch bag or a bag-bag? Either way, taking your lunch to school or work is mature and chic.
A gift for someone who always asks "Where is my phone?"
I highly recommend gifting this to the person in your life who misplaces their phone, drops it, or just loves to accessorize their device.
A gift for the chunky-ring lover
This ring is Bonbonwhims' cheeky take on the chill pill.
A gift for their inner Goth
Boot season is back, and the chunkier, the better.
A gift of pearls while on a budget
Pearls, charms, and chains. All the necklace trends in one!
A gift for someone who loves Clueless
Whether it is worn backward or the normal way, the cardigan is more than just a grandma staple. For a casual sultry look, it can be worn over a low-cut mesh bra paired with loose jeans.
A gift for someone who always loses their AirPods
Wires are trendy again, so get that person who complains about their AirPods falling out of their ears a stylish and versatile version of wired headphones.
A gift for the active friend
This workout dress works for all seasons, and it's super-cozy to wear. Girlfriend Collective designed this dress with all the best-selling qualities of its Paloma bra in mind, making it perfect for hiking or throwing on for a coffee run.
A gift for the dad-core dresser
Shop Banana Republic's oversize washable merino sweater-vest. A key piece this season, the sweater-vest defines versatility with its at-ease cut that is perfect when styled solo or layered.
A gift for the eco-conscious
Having at least one long trench coat is essential to every fall wardrobe. Gifting a black oversize coat with a self-tie belt allows the person wearing it to layer underneath with a chunky sweater or a hoodie.
A gift for someone who follows TikTok trends
These vegan leather pants went viral on TikTok. They feel soft and buttery and are structured like denim. And they would look great paired with a cardigan or a sweater-vest.
A gift for the fashion friend
According to Lisa Says Gah, this is the clog everyone needs.
A gift for a professional friend
The penny loafer, but make it platform. These shoes can give any look a professional feel. Whether you are wearing them with a sweat-suit combo or jeans, these shoes demand the attention of everyone in the room.