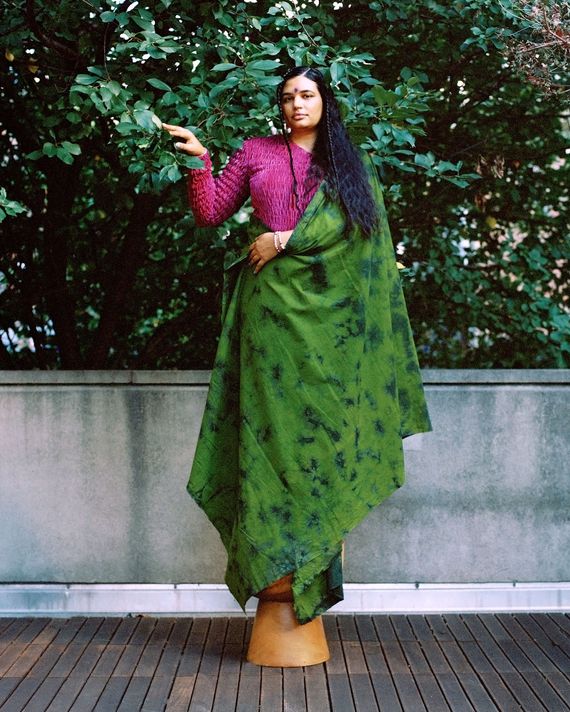 Abacaxi means "pineapple" in Portuguese. In some cultures, pineapples represent good luck, friendship, and hospitality. For South Asian American designer Sheena Sood, founder of the label Abacaxi, the fruit brings back memories of the time she spent two months in Brazil on the beaches of Bahia, where fruit sellers yell out the word as they sell their produce on the street. There, the sound of the word "abacaxi," Sood says, is like a "joyous musical."
Growing up in Minneapolis, Sood traveled to India every few years to visit family. As a kid, those trips brought her closer to her roots and introduced her to South Asian design and craft, sparking her love of textiles, color, and patternmaking.
"I got to see how custom garments were made," says Sood. "Unlike where I grew up in the Midwest, people would go and buy their fabric, take it to the embroiderer, then the beader, and then the tailor. The richness of the fabrics. The way people dress with color in such a different way."
Those trips inspired Sood to be a textile designer; she studied visual arts and comparative literature at Brown University. While in school, she started making art using fabric, embroidery, and beading in paintings, which led her to work in textile design. After graduation, she moved to New York City to begin her career in the fashion industry. Working as a designer for brands like Tracy Reese, Cole Haan, and Anthropologie, Sood spent over a decade crafting the design technique and ethos she applies to Abacaxi.
In 2013, Sood designed her first capsule collection under the brand name Abacaxi. At first, it was a creative project consisting of two dresses, a blouse, and embroidered shorts, all made with patchwork embroidery that she had collected in India.
Using her personal savings, Sood was ready to focus on Abacaxi full time at the start of 2019. Fruit Nostalgia, her first collection, was inspired by memories she had of tasting fruits in India. The color scheme and design of the collection was inspired by the purple of jamun and the yellow-green shade of amla.
The collection was released in March 2020, right before New York City went into lockdown. Sood hosted a launch event at her apartment, which included a tie-dye workshop and a giant fruit display table. As with most businesses that started before the pandemic, the uncertainty was there. But Sood wanted to figure out a way to contribute, so she started making masks, which kept the business profitable. Last summer and into last fall, she noticed people who had bought masks were coming back for her clothing.
Plants As People, her fall-winter 2021 collection, was inspired by the book Gathering Moss, written by Robin Wall Kimmerer, an Indigenous woman, botanist, and researcher. Inspired by how moss live together and communicate, the collection included sari blouses with sweetheart necklines, brightly colored velvet, and low-rise leggings, as well as craftsmanship like detailing, beading, tie-dye, faux layering, and shisha mirror work.
Nature and animals are themes in her collections. Last month, the brand had its first runway show, titled Stingray. The playful collection featured crochet dresses knit with 100 percent Peruvian cotton and a color scheme resembling a coral reef, inspired by a trip she took to Costa Rica in 2017. At the show, the designers handed out bubble machines and prompted showgoers to play with the bubbles.
"The water was crystal clear and super-warm," she says. "As soon as I plunged my head into the water and opened my eyes, I just saw this incredible kaleidoscopic view of sea life. There were fish of all colors of the rainbow. The stingrays were gliding along the floor, and the way they moved stuck with me. I had just never seen anything remotely like that, so it's one of those transformative moments of learning something new or feeling connected to the universe that inspired me."