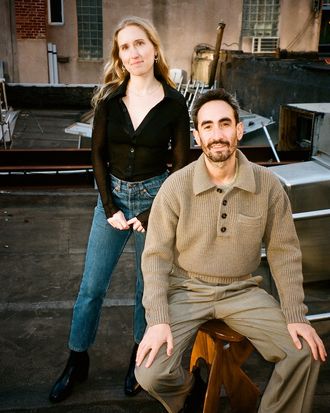 Alix Freireich and David Lê.
Photo: Courtesy of Maiden Name
Maiden Name is a New York–based womenswear line and online concept store founded in 2019 by David Lê and Alix Freireich. Each season, Maiden Name presents the new season's apparel alongside curated objects and exclusive commissioned collaborations with artists.
"I get to bring beautiful things into the world with and for people I love," Lê told the Cut. "It's the best job I can imagine."
While Lê curates the site's "Objects" shop, Freireich designs the '70s-inspired womenswear (think knit sweater-vests, polos with exaggerated collars, and lace-up dresses). "I've always loved making clothes, first for my dolls when I was little, then for myself once I got a sewing machine," Freireich said. "It's something I've always wanted to do."
We spoke with Lê and Freireich about shoulder pads, blobby furniture, and their favorite winter socks.
What's one piece that's especially meaningful to you?
David: We did a doormat in coconut fiber with Kern Samuel, who's an artist and a friend. It's called "Between You and Me." Kern's work is often about domestic space, so it made sense to see how he approached turning the entryway into a home. He designed this very pretty pattern that evokes a hairy hole. It's one of the things we've made that I almost don't want to sell.
Alix: It's one of our first sweaters. It was inspired by one of David's dad's sweaters from the '70s. I love the proportions, colors, and yarn.
What would you never wear?
David: We just explored shoulder pads last season, so honestly, nothing is off the table. That said, designer sneakers.
Alix: Palazzo pants.
What's your dream vacation?
David: Sprawling compound, Mediterranean island, friends, great food, great wine, proximity to nightlife but no noise, deep sleep, sexy new people rotating in and out, no logistics, no work.
Alix: Right now, I'd love to go anywhere warm and relaxing with good food.
What's a good book on your coffee table right now?
David: I don't have a coffee table because my apartment is tiny. I also only own one coffee table book: Mach Dich Hübsch! by Isa Genzken.
Alix: The Red Thread: Nordic Design.
Last show you binge-watched?
David: The Way Down.
Alix: LuLaRich.
What's your guilty pleasure?
David: Mozzarella sticks from Burger King. Vile, and yet …
Alix: Bad true-crime docuseries.
Secret to hosting a good party?
Both: Throw the party that you would go to.
What is a trend that you like right now?
David: Gay-specific, but men in spaghetti straps. Men are finally dressing like Bratz dolls.
Alix: Wanting to look nice when I leave the house.
One you don't understand?
David: Blobby, melty, and/or bubbly furniture.
Alix: I'm struggling with the resurgence of the early aughts. I was happy to see low-rise jeans go.
Favorite restaurant in New York?
David: Thai Son on Baxter Street.
Alix: Tamarind Tribeca.
What's the one thing you could eat every day for the rest of your life?
David: This protein glop from Erewhon in L.A.
Alix: Any New York pizza.
Shoes you wear most often?
David: Vintage Prada lug soles.
Alix: Some sort of flat.
What are five inanimate objects that bring you joy?
"Chef's kiss in the winter."
"This tape measure is perfect. It's tiny, imperial and metric, and retractable. Very German, very Kiosk."
"Addie Walz makes this soap in Red Hook, and it is simply the best soap we know."
"They stay organized, and I love all the different sizes. They replace ziplock bags, and I use them when I travel for jewelry and makeup." — Alix
"An absolutely game-changing cleaning product."