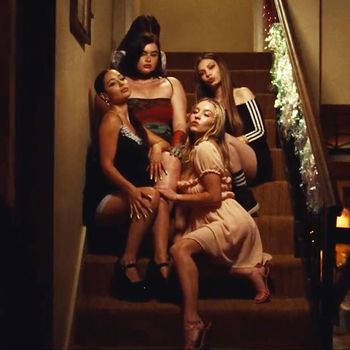 Will we ever tire of watching teenagers do terrible, horrible, no good, very bad things? Say it with me: no! In honor of this grand tradition, I am here to announce that HBO Max has just dropped the trailer for season two of Euphoria, the show that made us all wonder if we should get eyelid decals. (The answer, we learned the hard way, was also no.) But not to fear: This next season promises plenty more superb sparkly makeup, not to mention excessive party streamers, people leaning way too far out of cars, many police sirens, and … a possible kidnapping???
Batten down your emotional hatches, because this trailer has it all. Eric Dane screaming out the window of a speeding car. Alexa Demie dancing in a rhinestone-studded crop top. Multiple weapons dangling from unidentified hands, looking like they're very much about to be used. Oh, what have we here? A newcomer with a heart-shaped face tattoo, looking ominously at the ground in his thrifted jacket? This looks promising!
Also promising: a totally uplifting quote from Zendaya's Rue that narrates the sneak peek. "When you're younger, everything feels so permanent," she deadpans in her signature monotone. "But as you get older, you begin to realize nothing is. And everyone you love can drift away."
The last time we saw Rue, she and Jules (Hunter Schafer) were still processing the events of last season in two special episodes that took place on Christmas Eve. As for the rest of the kids, we left them in various states of intoxication and drama at the winter formal. Seems like they're all doing great now, really healthfully healing from their trauma, and nimbly shoulder-rolling the challenges of teendom in the modern world. Who's ready to feel deeply sad and concerned this winter, but, like, with glitter? I sure am!