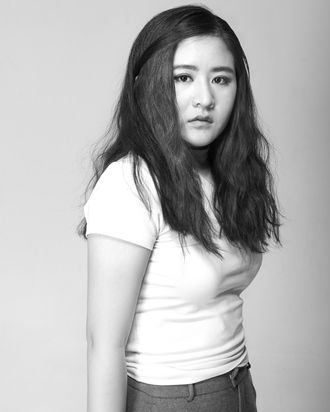 Photo: Courtesy of Snow Xue Gao
Snow Xue Gao's spring-summer 2022 New York Fashion Week presentation included sharply tailored houndstooth suiting, delicate silk florals on minidresses, and flouncy pussy-bow blouses — all inspired by summers spent with her grandparents and cultivating their peony garden.
She says her designs "break away from conventional definitions of feminine and masculine."
The Beijing-born, New York–based designer says she is always dancing on the line between art and sellable products. "After many years learning painting and sculpting when I was a child, I still feel an immense joy creating pieces that people can use. There is an ancient quote from Chinese philosopher Lao Tzu that says, 'We mold clay into a pot, but it is the emptiness inside that makes the vessel useful.'"
We spoke with her about prints, fitness, and her favorite Sichuan restaurant in the city.
What's one piece from your spring-summer 2022 collection that is especially meaningful to you?
My favorite piece is the knotted, draped mini cocktail dress, which was the opening look from my presentation. The piece is made from a gray suiting pattern mixed with a floral-printed silk and modeled by Kiara Marshall. I think Kiara brings something unique and beautiful to this dress, and how she represents this look inspires me as a designer.
How do you thank someone for a gift?
I like to thank them by either inviting them to my favorite restaurant or preparing a meal at my place, so we can enjoy our time together. I always host Chinese hot pot and mah-jongg games at my apartment to entertain my friends. It has become a little tradition.
What would you never wear?
I never wear white socks.
What's your dream vacation?
A whole week in Orlando with my college friends, going to all the theme parks.
What's a good book on your coffee table right now?
Wearable Prints, 1760–1860: History, Materials, and Mechanics, by Susan W. Greene.
Last show you binge-watched?
Awkwafina Is Nora From Queens.
What's your guilty pleasure?
Lasagna all day.
Secret to hosting a good party?
Open the wine bottles before guests arrive.
What is a trend you don't understand?
Keto diet products.
Favorite restaurant in New York?
Lan Sheng on 36th Street is the most original Sichuan restaurant in Manhattan. Try the signature sliced fish in peppercorn soup.
What's the one thing you could eat every day for the rest of your life?
Popcorn.
Shoes you wear most often?
Nike sneakers.
"I take HIIT classes every other day. This shoe is the perfect option for a lot of jumping."
"I have tried many different water bottles to find the perfect one for both workouts and for work. This one is easy to measure your water intake and has a very comfortable handle."
"The perfect hydration solution. I believe everything starts from the inside, and this works better than hydration serums applied to your skin."
"These leggings have the perfect stretch to suit all kinds of workouts."
"It's simple and classic. I love it."