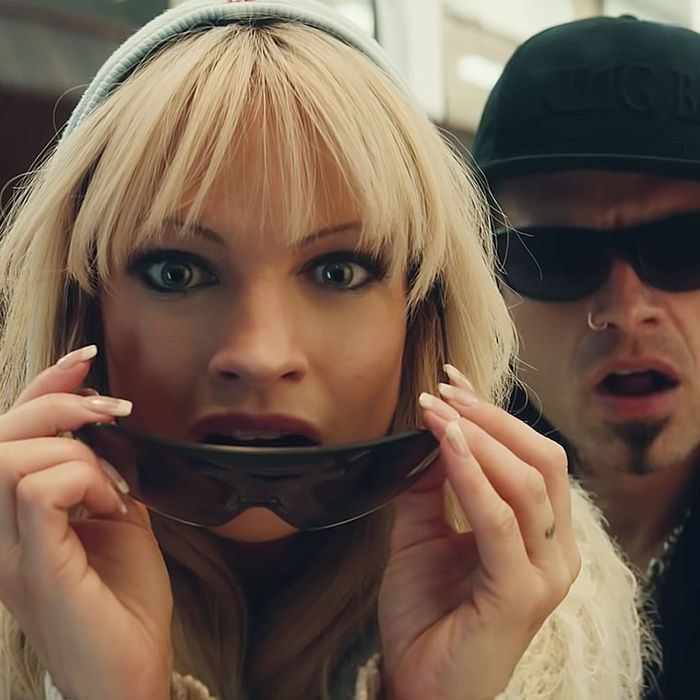 Pamela Anderson and Tommy Lee's sex tape is the stuff of Hollywood legend, a warning about how the internet and celebrity culture would combine in the decades to come. So, of course, it's being made into a miniseries. On Wednesday, Hulu dropped the first trailer for Pam & Tommy, starring Lily James and Sebastian Stan, and it asks the age-old question: What if a massive invasion of privacy that changed the way American culture talked about women's sexuality was a fun period piece?
From the moment the first pics of James and Stan as Pamela Anderson and Tommy Lee, respectively, were released, we knew that the miniseries had the mid-'90s grunge look down, but I, along with many others, was still skeptical. The theft and subsequent release of the Pamela Anderson and Tommy Lee sex tape in 1996 became a flash point that changed the nature of celebrity forever. Looking back, it's also super-depressing.
Luckily, the Pam & Tommy trailer seems to understand this, opening with the truly bonkers true story of the electrician, Rand Gauthier (Seth Rogen) who stole the tape, but ending on Pam Anderson's sinking realization that her privacy has been violated.
Anderson herself hasn't said anything about Pam & Tommy, but her friend Courtney Love sure has. "I find this so f–king outrageous," Love wrote in part in a since-deleted Facebook post in May, per E! Online. "My heart goes out to Pammy … further causing her complex trauma." Sources also told The Sun that Anderson "has no intention of watching this God awful show."
In fact, Anderson has never even watched the sex tape, which was eventually released on VHS and online under the title Pam & Tommy Lee: Stolen Honeymoon. "I've never seen it," she told Andy Cohen during an appearance on Watch What Happens Live in 2015. "I made not one dollar. It was stolen property," she added.
As for Lee, he seemed supportive of the show when asked about it at the 2021 MTV Video Music Awards. "I know Sebastian, he's playing me," he told Entertainment Tonight. He also revealed that Stan had spoken to Lee about the show, and teased that it wouldn't be as salacious as people might think. "It's really about privacy and how things got crazy then," he said. We'll see for ourselves when the show premieres February 2.