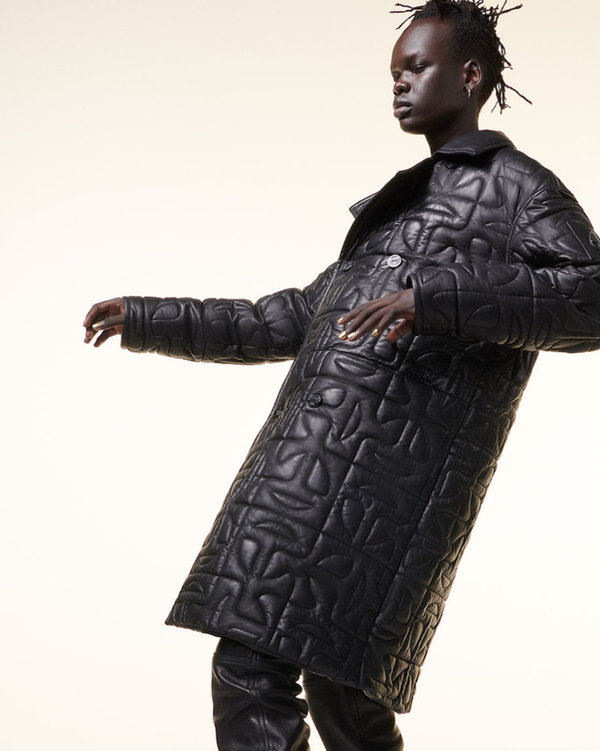 Photo: Courtesy of Moose Knuckles
Yes, it's November already. Here in New York, the crisp fall winds have rolled in, and with them come the ubiquitous fall outfits. One, for instance, is a timeless (and arguably cheugy) combo: Chelsea boots, skinny jeans, turtleneck, and peacoat. But I, a fashion person by trade and an advocate for unapologetic self-expression by lifestyle, could frankly never … until now. This week, Telfar made its first foray into outerwear, including a leather peacoat, with the Canadian brand Moose Knuckles.
"This is designed specifically for everyone," said Telfar Clemens in a press release announcing the collaboration. "If I don't see it in the street every day it didn't really happen."
Combining Telfar's New York City roots and Moose Knuckles' outerwear expertise, the two brands created a 17-piece outerwear collection "that serves as an ode to New Yorkers' penchant for getting noticed while minding their own business." There's a classic bomber set with a matching pair of fox-trimmed boot-cut ski pants, a puffer hoodie paired with matching puffer sweats, a puffer peacoat, and the crème de la crème, a lamb-leather quilted peacoat with an all-over Telfar monogram. Its product description reads, "Winter might not ever hit the same again," which seems true because I probably will never look so glam leaving my house once for ten minutes to go to the corner deli.
"Working with one of the most forward-thinking designers in the industry today has been a dream come true," said Dominique Lagleva, vice-president of global marketing at Moose Knuckles, in a statement.
Of course, it wouldn't be a true Telfar drop without bags, and there's a limited-edition puffer Telfar shopper in the medium size, as well large puffer shoppers with all-over puzzle-piece monogram. Prices range from $195 to $4,300, and the pieces are available to shop now on both the Moose Knuckles and Telfar sites.