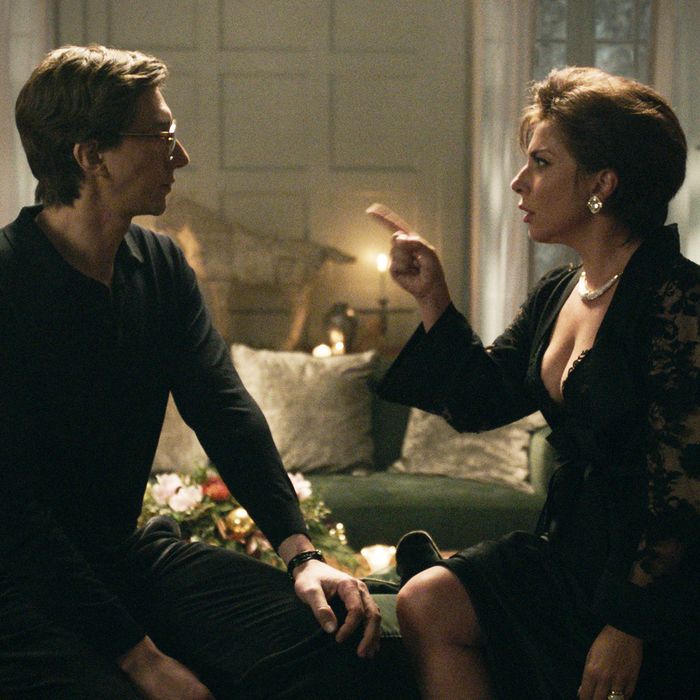 Photo: Courtesy of Metro Goldwyn Mayer
Ridley Scott's House of Gucci brings many things to mind: fashion, red and green, the letter G, Adam Driver feeding Lady Gaga a pastry. But what you should be thinking about when you think about House of Gucci are the noses at its center. Thankfully, director and Italian scholar Ridley Scott, who somehow does not have an Oscar, considered the strong, structured Italian nose when casting his camp cinema masterpiece, House of Gucci, which includes an Italian cover of the Monkees' and Smash Mouth's "I'm a Believer."
Nearly two years of staying inside has forced us to unleash our sexual energy onto the internet by sharing our lust for celebs — a special shout-out to Robert Redford, Jon Bernthal, Adam Driver, and Google Images for getting me through this time. While we as a culture have improved the ownership of our sexuality by being extremely horny online, in this important moment we have failed to appreciate the prominent structure between the eyes that serves as the entrance to the respiratory tract and provides human beings with the ability to smell things such as Bolognese sauce, Gucci leather, and Adam Driver's large neck. I am, in fact, talking about the nose. All this talk about hot people, yet we are silent on all noses except Nicole Kidman's fake one.
Noses are, of course, not essential to the plot of House of Gucci or any movie that is not The Hours (2001), a film about Kidman's prosthetic nose, which won her an Oscar. Intentionally or not, however, noses are essential characters in House of Gucci, a film about the rise and fall of the Gucci fashion empire and Maurizio Gucci's marriage to Patrizia Reggiani, which led to his murder, which she organized.
Perhaps cinematic noses come to mind in any Gaga vehicle because of A Star Is Born (2018). In that film, Gaga's character, Ally, says she was told she could not be a successful musician because her nose is too big. Bradley Cooper's Jackson Maine correctly thinks her nose is amazing, and throughout the film, Ally does a cute little bit where she traces the outline of her nose for him. The human nose is a body part that often goes ignored, and I am delighted to report that this is the one corner of the internet that appreciates them. Here is an ode, if you will, to the extravagant, elegant, undoubtedly delicate, and absolutely not full-blooded Italian noses in Scott's House of Gucci.
The most important noses in House of Gucci belong to its leads, Gaga and Driver. As Patrizia, Gaga delivers the performance of her life. Her perhaps unnecessarily Method performance proves that even though her Italian accent is slightly Slavic, Stefani Germanotta's blood is carbonara and her bones are spaghetti. Gaga's Patrizia embodies the Italian glamour of Sophia Loren with the ferocity of a Real Housewife of New Jersey. The way she carries herself as Patrizia — head held as high as her ego — accentuates Gaga's exquisite, defined nose. Gaga is proud of her Italian American nose, and she should be.
At this point in my life, I have spent more hours staring at Driver's nose than there are in a week. It's round and prominent, just like Gaga's, which is perhaps why they get along surprisingly well on set and off. When they kiss, the edges of their noses dap each other in perfect alignment. Am I saying Driver's and Gaga's noses are star-crossed? I certainly am. In House of Gucci, Driver's nose, which was sculpted by Michelangelo, Leonardo, Donatello, and Raphael (the artists and the Ninja Turtles) gets the respect it deserves. The massive, nerdy '80s aviator frames Driver wears as Maurizio accentuate his perfect feature between his dark, bewitching eyes. This is unrelated to noses, but it must be said that Driver rides a bike in this film, and against his large frame, the bike looks like a tricycle. But he and Gaga don't have the only important noses in this movie. The supporting noses from the massive cast also have an impact on House of Gucci. They are as significant as New York City is to Gossip Girl and Sex and the City.
At the inspiring age of 73, Jeremy Irons remains one of the hottest people on the planet. Irons, who plays Rodolfo Gucci, Maurizio's father, has a dainty nose that matches his haunting voice and makes me wonder if Scar from The Lion King, whom Irons voiced, was right about killing Mufasa. Irons's sartorial choices, like his gray ensemble with a black tunic, brown knee-high boots, and a beanie at the plethora of House of Gucci premieres, have proved that in addition to his sharp, angular nose, his fashion sense is as unique and inspiring as international pop star Lady Gaga's. His affection for fashion exudes itself through his performance as the cruel but chic ruler of the Gucci empire. Irons chews the scenery like a starving dog chews a bone, particularly in a scene when he basically tells Jared Leto that he sucks.
Speaking of chewing scenery, Al Pacino went full camp for House of Gucci. His bombastic performance as Aldo Gucci, Maurizio's uncle, has been lying dormant in this legendary man for decades, and the actor must be included in the nose conversation. Without his iconic snout, Pacino would not be the same. It's a cinematic nose that captures light beautifully from any cinematographer and has an instantly recognizable silhouette. With a different nose, Al Pacino is not Al Pacino.
A few other House of Gucci stars deserve a special shout-out for their contributions to the film's premium nose content: Salma Hayek (no other nose casts better shadows), Camille Cottin (long and lean like the leaning Tower of Pisa), and Jared Leto, kind of but not really. While Leto, who plays Paolo Gucci, does have one, his button nose is exaggerated by prosthetics and is therefore not his real nose. Ironically, Leto's performance in House of Gucci is the least annoying Leto has ever been, which is probably because it is not his actual face.
In conclusion, noses are good, and Ridley Scott's House of Gucci features the best collection of noses in cinematic history in addition to fashion-succession drama, Italians yelling at one another, and a Gaga-and-Driver sex scene. I hope you have learned that noses deserve some respect. The next time you think about hot people, please think about their noses, the most underappreciated human feature, especially in cinema.