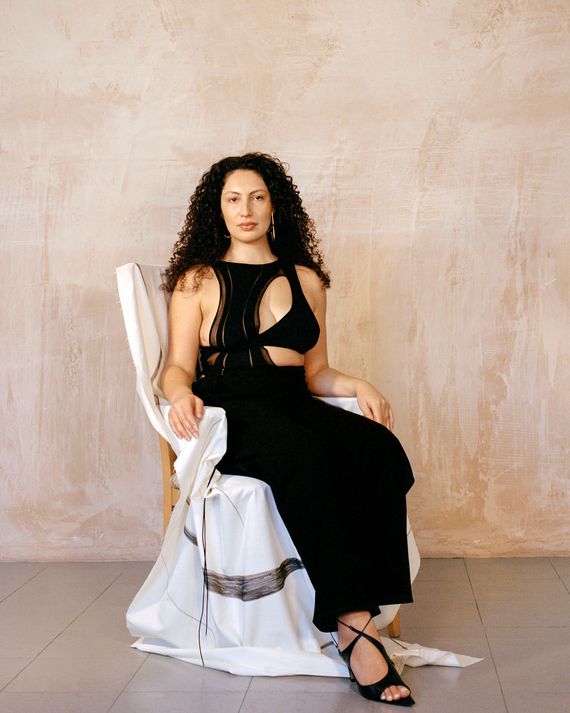 Karoline Vitto, a Brazilian-born and London-based designer, fell in love with the body's rolls and curves while she was a student. Her understanding grew deeper once she started to experiment with her own body as part of the design process for her 2019 thesis, called "Body as Material," at the Royal College of Arts.
This ethos became part of her design process. Many fashion brands design for thinner bodies and blow up the proportions for plus-size options to appear inclusive, which makes for ill-fitting garments. But Vitto, whose sizing ranges from a UK 8 to 28, or US 4 to 24, and can also be custom made, starts with a larger body and adapts to a smaller size.
"You have to be a little bit more clever when designing because of how you're accommodating for crotch length or wider hips," she explained. "It's not only going to take more fabric, but maybe you also need to add another seam or have a different type of cut completely. There are all of these kinds of design challenges that come with larger sizes that help you become a better designer as well."
Vitto grew up in a town of just under 80,000 people in the south of Brazil called Caçador; she learned how to draw and basic sewing skills from her mother. "My grandma used to sew all of her clothes, and my grandpa was a shoemaker," she said. "My mom learned from them, and then I learned from her."
Despite her family's background, Vitto didn't think she would end up in fashion herself. Knowing only that she wanted to pursue a "life of creativity," as well as "something that could be a little bit technical," she went to Santa Catarina State University for architecture in southern Brazil. But then she became frustrated, wanting something more instantly gratifying so she could see the results of her designs become reality within a year. That's when she moved to London, where she did a one-year course at Central Saint Martins, learning more advanced techniques and how to combine materials like metal, elastics, jersey, and knits.
While her master's collection was personal and cerebral, Vitto started listening to other women more. For one, she said, her customer, unsurprisingly, doesn't like being uncomfortable. Wearability is an element that she's perfecting now, still highlighting the same areas of the body but in a softer, gentler way. Rather than elastic bands and brass rings constricting the body, an approach she used earlier in her career, she added panels of knit cashmere and transparent nylon to combine comfort, support, and sensuality in skimpy tops and tights. The introduction of knitwear is not a coincidence either. Off the top of her head, her inspirations are Azzedine Alaïa as well as Peter Lindbergh's photographic work during the '90s era of supermodels. "I would love to bring that kind of dream and fantasy to a more diverse body perspective," she said.
It may sound like a lot for such a young brand with no outside funding, relying solely on direct-to-consumer sales on its website and Instagram, but this model also allows her to avoid working with a factory. Doing so would require her to make 100 to 200 pieces at a time, limiting her to a couple sizes. "So how can I possibly do that while being size inclusive?"
Vitto said that she often gets messages on social media that validate her work. "There was one girl who messaged me saying she never wanted to show her back rolls until she saw images of them on my Instagram and liked how it looked," Vitto said. "After that, she looked at herself differently too. Hearing that really keeps me going, because I know I'm generating a positive impact on some people."