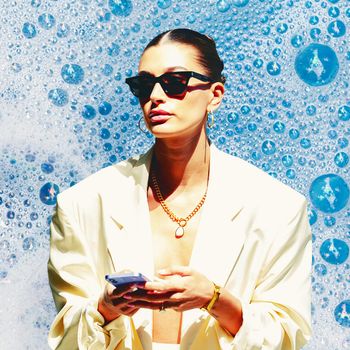 Hailey Bieber, model off duty, wearing the "Clean Look."
Photo-Illustration: The Cut; Photos: Getty Images
One of the latest trends making the rounds on TikTok involves looking "clean" by wearing the "Clean Look," 2021's take on no-makeup makeup, Rich-Person Skin, and Rich-Girl Hair. Let's dissect.
What is the "Clean Look"?
It socializes in the same circles as "model off duty" and "fresh-faced" and is typically worn by "That Girl," who exudes "main-character energy." In layman's terms, it's pretty much a no-makeup makeup look worn by a person with a very symmetrical face and great skin (probably achieved with the help of many expensive facials and laser treatments) who is styled and accessorized in a way that looks effortless, "expensive," and pristine.
But what makes someone look "clean"? Apparently, dewy skin; makeup that's strategically placed to make it look as if you're not wearing any; fluffy, feathered brows; and flushed cheeks. If the "Clean Look" had a beauty mood board, it would be plastered with pictures of Rosie Huntington-Whiteley, Laura Harrier, and Zoë Kravitz floating around the world's best selfie, by Zendaya, which would be radiating in the center.
Unlike no-makeup makeup looks of yore, the "Clean Look" goes a step further by extending past the face to become a whole vibe. The beauty look is framed by Gen Z's face-baring middle part, accessorized with minimalist gold jewelry, paired with neutral monochrome clothing, and sometimes topped with sizable sunglasses with very dark lenses. Basically, the end result should look like paparazzi shots of Hailey Bieber out and about.
Does the "Clean Look" have anything to do with clean beauty?
No, but some clean-beauty products do make cameos in "Clean Look" tutorials, which is a fun little overlap.
Does the "Clean Look" have anything to do with the celebrity cleanliness and bathing discourse from the summer?
Also no. This is more about looking and exuding clean on the outside, not necessarily being clean at your core.
When did this start?
Very early in the year, TikTok users began asking the public if they looked "musty or clean," a trend that ended up being as problematic as you'd think. This specific "Clean Look," however, seems to have really picked up steam at the top of the fall. In mid-September, for example, TikTok user and off-duty model Eva Rankin replied to a comment that simply read, "you look so clean," with a beauty tutorial that now has 1.3 million views. In it, she demonstrates "how to achieve the ✨clean✨ look" with a series of swipes and spritzes set to "Manhattan," by Ella Fitzgerald. There's a whole bevy of posts in this exact format showing off the multiple steps users take to look so fresh and so clean. #cleanlook has 16.1 million views.
How do I do this?
First, you'll want to cleanse your face with something hydrating. This is the only "Clean Look" step that requires actual cleaning. Next, accept the middle part if you haven't already, create one, pull your hair back, and slick down any and all flyaways with a gel or pomade so you cannot hide behind your hair in any way, shape, or form.
Then shift your focus back to making your face look as luminous and moist as humanly possible (as we have been for the past few years). This can be achieved through any combination of serums, moisturizers, glow-boosting sunscreens, hybrid highlighter-serums, tinted moisturizers, or liquid foundations. You'll want to top that off with minimal makeup, including concealer around the eyes; some bronzer to contour around the nose, cheekbones, hairline, and jawline; and creamy blush on the cheeks, blended upward. You'll also need to fill and groom your brows upward, swipe on some mascara, and coat your lips with something shiny and subtly tinted. Spritz on your signature scent for extra credit. Once all your beauty products are in place, slip into something neutral colored, insert small gold hoops into your earholes, and clasp a simple gold necklace around your neck.
This seems like a lot for a "minimal" look when it's all written out like that, but it's much easier if you're already a model or have high cheekbones, a sculpted jawline, a small nose, straight hair, and really clear, even-toned skin. Thankfully, POC creators have been posting "POC editions" that show how the trend can be tailored to a wider range of hair textures, skin tones, and skin types.
Should I do this?
If you've been longing to master no-makeup makeup, this is a good time to get reacquainted with how to do it. If you're looking to slowly dip your toes into a daily "getting ready" beauty routine after a pandemic-induced hiatus, this look can ease you back into putting on a face. But if semantics are important to you and it has always bothered you that "no-makeup makeup" is essentially a lie, steer clear of the "Clean Look." When bedtime rolls around, you will be forced to reckon with the fact that your face is indeed not clean; it's kind of dirty, actually.
What can I do instead?
You can try being literally clean to put a fun twist on the trend. Take regular showers and emerge from them wearing last season's dewy hair look and temporarily wet skin. Check out Cardi B's bathroom shelfie. It's a veritable feast of affordable products if you want to save while feeling squeaky-clean, instead of splurging just to look it.