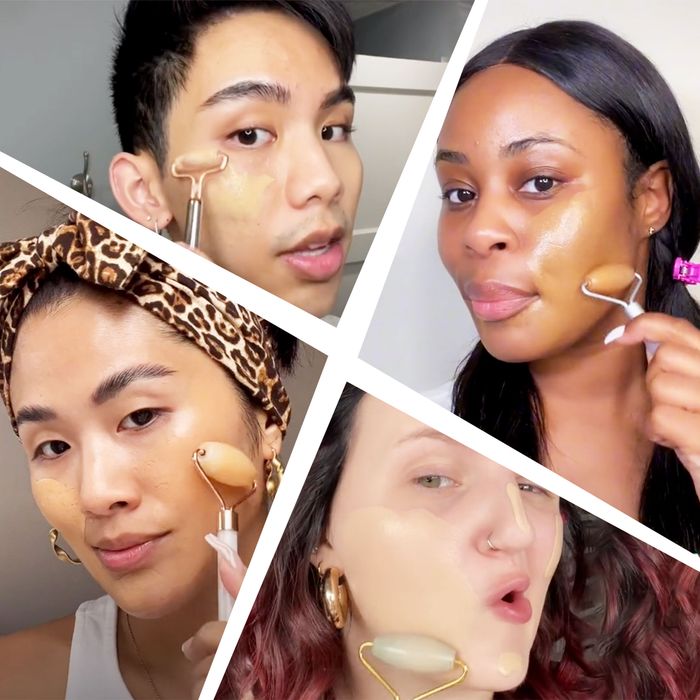 TikTok users @ling.kt, @rogerwh0, @avonnasunshine, and @mikaylanogueira using face rollers to apply foundation.
Photo-Illustration: by The Cut; Photos: @avonnasunshine, @ling.kt, @rogerwh0, @mikaylanogueira/TikTok
One of the latest trends making the rounds on TikTok involves applying liquid foundation to one's face using a hard jade roller instead of a squishy sponge or feathery makeup brush. Let's dissect.
Where did this start?
The popular foundation hack seems to have begun with creator Avonna Sunshine, who earlier this month posted a video captioned "GAME CHANGER!!!!" In it, she uses a rose-quartz facial roller to evenly spread Maybelline New York Fit Me Foundation onto her skin. While rolling out the product, she speaks to the massage tool's ability to give your typical foundation "a very, very smooth application" and much "fuller coverage" with way less product, because unlike traditional foundation brushes and makeup sponges, the stone roller doesn't absorb any of the liquid — it simply paints it onto your face like its a living room wall awaiting a fresh coat of color.
Sunshine also claims the coolness of the roller closes your pores to give you a smoother finish than a plushy sponge or feathery brush can. Jade rollers are usually used to allegedly reduce inflation and puffiness. Although dermatologists say you're born with the pores you're born with, so dragging a crystal over them won't do much, but keeping them unclogged will make them less noticeable.
How do I do this?
First, you'll want to procure a facial roller. Jade, rose quartz, amethyst, blue aventurine — any stone will do. Then, apply a few swipes of your go-to liquid foundation onto the wider areas of your face, like across the forehead, cheeks, on the chin, and down the bridge of your nose. Next, use the facial roller to roll the product across your skin. Try to follow facial roller protocol and roll up and outward if you can.
Be forewarned, this will take a lot longer than applying foundation the regular way with a sponge, a brush, or your fingers, but it'll feel pretty darn good too, so maybe its worth the extended time. TikTok creators have also discovered that it's pretty tricky to get into all the nooks and crannies on your face, like on your nose, around your nose, your eyelids, and in the delicate under-eye area, due to the shape and stiffness of facial rollers. Using one that's doubled-ended with a smaller roller for the eye area may help a bit, but your mileage may vary.
Should I do this?
If your BeautyBlender is boring you, or you hate cleaning used sponges and your disgusting makeup brushes, you may want to give this hack a try. Since facial rollers are hard and smooth, they're a lot easier to clean following foundation application. Jade rollers also allegedly help encourage lymphatic drainage and reduce puffiness, so this hack could come in handy if you're putting on makeup in an attempt to disguise a hangover or salty meal.
On the other hand, if seeing a pristine jade roller get covered with a flesh-colored product (instead of a clear skin-care serum) stresses you out, you may want to steer clear. The de-stressing qualities of rolling may not be enough to cancel that out. If you're looking to achieve more of a "clean" look, this hack may create a look that's too heavy for your liking. Lastly, experts caution against too much face-rolling in general for those who have skin experiencing a lot of inflammation, or for those with a skin condition like eczema or rosacea. That probably applies to jade rolling with foundation added on top, too.
What can I do instead?
If you want to jade roll with makeup, but don't want to risk it on your face, I'd suggest using a ginormous jade roller to apply KKW body foundation all over your legs; it's a much bigger surface area that's free of those nooks and crannies, so you can truly roll with abandon. If you want to skip the roller, but still want something more exciting than a lame sponge or your boring fingers, you can try upgrading to a fancy oval foundation brush. It looks more like a hairbrush than a makeup brush, so you get the similar thrill of applying foundation with something that doesn't seem like it's made for applying foundation. Lastly, if that cooling sensation is what you truly crave, you can try freezing your BeautyBlender, another trendy foundation-based TikTok beauty hack that's been making the rounds.