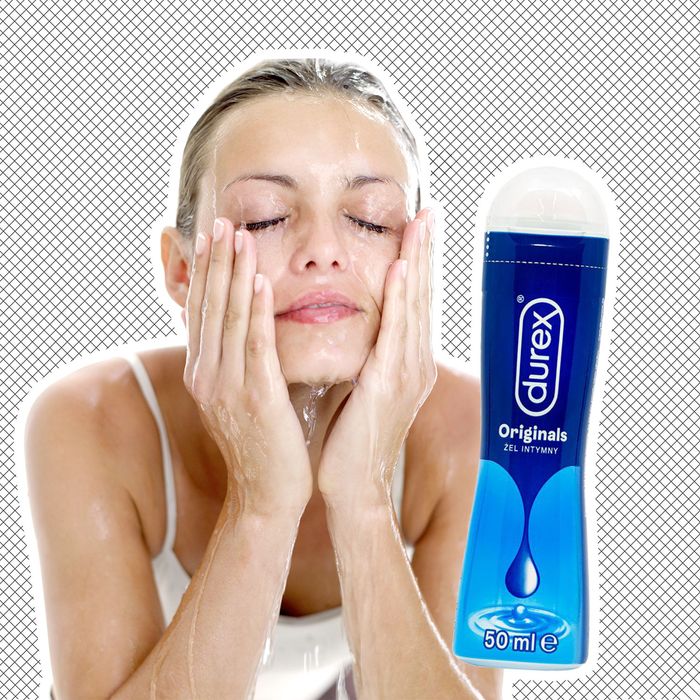 Photo-Illustration: The Cut; Photos: Getty Images, Retailer
One of the latest trends making the rounds on TikTok involves squirting a hefty serving of sexual lubricant straight onto your face. Why? Because we're still aspiring to have skin that looks perpetually wet, and turns out, lube is pretty good at making things, like skin, very wet. So good in fact, that the makeup artists and beauty-content creators of TikTok are saying lube outperforms many of the makeup primers on the market by not only extending the lifespan of their makeup looks, but making them look incredibly dewy and smooth in the process. Let's dig in.
Where did this come from?
The hashtag #lubeprimer really picked up steam last month and currently has 8.7 million views, but the trend seems to have started with TikToker Lukáš Kohutek (@lukeketuhok), who has been posting makeup time lapses that begin with a casual squirt of Durex to the face since July of this year. Kohutek tells the Cut that he actually first started using lube as a skin-care product after his best friend's mom recommended it as a remedy "for healing up scars after breakouts." "After a few weeks using it as the final step of my skin-care routine, I said to myself, this can be great as a primer. I tried it and loved it, and now use it almost every time I put on makeup," says Kohutek, who loves lube's skin-smoothing and hydrating qualities.
While lube continued to be a staple in Kohutek's videos, it was TikToker Sean Anthony (@seananthonyv) who explicitly highlighted the "life-changing hack," and caused the trend to spread far and wide. In the video that went viral, he demonstrates how mixing lube into liquid foundation creates a smoother glide, and gives your base a "fresh" finish. Though most who try the trend and film it opt for Kohutek's technique of applying it straight to bare skin to create a dewy yet grippy canvas for what's to come.
Is this new?
Back in 2016, vlogger Huda Kuttan, founder of the Huda Beauty empire, tried both KY Jelly and Vagisil to prime her face since they have ingredients like glycerin and dimethicone in common with skin-care products. KY Jelly made her makeup pill (womp-womp), but she told Cosmopolitan that she continued to prime her cheeks with Vagisil because it worked so well. Thanks to all the sexual-wellness brands that now exist in 2021, there are a bunch of personal lubricants out there that are nearly indistinguishable from skin-care products, with their aloe vera and hyaluronic acid–filled formulas. The urge to try a lube higher up on the body was bound to happen.
Should I try this?
We wouldn't recommend it. "Using personal lubricant as a makeup primer can lead to facial skin sensitivities and allergies to some of the ingredients often found in lube, like castor oil, chlorhexidine, and spermicide," says Alexis Stephens, board-certified dermatologist and founder of Parkland Dermatology.
Dr. Stephens also warns that lube's stickiness can clog pores, trap bacteria and dirt on the skin, and cause stuff we specifically try to prevent, like acne, papules, whiteheads, and blackheads. Durex itself commented on Anthony's viral video complimenting the final look, but reiterating that they don't recommend using their product as a makeup primer.
But there are worse things you could do to your face. And if you're already brushing bar soap onto your brows, or slathering a bunch of Vaseline onto your face, squirting lube on your visage won't feel like that much of a stretch, especially if you want to get attention on the internet.
Plus, lubes are always saying that their formulas are safe to consume and use all over the body, and one could argue your face is part of your body. As TikTok's favorite skinfluencer Hyram Yarbro put it in his review of the trend, "If it's going to be shoved up where the sun doesn't shine, the ingredients probably aren't too shabby," and the ones in the water-based, fragrance-free, and flavor-free blue Durex Play —the only lube Kohutek uses as primer—are not. Yarbro lists propylene glycol, sodium hydroxide, benzoic acid, and hydroxyethyl cellulose, "ingredients you find in most skin-care products."
However, unlike makeup primer, lube (hopefully) isn't hanging out on your private parts all day long, with foundation, concealer, bronzer, and blush caked on top for hours. In other words, "Your face is not the same as your genitals," as Forbes pointed out, and dermatologists agree. They would prefer that you abstain from covering the former in lube, because there's a chance your skin will hate it.
What can I do instead?
Stephens recommends "avoiding the potential headache altogether" by just using … an actual makeup primer. Kohutek is sticking with lube because his skin hasn't experienced any negative side effects, and he finds it to be the most hydrating base, but he says Milk Makeup's Hydrogrip is pretty darn close to being on lube's level because "the texture is quite similar." Huda Kattan, former Vagisil stan, also makes a Water Jelly Hydrating Primer that looks a lot like lube if want both the Durex experience, and the green light from dermatologists.
You can also skip primer altogether and try mixing a serum that's nice and wet into your foundation to get a dewy finish, but you probably won't go viral for it or anything like that.