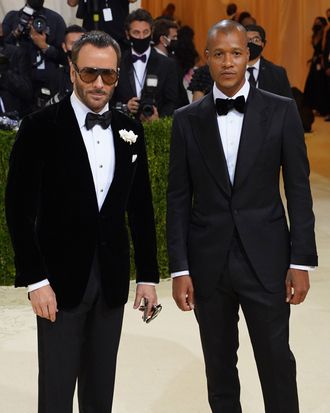 A night out: Tom Ford at the 2021 Met Gala, with Heron Preston.
Photo: Sean Zanni/Patrick McMullan via Getty Images
If any fashion designer incarnates the idea of fashion designer — the suave, swaggering archetype, opining Olympianly on matters of taste, the unbuttoned shirt and the gimlet eye, equally prepared to dress you up or dress you down — it is Tom Ford. Over the course of nine or so lives in fashion, Ford has played the role with Halston-esque poise. (A few years ago, he bought Halston's old New York pad, as if to cement the lineage.) Ford's highs and lows have been exhaustively catalogued: his meteoric rise at Gucci, where he presided over the label's return to relevance in the '90s and early '00s, and, at Gucci Group, helped to create the model of the contemporary luxury group; his penchant for provocation and his embrace of glamour and sex appeal; his defection at the height of success, the creation of his own namesake label; his entrée into filmmaking. So it's probably inevitable that Ford, who prefers to be in control, would try his hand at cataloguing them himself. His first book, Tom Ford, covered the early years of his career, when he designed two of the buzziest labels in fashion, Gucci and Saint Laurent, at the same time. His new one, Tom Ford 002 (Rizzoli), takes him from his departure thence, at the depths of a drug and alcohol problem, onward: through recovery, rebuilding, and fatherhood.
The Ford of today, older (though not much older-looking), wiser, and calmer, is not the Ford of the '90s, who pushed the envelope with near-pornographic advertising campaigns and louche pronouncements. He no longer drinks or uses drugs; he's likelier to go home after dinner than to the after-party. He's a father to 9-year-old Jack, a husband, and, as the chairman of the Council of Fashion Designers of America, a figurehead of and emissary for American fashion worldwide. (Ford's husband, Richard Buckley, died in September at 72. Ford, still in mourning, declined to discuss his late partner or his grief in this interview.) On the occasion of his new book, Ford spoke with The Cut to survey his second act, the current moment, and the state of fashion today.
This book begins right after your exit from the Gucci Group. You write in it that you were horribly depressed and angry, and it took you ten years to get over it. What did it take in those ten years to turn the page on that chapter in your life and begin this next one?
Oh God, it took a lot of things. You know, when I was at Gucci I really thought that's where I would be. I felt very fulfilled creatively. I was also designing so many collections that by the time I left I was really completely burned out. I was hitting that moment in life that I think a lot of people hit where you've achieved everything you wanted to achieve when you were young and you were starting out, then you're questioning, Is this all there is? I was also drinking too much, I was doing too many drugs, it was just not a good time.
The ten years — I started my own company and I was having success with that. But still, I felt maybe like I hadn't achieved what I achieved when I was at Gucci and at Saint Laurent. Fashion designers tend to look forward, certainly I look forward. The moment you turn your back on the runway and you start to walk away, you start thinking, What am I going to do next season? Oh my God, how am I going to figure out what to do? And so I never looked back. And going back over the last 15 years [for this book] was interesting, cathartic, made me very proud, in a way, because I sometimes don't give myself credit for having achieved anything.
I want to ask you about the drugs and alcohol, because I was impressed with the candor with which you speak about them in the book. Do you think there's something about the fashion industry that encourages that kind of abuse, or at least enables it?
Absolutely. I think it's the stress. I think people don't understand — even people that are in aspects of the fashion industry where you work closely with designers, if you're not a designer, I really don't think most people understand the pressure that you're under. Especially with big brands where so much depends on what you manage to produce that particular season. And the fact that you have to produce, not when you feel creative, not when you feel there's something new that needs to be said, but on a timeline. That's tough. I also think certainly at that period of time — and maybe it's changed today, and I wouldn't know, because I live a life of raising a 9-year-old kid — but at that time in my life, drugs were very present. Many of the people that I knew in London who used to do a lot of drugs, who I'd occasionally do drugs with, are dead. Some of them are fashion designers, like Lee [Alexander] McQueen. So yes, it's present, and yes, I do think it has something to do with the industry.
Do you get the sense that the same pressure is still present, even after events like the death of McQueen?
Absolutely it is present. It is really present. And I would think for designers who do not own their own brands it's even more present, because the revolving doors seem to just be revolving faster. You get a few seasons and if it doesn't click and if the press doesn't love you and if the sales don't go up you're out, the next one's in. So, I think the pressure must be incredible. Pressure for me is different, because yes, I need to succeed as a business, and I need to resonate, and I need to have customers, and it needs to be profitable, but no one's gonna fire me. So I don't have to worry about that any longer.
You say often that the Tom Ford who goes out in public is a performance, a sort of fashion-designer character played by an introvert named Tom Ford. Can you talk a little bit about how you developed that persona?
There was a time in my life when my public persona and my private persona were very much the same, and that would have been in my thirties and early forties, back when I was designing Gucci and Saint Laurent. Over time, when I quit drinking, certainly when I had my son, Jack, my life changed. When you don't drink, you get to a certain point in the night where everyone else has had two or three drinks — or three or four or five if you're in London — and they start slurring and you just kind of want to go home, get into bed, and read a book. So more and more the kind of billboard image of who I am, what I am, what I represent, has separated from the reality of my life. It doesn't mean that it's fake or it's artificial. It's just part of who I am, it's not all of who I am. And I think, you know, being a fashion designer … It's one thing to design the clothes and to be in the studio working. It's another to go out and have to publicly represent what you do. That is a performance, no matter who you are. You have a reputation as being this or that, and that's what they expect. They're disappointed when you don't deliver, or at least you fear that they're going to be disappointed that if they really start talking to you, your life is a little less interesting than perhaps they imagined, and you're really watching Netflix with the dog.
What do you think that that "billboard you" communicates to the customers that have met you in this phase of your career? As you say, there are many young customers who don't know you from your Gucci days.
Even the billboard image of me has changed. The billboard image of me today is more suit and tie than it was shirt open, you know, halfway down my chest. It's more sensuality, as opposed to somewhat brash sexuality. However it is still very cheeky, I think, you know, I think there's always been a certain shock value to what I do. I think when you're looking at any image, or you're going through a magazine, or you're looking on Instagram, the idea is to create an image that makes people stop, makes people think, makes people look. And that's still very much part of what I do.
Do you think that sexuality, that shock value that, you know, used to be such a big part of your brand is toned down now because it's become harder to kind of break through with it now?
It's absolutely harder to break through. It's very restrictive. It's one thing to just let yourself go and be completely creative. But then to go back over your work and if you create something new, to say, Will this fly? Will this not fly? Can I do this, can I not do that? I think it's so much a part of our culture now that it's hard to have that freedom, it's so present in your mind. No, we can't show this. No, I can't show that. What does that say about women, or what does that say about men. It is increasingly restrictive.
Does that mean you wouldn't dare again to do things like you've done in the past — the Gucci G shaved into a model's pubic hair, or a perfume bottle wedged between another's breasts?
Absolutely. And it wouldn't be that I wouldn't want to do that. The reaction would be so negative that I wouldn't risk it.
I'd like to talk about film, because two of the signal achievements of this period of your life are A Single Man and Nocturnal Animals. Do you think that your time in fashion prepared you for what you were going to do in film?
Surprisingly, the process is so similar. At least, it has been for me. When you're a creative director of a large company and you're designing, you have to work with people, and you work with a lot of them. You work with design assistants, you work with manufacturers, you work with seamstresses and tailors, and then you work with photographers and you work with the art department. So, you have to have a vision and you have to be good at working with people, and you have to be good at finding great people to work with. The same is true in film. You have to have a vision, you have to know what you're going to say but then you have to hire the most creative people around you, and you have to guide them and lead them, but you also have to inspire them. You can't beat them up or destroy them — you have to find a way to get the best out of them. And then, you know, you go back over it and you edit it and you make sure that it conveys the message that you want it to convey — whether it's a fashion show and a collection — you're conveying a specific message about women or men and that season, etc., or a film.
Do you ever think about making a film about the fashion industry? It strikes me that there's never been a great one.
It's true, there hasn't been a great one, because I don't think anyone's ever really captured what goes on behind it. [But] no, I have no desire to make a film about fashion. I live it.
The pandemic wreaked havoc on the fashion industry, but some of its longtime critics wondered whether it might at least provide an opportunity to reassess its frantic pace and outdated systems. Do you get the sense that things are snapping back to the old ways — not just in the way of sales but in the way of working practices? I was so surprised, you know, to see the shows in Europe again felt so similar to the way they were before, even with all the talk that this would know meaningfully changed things going forward. Do you see that happening?
I think they will snap back. Well, first of all, the way we work is a little bit different. There are a lot of things I found that I can do via Zoom that I didn't do before. With regard to designing clothes, you still have to be there. You have to have all of the things together, you have to have all your assistants together, you have to have a model, you have to watch them walk, you have to be able to pin and to cut and to shape and, and all those things, that is the same. With regards to the shows, I think, really, for me, having done video shows way before COVID and trying small showroom presentations and lots of different things, there is no better way to show the clothes than an actual live fashion show.
In your show notes this season, you talked a little bit about how Instagram and the digital era ratcheted up the stakes for design that makes an immediate visual impact — you quoted Diana Vreeland, "I know it's a lot, but is it enough?" To me, so much of what we're seeing in fashion comes from having to translate on Instagram and in the digital image. Do you think that pendulum will ever swing back? Are we just going to be stuck in this arms race for the most impactful, the brightest, the shiniest, the most sequined thing forever?
I hope it swings back. When I look at things on Instagram … I have to do it in order to stay current, but you leave feeling unattractive, boring, your house isn't good enough, your vacations aren't exciting enough, you leave feeling insecure. It's terrible. I would love to think that somehow it would snap back. I don't know that it will, because I think that for the current generation, it is becoming such a way of life. And in a way, I think fashion will probably become more and more extreme. Day-to-day fashion will be what it is now, which is really nothing — you know, jeans and a T-shirt. But people will dress to go to events, to go out to photograph themselves on Instagram, this life that they're supposedly having. When I look at images on Instagram, they're increasingly cartoonish. The makeup looks cartoonish, everyone's retouching their face, using Facetune, retouching their bodies, and wearing outfits that are more and more outlandish because they photograph well. We really could end up with fashion that looks like the Capitol in The Hunger Games.
This interview has been condensed and edited.