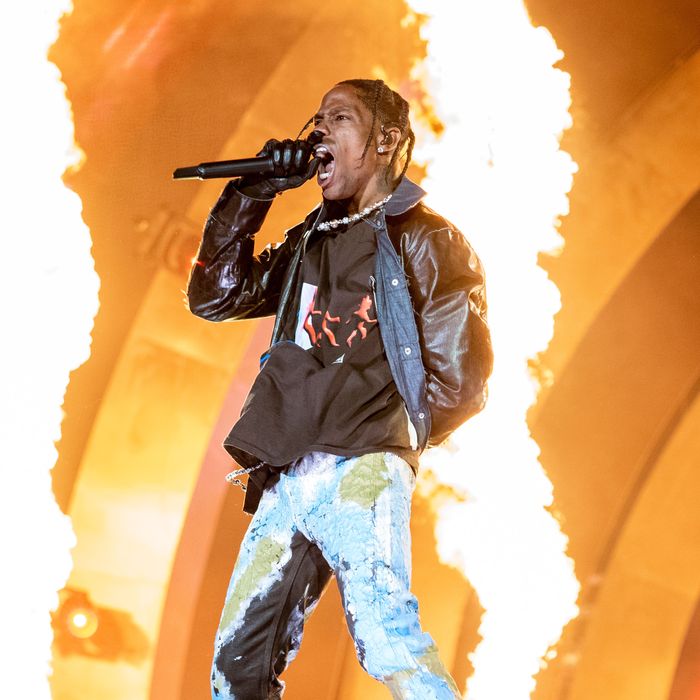 Travis Scott
Photo: Erika Goldring/WireImage
In the three days since Houston's Astroworld Festival, attendees who made it out have painted a harrowing picture of the atmosphere inside: hundreds of ticket holders sustaining injuries in a mosh pit raging out of control; the pressure of the crowd crushing concertgoers into one another, leaving many choking and gasping for breath; people screaming as the surge pulled them off their feet, trapped under the masses churning toward the stage. Travis Scott's performance at the festival drew some 50,000 fans, many of them young: One of the 25 patients hospitalized on Friday was 10 years old, while the nine people who died reportedly ranged from 14 to 27.
It's presently unclear what triggered the stampede, though the Houston Police and Fire Departments are attempting to nail down the timeline in the course of a criminal investigation. But fans have described escalating tension in the pit as a countdown clock ticked closer to Scott's entrance compounded by too many people enclosed in too small a space — and Houston fire chief Samuel Peña said that barricades meant to prevent surge caused "pinch points" where the injuries seemingly began. One person who was there told CNN the experience felt like "drowning in a pool of people." Another, Madeline Eskins, said that "right when he started performing his first song, I looked at my boyfriend and said, 'We have to get out of here.' He said, 'I can't. We can't.' We couldn't. And then I just remember looking up and passing out. And then I was in and out for a little while. I didn't see anything, but I could kind of feel what was going on. Someone pulled me over a fence and I was sat in a chair, and then I passed out again." On social media, others have described the attempt to hoist people to safety inside an apathetic VIP section that sounds, frankly, like it was populated by the Titanic lifeboat set.
Yet another witness, who spoke to the New York Times, recalled being forced close enough to the artist to lock eyes with him. "We were trying to scream at [Scott] and get his attention," 18-year-old Afnan Hasan said, explaining that he and his friends had tried to pull fallen attendees off the ground so that they wouldn't get trampled. "We were like, 'People are passing out here. We have, like, piles of people.' He could not hear us. It was too loud."
The Associated Press reports that the rapper stopped the concert at least once — the Houston Chronicle notes "multiple" pauses — attempting to get help for someone in the audience. Footage circulating on social media, however, show fans pleading with Scott, and also security, to stop the show: One viral video shows two concertgoers scaling scaffolding to escape the surge, shouting at technicians that people were dying. (It was unclear if they could hear what the pair were saying.) Whether or not Scott would have been able to understand the scope of the tragedy unfolding below is hard to judge, though the concert reportedly went on for 40 minutes after the Times says he paused the music to make way for an ambulance around 9:30 p.m. At this point, the Times reports, Scott waved away two members of his entourage, turning back to the audience with instructions to make "the ground shake." In the frenzied stomping that ensued, a witness named Guillermo Garcia told the paper, it became nearly impossible to lift anyone out of harm's way. "People usually fall and you just pick people up," he said. "This time, people couldn't do that. There were too many people. You could not move. Everywhere you were, people were pushing you. Every time he performs, people get excited."
In a statement posted to Twitter on Saturday, Scott said the event left him "absolutely devastated," while his partner, Kylie Jenner, insisted that Scott wasn't "aware of any fatalities until the news came out after the show and in no world would have continued filming or performing" if he had been. It seems fair to assume that's true. In a follow-up video, he looked distressed as he explained that he didn't know just how out of hand the situation had gotten until after his performance: "My fans really mean the world to me, and I always just really want to leave them with a positive experience," he said. "Anytime I can make out anything that's going on, I stop the show and help them get the help they need, you know? I could just never imagine the severity of this situation."
But in the context of Scott's previous concerts, this level of chaos doesn't sound unimaginable: His performance at Astroworld in 2019, for example, saw three people hospitalized after being trampled when the gates opened. That year, he seemed to encourage wild behavior at his shows, captioning an Instagram clip of fans plowing over barricades: "DA YOUTH DEM CONTROL THE FREQUENCY. EVERYONE HAVE FUN. RAGERS SET TONE WHEN I COME OUT TONIGHT. BE SAFE RAGE HARD. AHHHHHHHHHHH." People who attended his 2018 set at Austin City Limits described a frenzied push toward the front, with the Cut's Brooke LaMantia recalling, "As soon as he started, people pushed forward and swayed, and I had absolutely no control of my body. I like concerts. I like being in the pits, but I had never felt that out of control." In 2017, Kyle Green says the jostling crowd pushed him over a balcony railing at Manhattan's Terminal 5, leaving him partially paralyzed — this after Scott prompted another fan to drop from a lower balcony into the masses below. Scott has also been arrested on multiple occasions for (allegedly) encouraging the audience to overwhelm security — once after his Lollapalooza 2015 performance, where he led his fans in a "we want rage" chant as dozens of people charged onto the stage. A rowdy crowd, it seems, has always been the goal.
When it comes to Friday's event, Houston investigators say they don't currently have evidence that Scott encouraged unruly behavior, and certainly, there were other factors at play: Live Nation Entertainment, the promoter behind Astroworld, reportedly has a history of safety violations. (And, along with Scott, now faces a flurry of lawsuits from attendees. Scott has offered to pay funeral fees for the deceased, plus a month of teletherapy for everyone who attended.) The festival itself has faced criticism for allegedly insufficient crowd-control measures. And then, there is the undeniable difficulty of reining in the energy at a concert this big. Things can escalate quickly. But Scott plays a part there, too. According to the New York Times, Houston's chief of police briefed him on the chaotic mood roiling the Astroworld crowd before he took the stage. And while it is hard to say what the view from up there looks like, Scott sets the raucous expectations for his shows. Past experience should've been enough to signal how that can end.
This article has been updated.