Virgil Abloh died Sunday at the age of 41 after a long fight with a rare form of cancer. In early 2017, Carl Swanson wrote this profile of the groundbreaking designer.
Virgil Abloh likes to talk. He possesses an unusual, you're-not-quite-sure-if-he-means-it talent for the gnomic monologue, holding forth on how he is "kicking dents in culture" and represents a kind of fashion that is "post-Tumblr, post–street style," and how his lauded label Off-White isn't fashion exactly but rather a "platform" for his being a "creative." But then it makes a certain sense coming from a designer, itinerant DJ, and social-media superconnector who has been a member of Kanye West's inner circle for nearly 14 years, dating back to the era when West was still close enough to his middle-class frustrations that he wrote a song about being talked down to at his retail job.
Today, Abloh is West's "creative director," advising him on everything from tour merchandise and album covers to set design, if not yet on his political aspirations, and occasionally making peace between members of his posse, acting as, in his own words, a kind of "camp counselor." The two are so close that when West decided he wanted to learn more about fashion, in 2009, he brought Abloh along with him to an internship at Fendi.
As it turns out, the 36-year-old Abloh might have learned more than West. In the last few years, Off—White c/o Virgil Abloh™ (all those typographical peculiarities are important to him) has become one of the most talked-about brands in fashion, an "elevated" — which is to say, lavishly produced and priced — streetwear brand sold at Barneys, Selfridges, Bergdorf Goodman, and Colette, as well as four of his own boutiques, located in the usual global shopping cities (Tokyo, Hong Kong, Beijing, and Singapore; he has an ambitious New York location he's just figuring out now). It's among a newer breed of labels, like Hood by Air and Vetements, that claim their power in the digital hype-o-sphere and consumer marketplace by keeping in constant contact with the barely-20-somethings who sanctify street-fashion codes — even if those kids themselves can't necessarily afford to buy many $573 hoodies.
Abloh — not unlike his mentor, West — sees himself as a kind of outsider insurgent, but fluent in business-school lingo: Last fall, he told the Business of Fashion website that "The end goal is to modernise fashion and steer a [fashion] house, because I believe in the modernisation of these storied brands" calling Off-White a "case study." And now he is reportedly a finalist to take over for Riccardo Tisci at the helm of the storied LVMH-owned brand Givenchy.
If it happens, the appointment would mark a remarkable, and innovative, rise to the top of fashion. Abloh played by new rules, which he arguably helped write — or tapped out on his iPhone — as he went along.
Abloh is tall and friendly and a bit sly, and the first time I heard him talk was last November at an event in Soho at a shop called Apolis — which is supposed to translate as "global citizen" and describes itself as "a socially motivated lifestyle brand that empowers communities worldwide" — where Barneys "creative ambassador" Simon Doonan was moderating a conversation between Abloh and the artist Tom Sachs. It was after the election but before West had had his breakdown and quit his tour, complaining of exhaustion, and Abloh, perhaps worryingly, told the young crowd in Zeitgeist-y '90s-wear that he'd gotten only two hours of sleep the night before. He'd flown in from DJ-ing in Las Vegas, he said, acknowledging that the fact that he doesn't sleep much "definitely is going to catch up to me." Abloh, whose wife and two kids live in Chicago, says he flies over 350,000 miles a year, which means he's usually somewhere else, a traveling salesman for an idea of himself, which is a kind of accessible, aspirational citizen of the world.
As was evident from the Apolis audience, many members of whom were drawn from his 650,000 Instagram followers, Off-White is a brand-as-clubhouse, a meeting place for the fashionably like-minded. "He has a sixth sense in terms of hearing what the kids want," says Oana Stanescu, of the architecture firm Family, which designs his stores. Right now, what they want is a blend of skate culture, heavy metal, and a hefty dose of vintage '90s mix-and-match. For men, there's a $544 red tartan shirt tagged with Off-White's trademark diagonal slashes, and a $2,462 baggy hooded leather jacket with a poncho vibe. Stanescu's firm worked with Abloh to design that Wagnerian mountain set for Kanye's 2013 tour. They later bonded during the Versailles leg of the Kimye wedding. She says the stores are meant to be hangout zones, galleries, and party spaces as much as sales floors. "When the stores open, people line up" to meet Abloh, who occasionally DJs the events.
Bruce Pask, men's-fashion director at Bergdorf Goodman, remembers hosting an event for Off-White. The store was thronged with young people. " 'Oh, I'm going to hang with my kids,' " he recalls Abloh saying. "They feel the honesty in it," Pask says. When one of the kids couldn't afford to buy an Off-White T-shirt, Abloh took a Sharpie to the shirt the kid was wearing and wrote THIS IS AN OFF-WHITE T-SHIRT on it. Esquire recently called him the "chief in the vanguard of a new kind of fashion populism." This is cultural production these days: a customer-service operation where the metric is "relevance" and is driven by "likes" more than by some personal artistic vision. Or as Abloh likes to say, "There's no line between a designer and consumer."
"I hate being up onstage with a microphone," he told the crowd at Apolis. "I am, basically, the same as you guys, only I've done a bunch of stuff." His main motivation is to live up to their expectations — which means, essentially, living the life they all wish they could. There's a self-empowerment vibe to it. "A big part of his mission is to expose these kids to things they might not otherwise be exposed to," says Stanescu. In other words, he's trying to help kids do whatever they want to do, as soon as they want to do it, to "jump the timeline" of their lives, as he says. On February 6, he gave a talk at the Columbia University Graduate School of Architecture titled "Everything in Quotes," for which he promised, via Twitter, that he would be "giving up every single code I know on how to make a living not 'working' and by being creative instead." A dog whistle for the youth if there ever was one.
The precocious, sensible son of Ghanaian immigrants raised in Rockford, Illinois, who studied at the University of Wisconsin and married his high-school girlfriend, Abloh is a very well-mannered fashion disrupter. He calls his charming, unflagging self-mythologizing swagger-blather "intellectualizing the mundane." Get him going, and he drops references to Caravaggio, the Birkin bag (he owns a dozen of them), Peter Saville, the Bauhaus. He's big on "modernism."
That night at Apolis, Abloh recalled how, growing up, "I think I was asleep for a while. My first degree was in structural engineering, which is super-boring. [My parents'] dream was to have a kid who graduated from college. So I was DJ-ing and skateboarding, and the least I could do was be an awesome kid."
His college roommate and future best man, Gabriel Stulman, now a Manhattan restaurateur (he owns Joseph Leonard and Fedora), recalls Abloh arriving at school with a set of DJ turntables. He "devoured magazines" like GQ and wasn't afraid of wearing colors: "He had this Ralph Lauren leather jacket in college with a lion's head emblazoned on the back and two neon-orange stripes," Stulman recalls. "I would try to wear it, and it wouldn't look right on me." Plus, "He was always great at accessorizing. I remember the first double-G interlocking belt. He would buy a Gucci belt which cost $250, and we're like 20." And he rocked the buckle on his hip. The two bonded over music: "Wu-Tang Clan, first album; De La Soul; A Tribe Called Quest," Stulman recalls. "OutKast and that track 'Rosa Parks.' " They threw parties at local bars, with Abloh DJ-ing. Then they would take the money they made and go shopping.
Abloh took his first art-history class the last year of college, learning about the Renaissance and Caravaggio. "It flipped my head backward," he says. "I'd spent so much time thinking practical things." As the son of immigrants, he'd always tried to be responsible. He'd never considered doing something purely creative. "I felt that a random black kid from the suburbs of Chicago shouldn't be doing that." But he did it anyway, going to graduate school at the Illinois Institute of Technology for architecture. While there, in 2003, he started working for Kanye, designing merch. A few years later, Abloh and some friends had a blog called The Brilliance! on which they interviewed each other. He was asked, "What pushes you to create the next thing?" He responded, "It's that pursuit of causing excitement in an audience … The notion that somehow the next design will be 'it' gives me that … 'can't stop, won't stop,' Diddy kind of attitude."
The internship at Fendi in 2009 helped solidify the idea that he could create fashion, too. Abloh, by his own account, grew up worshipping at the altar of Air Jordans and the skatewear brand Supreme. He still wears them both: If he's not wearing his own clothing, he's in Supreme, right down to his boxer shorts. One of the times I met him over the past few months, he was in a special pair of Jordans he'd designed himself, set off with orange plastic zip-tie industrial gadgets, which looked like something between an anti-theft device and a house-arrest ankle bracelet but apparently were inspired by something he saw on an airplane.
"That's my thing: It's part of my industrial-design language, the readymade," he tells me. "You know, I would say Duchamp is my lawyer." He goes on. "I'm translating things which have been proven as fact in art and translating that into fashion, streetwear. I like the idea of finding different unused parts of industrial design in 2017. What haven't we seen? What can it offer to fashion, or design, or both?" Even before Off-White, he was experimenting with reappropriation: After the Fendi internship, he started screen-printing on $40 dead-stock Rugby Ralph Lauren flannel shirts and selling them for $550. He called the line Pyrex Vision.
He is always in pursuit of what comes next, multitasking to the point of distraction ("I'm not paying attention, but I am listening," he tells his friends). That said, "Fashion is kinda a joke," he says. "I don't get too bogged down in the clothes. For me, it's one big art project, just a canvas to show that fashion should have a brand which has someone behind it who cares about different contexts. Social things." This authenticity hunt, more than anything else about Abloh, seems exhausting, a boundaryless focus group. (DM him!) "Brands try to have a voice" on social media, observes Stanescu. "And it never works because it is never real, it comes from a branding machine. With Off-White, it's all Virgil's voice."
The big question is whether his iterative, cut-and-paste, fanboy fashion voice would work at an established house like Givenchy, which was itself remade by Tisci, another onetime upstart with a crowd of celebrity friends and even more Instagram followers (1.8 million). Worth noting: Not everyone is so enamored with his originality. He collects Raf Simons, but Simons said recently that it's not reciprocal: "He's a sweet guy. I like him a lot actually. But I'm inspired by people who bring something that I think has not been seen, that is original."
But Abloh has a story to tell, and is willing to learn.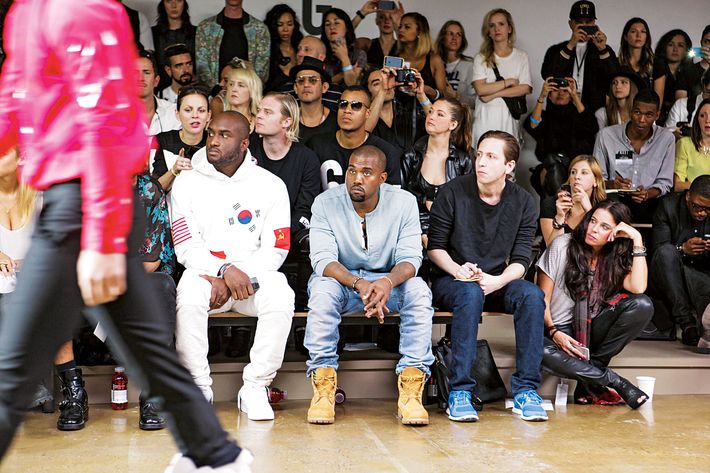 In December, I saw Abloh in Miami Beach during Art Basel. He was there DJ-ing, giving talks, and premiering his furniture, including a table — which, given that it was partially held up by a pile of gravel, wasn't terribly useful as a table — at the Design Fair. He was half an hour late for breakfast, at the Edition Hotel, but when he arrived, he got right to it. Talking.
"My big premise is current culture, the young people providing content, you know," he says. He goes on, wondering, "Are we young designers, living up to" our potential? Or "are we just making things which are cool? Are we past the threshold of artistically viable, and in the threshold of incredibly important work? And I think that me as a creator, that's my drive, actually. I don't think I've achieved anything. I'm trying to learn by doing and get this crescendo, I guess, of making culturally important things in the same way that Basquiat or Warhol did."
Okay, sometimes his intellectualizing of the mundane can sound like mundane intellectualizing. To wit: What is Off-White? "Never deciding. Staying in between two things, not trying to go left or right. That's my magic: That's how I get the balance between is it chic or is it street? Is it Canal Street or is it Madison Avenue? The ultimate, I think, is Phoebe Philo at Céline, because it is so layered." And that's where he sees himself: in these interstitial spaces, presumably posting on Instagram from them.
I ask him about his table. "The table isn't all that functional," he admits. "There are functional things about it. The feet are like a stack of drywall and a stack of stone. My goal was to blur the line between furniture and a piece of art." So where would you use it? "I'd put it in a design studio. Or an agency. But also if I was superrich and wanted to own a nonfunctional table." He looks around with a little smile on his face, clearly pleased to be somewhere he didn't expect to be, so far from where he grew up.
Recently, I'm looking at his Twitter, and he's giving a bit of advance notice to his followers: "upcoming fw17 women's Off-White™ collection titled 'NOTHING NEW' showing in paris, france march 2nd at 9 pm palais de tokyo. youth invited."