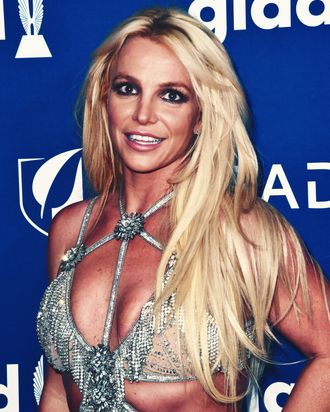 Imagine a Britney x Oprah collaboration.
Photo: Alberto E. Rodriguez/Getty Images
The world is once again Britney Spears's bedazzled oyster. After over a decade of having little to no control over her life, a judge ruled to end Britney Spears's conservatorship on November 12. So, what's Britney going to do next? According to her, buy candles, maybe go on Oprah, and whatever else she damn well pleases.
On Tuesday, Britney shared a video on Instagram — as Britney is often wont to do. "I might as well do a hint of my thoughts on the gram before I go and set things square on Oprah," she captioned the video. Oprah, you say?? While it doesn't look like there's an interview between Oprah and Britney currently on the books, it's certainly not out of the picture. This year, Oprah's talked to a number of pop-culture figures who've recently gone through significant life changes: Prince Harry and Meghan Markle, Elliot Page, Adele. Britney Spears absolutely fits the bill.
In her video, Britney goes on to answer the question she says has been on everyone's mind: Now what? "I've been in the conservatorship for 13 years," Britney said. "That's a really long time to be in a situation you don't want to be in." She added that she's grateful for simple things that have reestablished her control over her life like having the keys to her car, owning an ATM card and "seeing cash for the first time," and "being able to buy candles."
Britney also talked briefly about the "demoralizing and degrading" experience of being under the conservatorship. "Hopefully, my story will make an impact and make some changes in the corrupt system," she said. Well, I say, give Britney Spears whatever she wants! A book deal to write a story about a girl who was murdered? Give it to her. A Bengal cat? Give it to her. Wet lipstick? I don't know what that means, but let her have it, damn it! Britney Spears is finally free and she deserves the world.