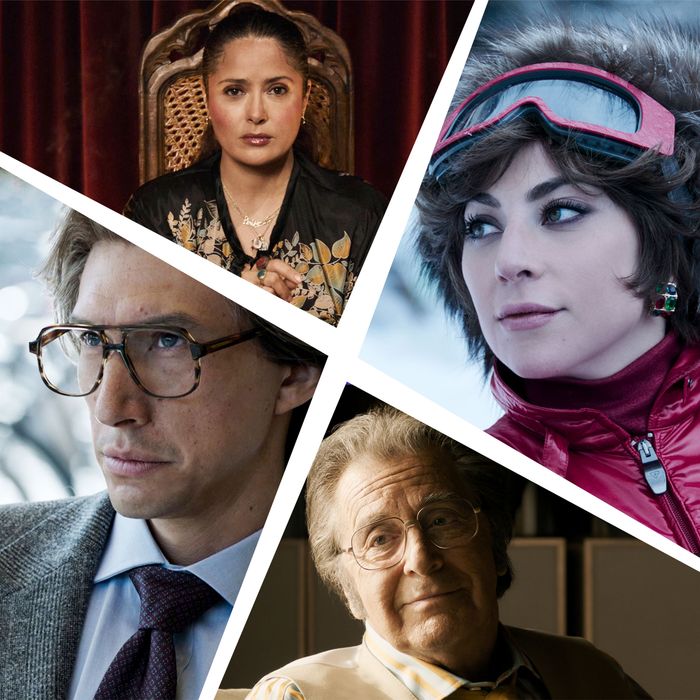 Photo-Illustration: by The Cut; Photos: MGM
In case you haven't heard, people are pretty excited about Ridley Scott's upcoming film House of Gucci. The movie birthed dozens of Halloween costumes based on its trailers alone and finally hits theaters on November 24. The film is based on Sara Gay Forden's 2001 book of the same name and centers on Patrizia Reggiani (played by a very committed Lady Gaga), chronicling her entry into the Gucci family and the eventual murder of her former husband, Maurizio Gucci (Adam Driver). Reggiani is a character so unreal I have trouble believing she was not a Frankensteinian experiment cooked up in a dungeon by Guccio Gucci (the actual name of Gucci's founder). But she is very much real, as is her impact on the Gucci legacy.
The story that inspired the film is truly mind-boggling, and while two hours and 37 minutes violates my personal tolerance for movie run times, I can understand how they got a little carried away unraveling this tale. Allow me to walk you through it.
Who are the Guccis, and is one of them really named Guccio?
Yes, Gucci was founded by somebody whose real name was indeed Guccio Gucci. I promise this is actually the least bonkers part of this story. Anyway, Guccio had a bunch of sons who had their own sons, and one of those grandchildren was Maurizio. In a sort of Succession-meets-Hamlet twist, Maurizio was constantly feuding with his uncle Aldo (Al Pacino) and Aldo's son Paolo (Jared Leto) over the Gucci dynasty. At some point, Maurizio was actually assisted by Rudy Giuliani on this matter, but that's for another time.
Patrizia helped Maurizio plot a takeover of the fashion house, which was in desperate need of a revamp by the time he took over in 1983 when his father Rodolfo died and left him majority ownership of the company. Maurizio was eventually forced out by Aldo and his cousins in the mid-'80s and struggling financially from the pile of lawsuits accrued during all the feuding; he later ended up having to sell his shares of Gucci to an investment group in 1993. The sale effectively ended the Gucci family's control of the company — something Reggiani, his ex-wife by then, was none too happy about. In the mid-'90s, a number of the people Maurizio had hired during his attempt to revive the brand actually did manage to steer it into a new, wildly successful era — but only after he'd tapped out.
What was Patrizia and Maurizio's relationship like?
Maurizio and Patrizia met at a party, where Maurizio is said to have asked his friend, "Who is that beautiful girl dressed in red who looks like Elizabeth Taylor?" At the time, Patrizia was the socialite stepdaughter of a wealthy entrepreneur, making her way up the rungs of Milanese high society. She reportedly once said she would "rather weep in a Rolls-Royce than be happy on a bicycle," which should give you some sense of her personality. By the time they were married in 1972, Patrizia and Maurizio were mingling with the American elite as well — they were known to hang out with the Kennedys and could be seen jaunting around Manhattan in a chauffeured car with vanity plates bearing one of the earliest celebrity couple monikers: "Mauizia."
Maurizio's father Rodolfo (Jeremy Irons) was apparently not a fan: Forden's book reports Rodolfo saying to his son, "I have received information about the girl. I do not like the sound of her at all. I am told she is vulgar and ambitious, a social climber who has nothing in mind but money." To which Maurizio reportedly replied, "I can't leave her. I love her." Forden told GQ that Reggiani said when "she first met her Mau … she did love him, but she also thought he was weak." They had two daughters together, Alessandra and Allegra. Patrizia became Maurizio's chief adviser, convincing him to pursue full control of his family's fashion house, which he secured (briefly) under her guidance.
And then, in 1984, just around the time he started losing his grip on the Gucci dynasty, Maurizio left Patrizia for another woman. He told her he was going on a business trip and, the next day, sent a friend to tell her the marriage was over. (Arguably better than a Post-it note, but still brutal.) In the ensuing years, Patrizia made her rage extremely clear. She frequently told friends she was writing an autobiography that would destroy the family and called her €2.5 million divorce settlement "a mere bowl of lentils." She's also said to have talked openly about wanting to kill him.
Upon leaving Patrizia, Maurizio immediately moved in with his mistress, Paola Franchi. Patrizia apparently insisted on calling Franchi "that woman" and often refused to acknowledge the fact that she was divorced, calling Maurizio her husband for years and continuing to use his last name. Franchi later told the Guardian that Patrizia was "stalking" her and Maurizio, calling with death threats and recording lengthy cassette tapes calling him "a monster." Some suspected that Patrizia was also concerned that Maurizio would have children with Franchi, reducing her own daughters' share of the Gucci inheritance.
So … did she have him killed?
As Patrizia's personal astrologer and co-conspirator would say, all signs point to yes. (More on her later.) On the morning of March 27, 1995, Maurizio was heading into his office in Milan when he was shot four times from behind, three times in the back and once in his head. He died on the steps of his office building in the arms of a doorman who was shot but survived. Reggiani wasn't arrested until two years later after an anonymous tip led detectives to a night porter who'd been heard boasting about organizing the murder. When the Milan police force showed up at Reggiani's apartment to arrest her, the first words out of her mouth reportedly were, "You've come because of my husband's death." Her trial began the following year.
What happened at the trial?
Patrizia Reggiani's trial was, to reiterate, absolutely bonkers. The tapes Reggiani sent threatening Maurizio and Franchi were played in court. Reggiani's four co-conspirators testified, three of them confessing and stating Reggiani had organized the whole thing. Benedetto Ceraulo, the hit man who actually pulled the trigger, was the only one who denied the charges. The getaway driver, Orazio Cicala, confessed, as did Ivano Savioni, the hotel night porter who hired Ceraulo and Cicala.
You know who else testified at this trial? Pina Auriemma. Yes, let's talk about her!!! Auriemma, who's played by Salma Hayek in the movie, was a dear friend of Reggiani and also her personal astrologer. Auriemma has been called Reggiani's "clairvoyant friend," a "self-styled sorcerer," and a "high-society psychic," all aspirational labels, if you ask me. In any case, Auriemma confessed to organizing the murder alongside Reggiani, having agreed to help her find a hit man in what she called "a moment of weakness."
Auriemma's involvement was also … spiritual. The prosecutor claimed that Maurizio and Reggiani were fighting "a war of psychics" with each other before his death, with Maurizio having hired one to help him ward off Reggiani's "bad vibrations." Another infamous revelation from the trial was one crucial piece of evidence: a Cartier diary taken from Reggiani's apartment, in which she'd written one word the day Maurizio was shot: "paradeisos," or, translated from Greek, paradise.
Despite the mountain of evidence suggesting otherwise, Reggiani maintained her innocence, claiming that she did indeed want Maurizio dead but that Auriemma was framing her. She even confessed to having asked her friends how much a hit man would cost, but in a just wondering sort of way and not an I'm planning to take out my ex-husband way. Her lawyers pleaded mental instability, blaming an operation she had in 1992 to remove a brain tumor, which they said had altered her personality. Court-appointed experts ruled she was competent at the time of the murder and mentally fit enough to stand trial. On November 4, 1998, she was found guilty of premeditated murder and convicted to 29 years in prison.
So where is Patrizia Reggiani now?
I am so glad you asked. Patrizia Gucci is very much alive and well in Milan, where she works for a costume jewelry firm and is known to go shopping with a parrot on her shoulder. She ended up serving 18 years in prison, during which she managed to keep a pet ferret named Bambi in her cell. (I guess she loves exotic pets?) In 2011, she became eligible for parole with a work-release program but turned it down, reportedly saying, "I've never worked in my life, and I'm certainly not going to start now." She was finally released in 2016 for good behavior. Shortly after her release, an Italian reality-show crew asked why she didn't kill Maurizio herself, to which she responded, "My eyesight is not so good. I didn't want to miss."
Both Reggiani's daughters live in Switzerland, having inherited what we can presume is a sufficient chunk of their late father's fortune. In 2016, Reggiani told the Guardian that they don't speak to her and cut off her financial support. Speaking of which, she still owes €142,000 to Giuseppe Onorato, Maurizio's doorman who caught a few stray bullets during the incident and who she was ordered to compensate after her conviction.
Reggiani cooperated with Forden during research for the book, writing her letters from prison (which she apparently referred to as a "stay at Vittore Residence"). She's made it clear she's disgruntled with her lack of involvement in the movie, though: In March, she told an Italian newspaper that she was "rather annoyed at the fact that Lady Gaga is playing me in the new Ridley Scott film without having had the consideration and sensibility to come and meet me." She called it "a question of good sense and respect" and also said that she wouldn't get "a cent" from the movie.
What are the actual house of Gucci's thoughts on all this?
The Gucci brand, which no longer includes any members of the Gucci family, seems to have cooperated with the movie's production, giving them access to their archives for wardrobe and props and also allowing them to film at Gucci's flagship store in Rome.
As for the Gucci family, though, they are no more pleased than Reggiani at the prospect of their dynastic drama being depicted onscreen (not to mention memed to death). When photos from the House of Gucci set came out, Patrizia Gucci — one of Maurizio's cousins who just so happens to have the same name as his infamous ex-wife — told the Associated Press that she and her family were "truly disappointed" by their portrayal. They are particularly infuriated by Scott's choice to cast Al Pacino as Aldo Gucci, who was apparently very handsome, tall, and elegant and not, as she described Pacino, "fat, short, with sideburns, really ugly." Of Jared Leto's frankly bewildering transformation for the movie, she said, "Horrible, horrible. I still feel offended."
Which actually might be a good in for Patrizia, who, astoundingly enough, said in 2014 that she was still hoping to be welcomed back into the Gucci family at some point. "They need me," she told a newspaper at the time. "I still feel like a Gucci — in fact, the most Gucci of them all."